Comfort food takes center stage at Vegas restaurants
Part of the allure of travel is the culinary adventure. One trend boosting dining experiences across the country is elevating dishes by using ingredients and, at times, methods not typically associated with fine dining—donuts are popping up in both savory and sweet roles. In fact, this trend of elevated comfort food has emerged across the board from smaller chef-driven restaurants to establishments owned and operated by celebrity chefs.
The simplified approach takes many different forms—from a humble process of iterating until that perfect flavor profile is achieved to utilizing underestimated ingredients and even reinventing classic French dining. Think cheaper cuts of meat, traditional deserts and old-world dishes like pierogis made from grandma's cherished recipes—these are the new fixings of a mouthwatering Las Vegas foodie daydream that are sure to please the palate.
And planners are in a prime position to capitalize on such a burgeoning culinary scene. Many independent restaurants feature spaces that can accommodate groups while restaurants partnered with larger venues, such as hotels and casinos, can take advantage of the expertly crafted dishes for catering their event at a dedicated meeting space.
Born from Nostalgia
After sliding into a booth in the sleek and sophisticated dining room at Ramsay's Kitchen at Harrah's Las Vegas, you wouldn't expect to discover a crostini made from an apple fritter beneath a small slab of foie gras with a thin drizzle of apple-brandy reduction dancing around the plate, but the combination served up a pleasant surprise. Incorporating such an unsuspecting element into a lavish dish wasn't a chance decision.
In 2020, Gordon Ramsay, like the rest of us, was under quarantine at his home in Cornwall, England, when he was stricken with a sense of nostalgia for the old days of his culinary career, says Christina Wilson, who heads Ramsay's North American operations. "He wanted to start looking at a menu and a development that reflects how far his journey had come," she says. Being under lockdown at his home and cooking every meal with his family, she explained, caused Ramsay to slow down and gave him time to reflect.
Read More: Le Bon Appetit Fundraiser Steeped in Memphis Food, Music and Restoration Culture
Prior to his status as a celebrity chef, Ramsay often used less-desirable cuts of meat due to budgetary restrictions. "He tells stories quite often," Wilson says, "In his first couple of restaurants, he couldn't really afford the prime cuts of meat and he had to take lesser cuts and elevate them and make people want to spend a little extra to make the money so that he could then break into the fine-dining world."
Suffice it to say, Ramsay's desire to reimagine the dishes that propelled him to stardom makes perfect sense when considering the curious tastebuds of diners hungry for some backstory.

"You'll see that in this restaurant," she says, "we have an oxtail Rangoon that goes on the crostini of the French onion and that is a nod to Gordon's early days when he couldn't afford a short rib, so he had to make an ox tail work."
But a deep sense of nostalgia wasn't Ramsay's only source of inspiration. "Ramsay's Kitchen is really different from the rest of his hospitality ventures. It's inspired by my travels around the world and it isn't limited to one idea like Gordon Ramsay Steak or Gordon Ramsay Burger," he says.
In addition to many of the menu items at Ramsay's Kitchen harkening back to the celebrity chef's beginnings, Ramsay says that he was seeking to bring an all-day dining concept to Vegas that reflects where he comes from. "I'm excited by the design as well as bringing some more classic British dishes to Vegas," Ramsay says.
If you've ever been on a social media platform, chances are you've ogled Ramsay's beef wellington or sticky toffee pudding—providing a taste of the chef's mainstays along with dishes that feature a nostalgic twist. Ramsay's Kitchen can seat as many as 244 guests making it ideal to treat your group to an elevated dining experience.
Elevated from Scratch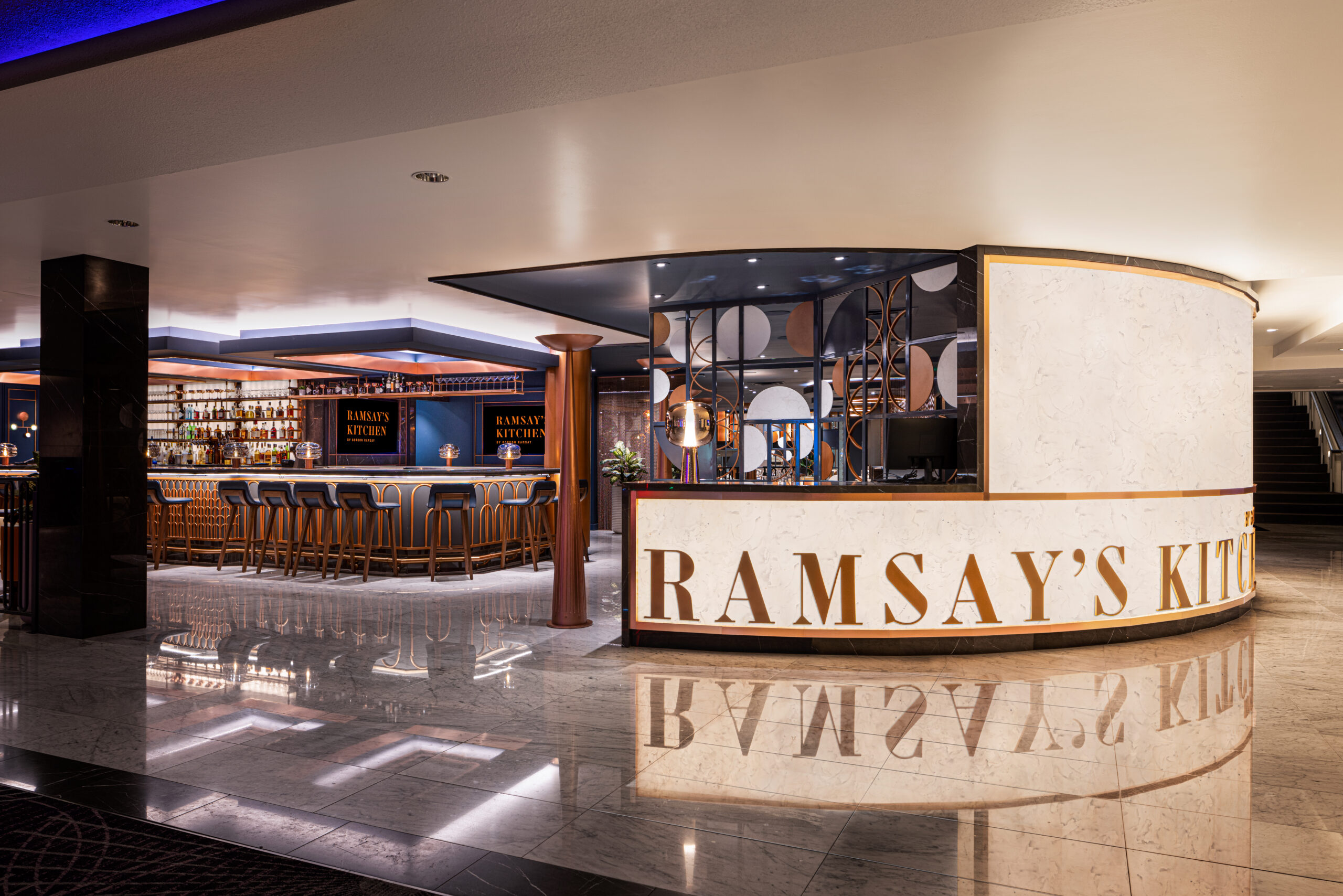 Perhaps you've heard of bang bang shrimp, watermelon salad with feta or baked cauliflower? These are dishes that went from trend to mainstay in many establishments, but where did they come from and what exactly did it take to transfer these concepts from the ether of imagination to the plate? The answer is simple: iterate, iterate and iterate some more until the flavorful goal has been met.
This was the approach of restauranteur and self-taught chef Cory Harwell, one of the first to serve the aforementioned dishes. Harwell opened Carson Kitchen in old Downtown Las Vegas in 2014, alongside his late friend and fellow chef Kerry Simon. Since then, Harwell has been wowing diners with dishes he created through a process of attempting to create the perfect flavor profile by way of trial and error. "At the end of the day, it takes me longer to figure out a technique than a classically-trained chef, it takes me longer to get to the same technique point, but I'll beat them in flavor and in love every time," he says.
The few and the lucky get a seat at a reserved pop-up table serving dishes that push the boundaries of the culinary norm, offering a galaxy of undiscovered flavor, but Harwell wanted to make such a spectacular experience more accessible. "I wanted to design a concept that made you feel like you're sitting in someone's home—literally sitting in the kitchen," he says.
"At the end of the day, it takes me longer to figure out a technique than a classically-trained chef, it takes me longer to get to the same technique point, but I'll beat them in flavor and in love every time."
– 

Cory Harwell, restauranteur and self-taught chef

In fact, Harwell is so confident in the different concepts he's created that he placed a large swear jar on the outskirts of the kitchen in the dining room where people can deposit a monetary penance for cussing in disbelief at the amazing flavors. Did we mention Carson Kitchen is adults only? Well, it is, and all the deserts are infused with spirits, but we'll get to that. "Our food's going to be so good they cuss," he says.

"The second thing that I really wanted to do was use this restaurant as a vehicle to be able to introduce people to ingredients that we love," he said. And making introductions, he has. Take chicken skin, for example. Crispy, greasy and delicious, people sheepishly indulge, or even admit, their desire for the outer layer of the bird, but Harwell was unabashed when crafting this brave creation served with smoked honey. Yes, these are cured and fried chicken skins, seasoned and served with honey for dipping.

"It took me two days to get the technique right whereas someone who went to CIA (Culinary Institute of America), it might have taken them two hours, but my dish is better," Harwell says. His "Devil's" eggs take the classic hors d'oeuvres to the next level topped with crispy pancetta and caviar. And that's just for starters.

Harwell has also transcribed some of his life experience into his dishes. He recalled family road trips from their home in Georgia on the way to New Orleans where he first tasted what's known as Alabama white BBQ in the city of Decatur, Georgia. The lesser-known recipe consists of a base of mayonnaise, apple cider vinegar and a spices. Harwell explained that while he and his family loved barbecue, Georgia doesn't have its own distinctive style of the cooking technique like other destinations such as the Carolinas, Memphis or Kansas City.

"I wanted to recreate this sauce that I loved as a kid," he says, adding that it's the spice profile that sets his version apart from the rest. "We use cayenne and smoked paprika…It's pretty opinionated, which is one of our values as a company."

And the deserts…well, the deserts also make people cuss in jubilation. The glazed donut bread pudding uses donuts that were unsold at a local donut shop with a recipe that calls for the leftover donuts to be muddled and infused with three types of rum (did we mention Carson kitchen is adults only?) and caramel and topped with vanilla creme anglaise.

As a good neighbor, Carson Kitchen partnered with the nearby Donut Bar and began purchasing their unsold glazed old fashions that are typically discarded at the end of the day. "The thing about making good bread pudding is using old bread similar to making Thanksgiving stuffing, not fresh bread," he explains. "You want it to have a little bit of a rough edge."

Carson Kitchen is also a popular venue to host events, packing three separate spaces onto the property including the main dining room, a fully renovated outside courtyard area with firepits and a rooftop area. Complete buyouts are available with accommodations for as many as 300 guests.

At the end of the day, Harwell says it's about providing new experiences. "I really wanted to find a way to get people to leave their comfort zone and try things they normally wouldn't try," he says. There are so many wonderful ingredients in our world that people are intimidated by either because of flavor or appearance or even price point."
Elegance Redefined
Taking things back to basics doesn't always require tweaking menu items. In some cases, it includes aesthetics and a return to a tradition of service that laid the foundation for fine dining. Martha Stewart's first culinary venture in Las Vegas at Paris Las Vegas Hotel and Casino does exactly that with a French-inspired menu complimented by custom cocktails, all quartered in elegant surroundings modeled after Stewart's 1925 farmhouse in Bedford, New York, and can seat up to 194.
"Martha designed the restaurant to feel like one of the dinner parties that she would host in her own home. The Bedford also features a replica of Martha's dining room, called the 'Brown Room,' which is perfect for entertaining and includes digital screens showing views of the garden in her estate," says Abby Hobbs, Caesars Entertainment director of sales for Las Vegas.
The menu at The Bedford includes dishes that helped boost Stewart's culinary notoriety. Many of the dishes include ingredients that are locally sourced and shine in the delicious end product. Guests can begin with indulgent starters such as steak tartare with strip loin, oysters Rockefeller with Pernod cream and spinach or jumbo lump crab cake with roasted yellow peppers and celeriac slaw.
Read More: Las Vegas: It Takes an Events Village
The Bedford also features classic entrees and pastas such as the salmon en croute, whole roasted chicken and a dish with a special back story, Big Martha's pierogies made with potato filling and brown butter. "A signature item at The Bedford, Big Martha's Pierogies is based on a recipe originally developed by Martha's mother. This is a dish she grew up enjoying and truly represents who Martha is and her brand," Hobbs says.
Another stylish, yet classic touch at The Bedford is the expert tableside service provided, adding additional flare to the overall dining experience. The Caesar salad is served family style but is tossed and served by a waiter, adding another layer of luxury. "The table-side presentations are part of the integrity of the dishes and how Martha presents them at her home. Take the smashed potato, for example; Martha posted a social media video about this specific technique because it creates a fluffy texture inside. These unique presentations further elevate the dining experience by allowing guests to witness several of Martha's legendary techniques first-hand," she says.
Looking Forward
Trends come and go and some reemerge several decades later tempered with the longing of memory and immersed in a revamped excitement. Fusion, cooking over an open flame or in a brick oven—some last longer than others, but eventually, they're done and overdone until something fresh arrives that shifts the focus of foodies eager for the next culinary venture into the unknown.
"I'm constantly coming up with ideas and I'll put notes in my phone," Harwell says. "I want to re-introduce you to a dish you're already familiar with, but I want to re-imagine it, recreate it and reinvent it. This is our way of taking people out of their comfort zone." The culinary tried and true often inspire seasoned chefs, and at times, guide new chefs as they embark on their journey, but embracing the basics that have satisfied diners for ages will never go out of style.
This article appears in the digital-only February 2023 issue. You can subscribe to the magazine here.