Bono boosts eye care for the underserved, and Smart Meetings pitches in
The Irish band U2 was wrapping up its set before 72,000 people at London's Wembley Stadium when lead singer Bono spotted a 15-year-old girl in the audience being crushed against a barrier.
He stepped down from the stage, pulled Kal Khalique out of the crowd and tenderly slow-danced with her as the band kept playing. It was one fleeting moment during the 1985 Live Aid event, which was broadcast to more than 1 billion people worldwide. The event brought together dozens of musical luminaries who donated their talent to raise funds and awareness to help address the famine in Ethiopia.
And Bono's simple gesture embodied the spirit of the event—one person reaching out to help another.
"I didn't know that when I was holding on to her I'd be holding on to the rest of the world," Bono said later.
In retrospect, it also perfectly symbolized how deeply Bono was affected by the event, which heightened his global awareness and sparked a passion to more vigorously help others. Shortly after the concert, Bono and wife Ali spent five weeks volunteering at a feeding camp in Ajibar, Ethiopia, for World Vision, an evangelical Christian humanitarian, development and advocacy organization.
They saw adults and children with no food or possessions, close to death yet more spiritually alive than those in Ireland who had material comforts. It was a turning point for both of them. Ever since, they've been passionately involved in many global efforts to help people in need, and Bono's celebrity status and personal drive have enabled him to make a huge positive difference worldwide.
"I do what I do for charity because I am drawn to these people. I hear their plights and feel their pain, and offer my support. I can always do more, and I plan to," Bono has said.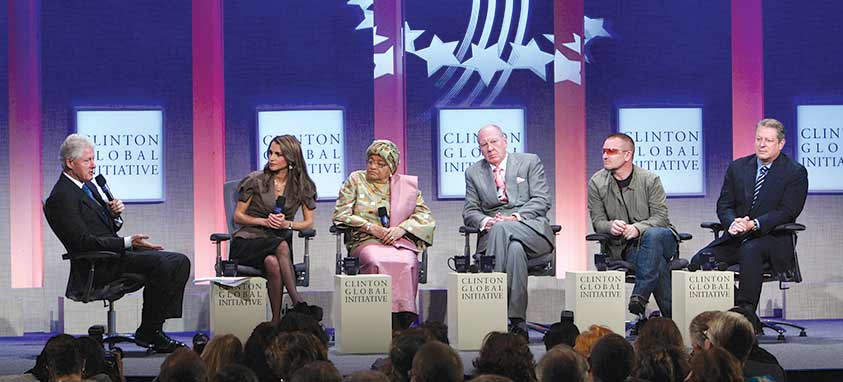 Buy Vision, Give Sight
Most recently, Bono has begun serving as spokesperson for the Buy Vision, Give Sight initiative, which improves access to eye screening, eye care and prescription glasses in under-resourced communities throughout the world. The initiative aims to raise $10 million to prevent vision impairment and blindness in more than 5 million people by 2020.
Bono is an ideal spokesperson for the initiative due to his celebrity status, philanthropic work—and personal vision difficulties. Many assume that he wears sunglasses during performances as a fashion trademark, but actually, it is because he has suffered from glaucoma for 20 years. Bono has been told that without the treatment he's receiving, he would be blind.
"Thanks to good medical care, my eyes are OK, but tens of millions of people around the world with sight problems don't have access to glasses, or even a basic eye test," he said in a statement. "Poor eyesight may not be life-threatening, but it dramatically affects your life and your livelihood if you aren't able to fix it.
"When we met with experts, they said the No. 1 problem is untreated, poor vision, which prevents a child from learning in school, or an adult from performing their job. Sight is a human right and the Buy Vision, Give Sight initiative will help ensure millions of people have access to the eye exams and glasses they need to see."
To boost the initiative, eyewear company Revo is collaborating with Wet Paint Group—a Denver-based company specializing in amenity experiences for corporate and high-value meetings and events—to offer sunglasses to agency partners, event planners and corporations hosting sales, incentive and client events.
Smart Meetings reached an agreement with Revo and Wet Paint Group to distribute free sunglasses—including those from Bono's new Vision Over Visibility Collection—to everyone attending select events. The sunglasses were given out at Smart Meeting Northwest at Motif Seattle Feb. 22−23, and will be distributed at Smart Meeting East National at Trump National Doral Miami June 26–28 and Smart Meeting West National at Arizona Biltmore in Phoenix Sept. 11–13.
For each pair given out, Smart Meetings will contribute $10 to the initiative. All the money raised will be used by the Brien Holden Vision Institute, which provides permanent and sustainable eye care services throughout the world.
"With Brien Holden, we found a partner doing remarkable work, hand-in-hand with local communities," Bono said. "It's mind-expanding what they are achieving; we're very excited to work in partnership with them and Revo."
Leader of the Band
Bono wore Revo sunglasses during U2's Innocence and Experience tour last year, which began in Vancouver, British Columbia, and ended in Paris. The tour included selections from Songs of Experience, the band's 13th album.
From the very beginning, U2 has combined an original sound with honest, self-probing lyrics and challenging social, political and spiritual messages. Bono writes the vast majority of the songs, often in tandem with The Edge, the band's lead guitarist.
The band has earned the respect of peers and critics, and has an almost fanatical following of fans around the world. At various points, U2 has been not only the most popular band in the world, but also arguably the most important.
U2 has sold more than 150 million records and won 22 Grammys (more than any other artist). Many of the band's songs have become an integral part of the rock 'n' roll fabric, including "I Still Haven't Found What I'm Looking For," "Where the Streets Have No Name," "(Pride) In the Name of Love," "With or Without You" and "Beautiful Day." The band was inducted into the Rock and Roll Hall of Fame in 2005.
Bono, with his passionate vocals and magnetic stage presence, has always been the face of the band, though The Edge has also gained worldwide fame as the main architect of the band's unmistakable instrumental style, "a heartbreaking sound that hangs over you like the unsettled sky," as Bruce Springsteen put it.
Pop Music's Global Ambassador
Motivated by his Christian beliefs, Bono has also served as popular music's unofficial global ambassador. After volunteering in Ethiopia, he went to Central America to see the damage wrought by operations in Nicaragua and El Salvador, and then he joined an Amnesty International benefit tour.
Since 1999, Bono has devoted much of his energy to raising awareness of the many crises facing African people, including poverty and the AIDS pandemic. Bono founded the lobbying organization DATA (Debt, Aid, Trade, Africa) and One, an international campaign and advocacy organization.
Early on, Bono recognized that as a mega rock star, he had the opportunity to do great things to help others. He alluded to this at the 2000 NRJ Music Awards in Cannes, France.
"As a rock star, I have two instincts: I want to have fun and I want to change the world. I have a chance to do both," he said.
---
Major Accolades for Humanitarian Work
–Nobel Peace Prize nominations (2003, 2006, 2007)
–Man of Peace Award from the World Summit of Nobel Peace Prize Laureates (1999)
–Honorary knighthood, granted by Queen Elizabeth II of the United Kingdom (2007)
–TED Prize (2005)
–NAACP Image Awards Chairman's Award (2007)
–Pablo Neruda International Presidential Medal of Honor (2004)