What airplane seats may look like in the not-so-distant future
You are not imagining it. To increase profitability, airlines have reduced seat size and legroom in coach to squeeze in more passengers. The evolution of airplane seats does not end there, however. Some innovations on the way may leave you cocking your head, squinting your eyes and saying, "Really?!?" With others, you'll be thanking the inventors and saying, "Finally! It's about time."
Self-Cleaning
It is no secret that traditional airplane seats are not disinfected between every flight. This leaves each passenger susceptible to picking up previous passengers' germs. Some concerned travelers wipe down the seat, tray table, window and armrests upon boarding the plane. Some companies even sell reusable seat covers online. In June, Recaro Aircraft Seating won the German Innovation Award for its Hygienic Seat invention. The plastic parts of the seat are coated with an antibacterial substance to offer protection.
Standing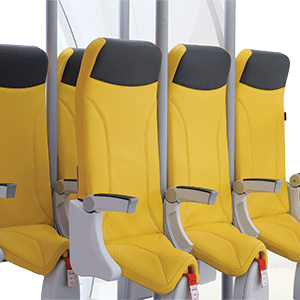 While walking around during a long flight can keep blood circulating, can you imagine being in a standing position for the entire trip? Aviointeriors Skyrider 2.0 looks more like an amusement park ride seat than any airplane seat you've seen. The company says this innovative design will enable planes to accommodate 20 percent more passengers on an aircraft and the seats weigh 50 percent less than standard seats. On the bright side, passengers will have excellent posture in these upright chairs.
Cargo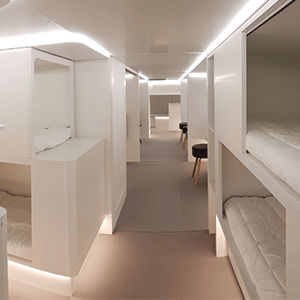 Move over first-class—cargo class may be a whole new category of ticketing. Is it an upgrade or downgrade? An upstairs/downstairs Downton Abbey sort of thing? We may find out in the next two years. Many pet owners won't put their dogs in the cargo section of a plane, but Airbus and Zodiac Aerospace are now proposing sleeping compartments called "berths" for human passengers down below. Sketches include a conference room and a playground for kids, complete with a slide.
The companies project these "downgrades" will be available for A330, and possibly A350 XWB, planes by 2020.
Window Seats for All
No more fighting for coveted window seats! According to Nine, an Australian news organization, the windows on Singapore Airlines' new Boeing 787-10 Dreamliner are 30 percent larger than average plane windows, making it possible for all passengers to enjoy the view. If it gets too bright, windows can be dimmed by touching a button.
Besides this luxurious new aircraft, Singapore Airlines recently announced plans to reintroduce the world's longest commercial flight. Beginning Oct. 11, it will add a nonstop route between Singapore and New Jersey aboard the new Airbus A350-900ULR, which stands for ultra-long range. The estimated flight duration is 18 hours and 45 minutes. In the future, it plans to add a direct route between Singapore and Los Angeles.
Patent Protected
This is not the first time consumers are hearing about bizarre airplane seat designs. Myriad obscure proposals received patents and made headlines, but were never actually installed in aircraft. One idea was to implement stacked seats that resemble how college students often loft dorm beds to put desks underneath. The diagram for another patent shows every other seat facing in opposite directions. For example, in a row of three seats, the passenger in the middle seat would ride backward and face the passengers in the window and aisle seats. (You may remember when Southwest Airlines planes had a seating arrangement similar to this.) Be cautious of coughers and sneezers!
"We do this to protect our ideas, but many of these never actually develop beyond concept stages," Robert Gage, head of media relations for Airbus in the United Kingdom, told CNN.
Smaller Seat Belts
Airlines have been accused of fat shaming passengers for years now. Actor and comedian Kevin Smith claims in a 2010 Twitter tirade he was removed from a Southwest flight in California because the pilot deemed him too fat to fit in his seat. (In February 2018, he suffered a massive heart attack, which inspired him to join Weight Watchers and lose 43 pounds by June.)
But, has Thai Airways International gone a step too far by reducing the size of seat belts? In March, Bangkok Post reported that business class seats on its Boeing 787-9 aircraft would restrict passengers with a waistline exceeding 56 inches from buckling up. The aircraft also prohibits small infants from riding on their parent's lap. These new restrictions were put in place because seat belt airbags were installed.