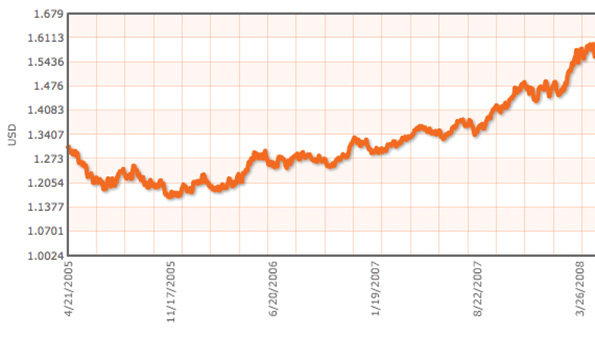 Dollar to Euro Conversion
If you've been dreaming about booking your next meeting in Europe, now might be the perfect time. Meetings and events on the continent and the British Isles are effectively on sale.
The strength of the U.S. dollar, coupled with Europe's weak currencies, make it the perfect time to plan European meetings. "Travel to the Eurozone is becoming more inexpensive due to exchange rates and low inflation," says Jennifer Iduh, research project manager for the European Travel Commission. "This will have an impact on prices. Business travelers and organizers will benefit because they'll get a lot of value." The Eurozone includes most but not all of the 28 countries that are members of the European Union and that have adopted the euro.
One of the most important values affecting the meetings industry is at hotels. On average, hotel prices have gone down 6 percent from last year, according to Orbitz. What's more, prices at hotels in Western and Eastern Europe—in countries such as Italy, France, Belgium, Poland and Finland—have dropped by as much as 20 percent over the past year. In Paris, one of the meeting industry's favorite destinations, hotel prices are 10 percent lower than last year.
Enduring Attraction
Airline ticket prices to Europe, meanwhile, have dropped 3 percent since 2014, and the overall dip in consumer prices throughout Europe has now made sightseeing trips, local restaurants and souvenirs less expensive.
Europe has always been desirable for meetings and events. Germany, Spain, France, Italy and other European countries are consistently among the most popular international association meeting destinations, according to the International Congress and Convention Association. Its rankings of the world's cities with the most international association meetings have always been topped by European capitals; the latest rankings from 2013 include Paris, Madrid, Vienna, Barcelona and Berlin in the top consecutive spots.
Besides rich cultural and historic attractions, Europe's developed infrastructure and services, widespread Internet connectivity and generally easy transportation make it a meetings magnet. It's a relatively safe and trusted location for international travelers, especially Americans. Its current affordability adds to its appeal.
Not surprisingly, those traveling to Europe soon will see real benefits. "This summer, travelers can look forward to getting away to Europe for a great price. From London to Paris, Dublin, Rome or Barcelona, even the most in-demand destinations are offering discounts and the dollar is stretching so much further," says Jeanenne Tornatore, Orbitz senior editor.
Book Now, Before Rates Rise
But what about the future, since meeting and event professionals work a year or more in advance when planning a destination event?
Planners with long lead times before meetings will still get plenty of value over the next few years, but they should consider booking Europe soon. The jury is still out on whether European currencies will grow slowly over the coming years or hold steady. Goldman Sachs predicts the euro will reach parity with the U.S. dollar by 2017. This means that the value of meetings in Europe shouldn't change much for at least a couple years. Of course, there's always a risk that the exchange rate could fluctuate in favor of the euro, but that's why locking in a price now, while the exchange rate is at its best, might be a good idea.
A recent report by Global Business Travel Association (GBTA) predicts a small increase in hotel prices over the next year, but this shouldn't change much.
"Overall in the region, the report predicted slightly lower attendee costs as suppliers are working harder to secure business," says Catherine McGavock, GBTA regional director for Europe.
So even with the possibility of slightly higher hotel prices, lower costs and favorable exchange rates will keep meetings planned in Europe at a discount for the foreseeable future.
European meeting planners, unfortunately, will find it more expensive to book meetings locally, though they may seek out Eastern European countries where inflation is lower. Also, international planners looking to book in the United States will find that American destination costs have gone up in price just as European destinations are going down.