Getting a mystery gift at your doorstep each month sounds like a SUPER nice luxury, doesn't it? Well, that's precisely why an abundance of subscription boxes have been popping up. And they're pretty tactful. Avoiding a one-size-fits-all approach, they target an array of niche markets. There's a box for Korean beauty trends (Memebox), mermaid fanatics (Filthy Mermaid) and many more. So who's showing some love for meeting and event planners?
Cue Profbox—a subscription designed entirely by and for professional planners. Brittany Ryan, a full-time corporate planner based in Dallas, Texas, is the brains behind the operation. On the Profbox website, Ryan writes "I wanted to create Profboxes as a way to regularly celebrate all of the hard work we put into our events and careers."
Adding, "Although I find my career very rewarding, as I'm sure many of you do too, it can often be a rather 'thankless' job. Many times, clients or managers don't ever see all the 'fires' that we put out behind the scenes. Stress and late nights usually just 'come with the territory.' I love my job and wouldn't trade it, but don't you think we deserve our own party in a box?!"
Amen, sister! Many professional planners are long overdue for some self-love and indulgence.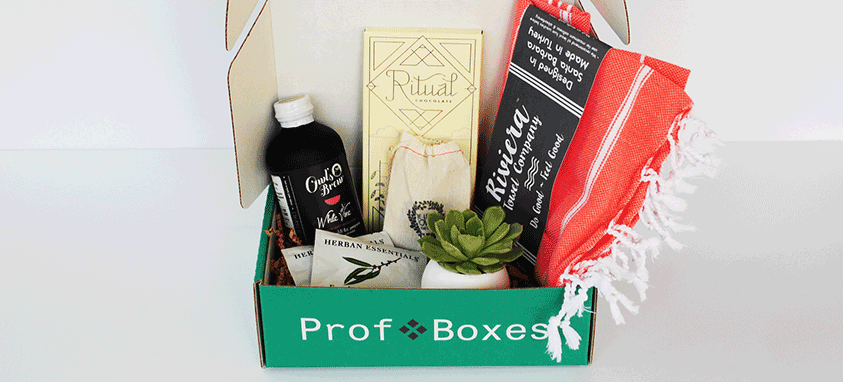 October Profbox
The October Profbox includes: a sea salt dark chocolate bar, eucalyptus wipes, mini planter desk accessory, workout hand towel, lip balm and a cocktail mixer—neatly packaged in a teal box. Ryan promises the contents will always be, "all community-oriented, high-quality products."
The monthly box contains 4 to 6 premium products. Each curated item aims to ease all planner-specific hurdles. The collection is based on five fundamental categories: organize, mobilize, social, energize and harmonize. Not to mention, planners may discover new vendors.
Profbox costs $44.95 a month. One time purchase options include 3-, 6-, and 12-month plans and offer discounts. The subscription may also be gifted.