Toy Story Mania! Photo credit: Disney 
You've got a friend in meetings! In anticipation of the June 30 opening of Toy Story Land inside Disney's Hollywood Studios at Walt Disney World Resort in Lake Buena Vista, Florida, a Slinky Dog rollercoaster car created a buzz in New York's Times Square last week as a promotional stunt. Inside the 11-acre theme park, visitors can expect to shrink down to the size of a toy in Andy's backyard and be surrounded by larger-than-life-size toys towering over them.
"At the heart of this, what our Imagineers are trying to do, with obviously a magnificent story of Toy Story, is just make sure that families can truly feel like they're immersed in one of those favorite memories when they were kids having a chance to experience Toy Story for the first time," says Phil Holmes, vice president of Disney's Hollywood Studios. He adds that Slinky Dog and all your favorite characters will be in the land.
This announcement got us thinking outside of the toy box with creative ways to incorporate the toys featured in the films and park into meetings.
1. Tinkertoys
The lampposts inside Toy Story Land will be shaped like Tinkertoys, the construction sets that have been played with generation after generation. These building materials can take collaboration to infinity and beyond in a team-building exercise. There are several Tinkertoy challenges to choose from. Massachusetts Institute of Technology's Division of Student Life posted instructions online for their Tinker Toy Tower Activity. A group is divided into two teams and given 20 minutes to construct the tallest tower possible, but must overcome roadblocks along the way. At designated time intervals, the facilitator creates mock scenarios to pose challenges, such as only being able to use one hand, a language barrier which prohibits teammates from understanding one another or an earthquake created by shaking the table.
At a staff retreat for faculty members of International School of the Peninsula, English program coordinator Donna Wood participated in a Tinkertoy challenge. "The debriefing discussion was really focused on understanding the way that we could use this to better support our students in group activities," she wrote on the school's website. "It also gave teachers time to do some introspective reflection on group dynamics, what role they take in group settings, and reflecting on personal feelings to better understand their students."
Classroom.com has other fun Tinkertoy challenge suggestions, including having two groups each build half of a bridge and then come together to merge the two halves. Another activity involves a sighted team captain instructing blindfolded teammates how to replicate a Tinkertoy model solely by listening closely and relying on touch.
At IMEX America in October in Las Vegas, Amusement, Exhibit & Event Services' chief interactive designer Gary Bordman hosted a breakout session about stackables. Each table had a different type of building block, such as Magnaformers and EverBlocks, which look like LEGOs. Attendees teamed up to get creative juices flowing and build as large a structure as they were able.
2. Etch-a-Sketch
Doodling is always a fun way to give your mind a break from the daily grind. Remember Etch-a-Sketch from your childhood playroom? Bordman created an oversized digital version of the classic toy, which he calls Digi-E-Sketch, that meeting professionals can rent or purchase for event attendees to fiddle around with between sessions.
3. Mr. Potato Head
David M. Williams, Ph.D., an improvement advisor for TrueSimple, uses Mr. Potato Head to teach Plan, Do, Study, Act (PDSA) testing, measurement and collaborative learning. Groups are divided into teams of four, and each person is assigned a role as either master clinician, documenter, time measurer or accuracy score inspector. The facilitator reveals an image of how Mr. Potato Head should look, and teams are challenged to mimic the photo. The teams each must predict their accuracy and speed. This gets repeated for five rounds to see how rapidly participants learn to improve their time and accuracy.
Group dynamics and techniques are observed by the facilitator and discussed in a debriefing session. This exercise has gone global, and is being used in the United States, England, Scotland, Qatar, New Zealand and Australia by organizations such as the Institute for Healthcare Improvement and the Carnegie Foundation for the Advancement of Teaching. Williams jokes that his exercise is second only to Toy Story for stimulating purchases of Hasbro's Mr. Potato Head.
Tom Heck, president and founder of the International Association of Teamwork Facilitators (IATF), developed another Mr. Potato Head exercise to demonstrate process and product. Similar to the blindfolded activity involving Tinkertoys, participants are asked to close their eyes. Then, the toy and all its parts are placed down in front of them. Without being told it's Mr. Potato Head, they are tasked with figuring it out and putting it together. Often, the finished product is definitely not the classic Mr. Potato Head. It's a lesson in who is more concerned about collaboration—and who cares more about how the finished product looks.
4. Slinky
One of the featured attractions inside Toy Story Land will be the rollercoaster Slinky Dog Dash. Buddy up like Woody and Jessie for a slinky relay race at your next event. Or, spring into action by getting customized Slinkys branded with your company, organization or event's logo to hand out in swag bags or trade-show booths.
In her essay titled "Play with the Slinky: Learning to Lead Collaboration Through a State-wide Training Project Aimed at Grants for Community Partnerships," University of North Florida's Elizabeth A. Curry recalled leading a workshop with 20 librarians. She gave participants 15 minutes to list all the ways a Slinky can be used, other than as a toy. In no time, people began collaborating and brainstorming ideas such as earrings, coffee cup holder and steering wheel cover.
Event planners can create a memorable party by hiring a Human Slinky performer, such as Scarlett Entertainment & Events' Veniamin, who has appeared on Late Show with David Letterman, America's Got Talent, Britain's Got Talent and The View and at SeaWorld Orlando. The mind-bending act will leave the audience's imaginations…stretched.
Event planners can create a memorable party by hiring a Human Slinky performer, such as Scarlett Entertainment & Events' Veniamin, who has appeared on Late Show with David Letterman, America's Got Talent, Britain's Got Talent and The View and at SeaWorld Orlando. The mind-bending act will leave the audience's imaginations…stretched.
5. Rubik's Cube
Long before fidget spinners gained popularity, the Rubik's Cube and other spatial puzzles have been keeping hands—and minds—busy. Canada-based Freeman Audio Visual thinks a Rubik's Cube-themed event can be an analogy for strategic problem-solving. Attendees are encouraged to wear a solid color shirt that matches one of the six sides of a Rubik's Cube—white, red, blue, orange, green or yellow—to designate which team they are on. As an ice-breaker, teams must race against the clock to try to solve a cube. Tablecloths and other decor can follow this color-scheme to keep the theme going. What about a Rubik's Cube cake?
Another fun party idea is to ask attendees to show up wearing one item of clothing for each color found on a Rubik's Cube. Throughout the event, participants swap clothing and accessories with fellow guests. The goal is to wind up being dressed in one solid color.
6. Green Army Men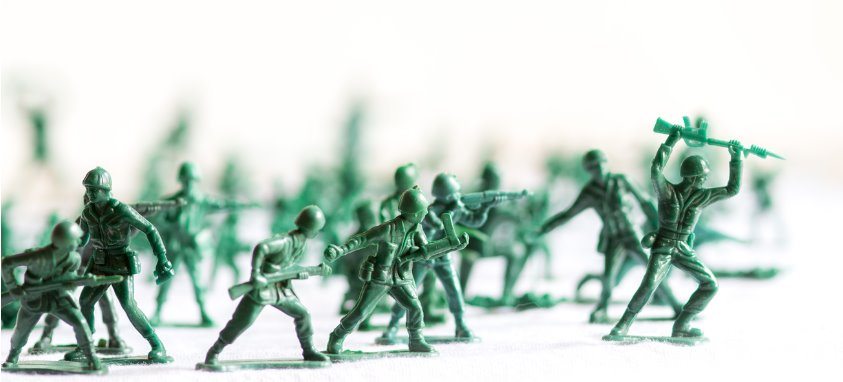 The element of surprise can create a memorable moment and get your event trending on social media. Planners can consider hiring a dance troupe dressed as Green Army Men to perform a choreographed routine. Or, how about they parachute down from the sky and create a flash mob?
7. Brilliant Place: The Great Escape Estate Lakeside
Located on 10 waterfront acres in the Orlando area, very close to Toy Story Land, games come to life at The Great Escape Estate Lakeside, a vacation home available to rent for corporate retreats. It sleeps 45 guests, and each room is decorated using the theme of a different board game, such as Monopoly, Scrabble, Clue and Operation. The movie-screening room is based on Jumanji decor. Outside, the pool has a real-life Chutes and Ladders slide.