The weather is warming up and so is the restaurant scene. OpenTable recently came out with a list of the 100 best restaurants in America for a big night out. Covering all corners of the country and everything in between, you can be sure to find a place within distance of your next meeting location. Smart Meetings narrows in on seven restaurants featured to see what they are serving up.
Northeast
Catch, New York City
Established in 2011 in the heart of Manhattan's Meat Packing District, Catch infuses classic seafood dishes with its own contemporary rendition. Famous dishes include the salmon belly carpaccio, bourbon-miso black cod lettuce wrap and signature CATCH sushi roll. With three levels of dining space—including 400 indoor seats and an extension for rooftop seating and events—attendees can enjoy the big city feel while satisfying a big appetite.
Southeast
Oxford Exchange, Tampa, Florida
More than dishes, this historic restaurant serves up a sense of community. Dating back to the 1920s, Oxford Exchange is a gathering place for ideas, experiences and meals, with a restaurant, bookstore, commerce club and design studio all sharing the building. Breakfast, lunch and early dinner items are served every week day, with brunch on the weekends and afternoon tea Friday to Sunday. With indoor and patio seating as well as a private dinning room and private Smith Room on the second floor that seats up to 25 people, the Oxford Exchange can cater to your events' every need.
Midwest
The Girl and the Goat, Chicago
Taking home the James Beard Award for best new restaurant in 2011—just a year after its inception—this American fusion restaurant in the heart of Chicago is the culinary place to be. Rob Katz and Kevin Boehm of BOKA Restaurant Group partnered with Top Chef Winner Stephanie Izard to bring innovative dishes such as escargot ravioli, braised beef tongue, goat carpaccio and a chocolate pavlova to Chi-town. Sneak your group below the crowded restaurant to a private Underground Goat room, which can accommodate up to 24 guests around one large table and 26 around two.
Smart tip: if the wait is too long, check out their sister restaurants down the street, Little Goat Diner and Duck Duck Goat (which is also on this list).
Sotto, Cincinnati
Sotto's slogan is simple, just like its Italian fare: "Our menu is fire, meat, wheat and above all, Italian." This authentic eatery brings antipasti and primi such as bacala (salt cod), short rib cappellacci (stuffed pasta) and grilled quail to the American heartland, putting a new wave spin on old country foods. The restaurant seats up to 30 guests for lunch events and 14 for dinner, making it ideal for a small group gathering. You'll be leaving full and satisfied humming along to Dean Martin.
West
Pump, West Hollywood, California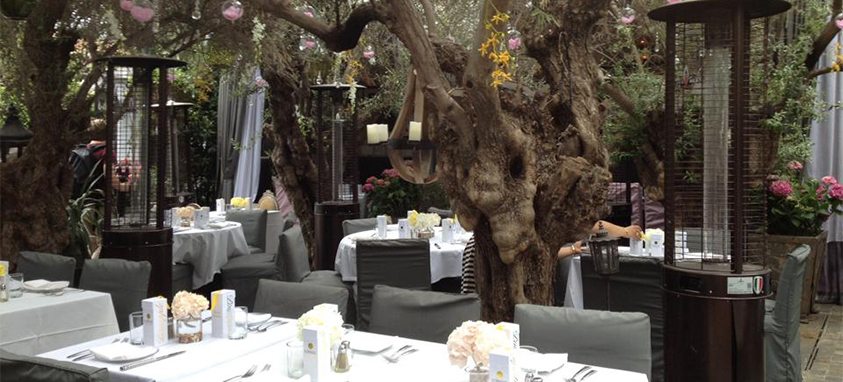 Escape the LA noise in this secluded garden dining area. With age-old olive trees dividing the tables and an antique stone fountain adding extra ambience, West Hollywood's Pump is a California getaway. Signature dishes consist of crispy chicken Milanese, pistachio-crusted salmon and pomegranate tuna tartare. Arrange for your private group parties way in advance.
Southwest
Linger, Denver
With a private dining room that can seat up to 40, a main dining room that can host 200 and a rooftop patio for up to 100 guests, this seasonal, globally-inspired restaurant could be just the venue your event is looking for. Opened in 2011, the Denver-based eatery takes cuisine from around the world and throws their own mountain air twist on them, with dishes such as organic sweet potato waffle fries, tom yum soup, Colorado lamb kabobs and an Indian train cone salad.
Red Ash, Austin, Texas
Red Ash draws its influences from craft Italian dishes, bringing melt-in-your-mouth meat to Austin via a custom-built, wood-burning grill, oven and plancha. The restaurant uses live wood fires to fuel both the grill and the restaurant's energy. With premium meat cuts aged 30 or 50 days and different seasonings, Red Ash serves those dishes that stay on your mind for weeks. After dinner, enjoy the city's nearby live music venues.