Photo Credit: The Dawson
Warmer weather has triggered a wave of desire throughout North America for light, bright seasonal cocktails. Many restaurants and bars are offering particularly creative mixes that are delighting meeting groups and other patrons.
Here are some of the best of the best cocktails—and where to find them. Some of the establishments are instantly recognizable, while others have just opened their doors, but are making a big splash.
Way Out West
Bar Clacson, a neighborhood-friendly bar in Los Angeles, features Clacson Spritz, an aperitif-inspired, low-proof concoction consisting of lemon juice, white wine simple syrup, Aperol, vodka and soda water. The bar, a new venture from the ambitious 213 Hospitality team, is situated on Broadway in a stretch of downtown that's becoming more active all the time.
Clifton's Pacific Seas bar on South Broadway in Los Angeles is a uniquely Californian take on the romance of South Seas cultures. Consistent with the theme, it offers Pearl Diver, with a base of Guyanese and Puerto Rican rums. The cocktail has a silky, icy texture, brightened by passion fruit. Special events can be arranged at Clifton's.
Pagan Idol, a tiki bar in downtown San Francisco, highlights the cocktail Don's House at Sunset, named after Donn Beach, founding founder of tiki bars. The drink's base of Doctor Bird Jamaican rum is punched up by a touch of Rum Fire Jamaican rum. It is tempered by lime, lemon, fassionola gold syrup and a float of cream sherry. Private events can be accommodated.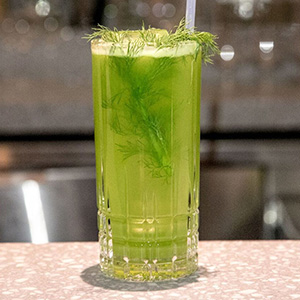 Consisting of a base of Campari and Maurin Quina, Infernal Collins—offered at the new L'Oursin French restaurant in Seattle's Central District neighborhood—reflects co-owner Zac Overman's approach to the aperitif cocktail. It also contains ginger syrup, lime juice, soda water and a candied ginger garnish. L'Oursin is available for large parties and restaurant buyouts. The dining room seats 40–50, with another 12 seats at the bar, and up to 70 guests can be accommodated for standing cocktail parties.
Garden of Qarth, featured in Fairmont Pacific Rim's new Botanist restaurant, is served in a long, tall glass and consists of mezcal and a verde cordial, lime, fennel and Pernod absinthe, topped with sparkling water. Private events can be arranged at Botanist, located in downtown Vancouver, British Columbia.
Midwest Hot Spots
A Toast for Jost at Julep Cocktail Club in Kansas City, Missouri's historic Westport neighborhood features El Dorado 5-Year Rum, chai-spiced coconut cream, pineapple, orange, Angostura aromatic bitters and nutmeg. Parties and other events can be arranged at the club.
At Sanctuaria Wild Tapas in St. Louis' Grove neighborhood, the Missing Link cocktail contains Plantation 3 Star Rum, triple sec, Cognac, lime, simple syrup and celery bitters, topped with bitter lemon. The main dining room and outdoor spaces can be rented by groups.
Sprinkled Around the East
The new Makeready Libations & Liberation at Noelle hotel in downtown Nashville offers Show Pony, a tiki-like mixture of bonded bourbon, fresh coconut and pineapple, Green Chartreuse liqueur and an Angostura bitters float.
Saffron Nola, a modern Indian restaurant in New Orleans, highlights Anti-Inflammatory, combining cognac with turmeric-infused coconut milk and honey syrup served over crushed ice, and garnished with drops of chili oil and a cilantro sprig. The restaurant can accommodate 10–50 at private events.
Desert Blossom, featured at The Dawson restaurant in Chicago's Fulton River district, consists of pisco brandy, infused with Moroccan spices, and given layers of depth from touches of Madeira, Dimmi Liquore di Milano, apricot, lemon moscato wine and chamomile. A bevy of flavors emerge, including vanilla, orange peel, nutmeg, mild licorice and cocoa nib. The Dawson features several private and semiprivate spaces for parties of 12–400.
Diamond Reef in Brooklyn, New York, showcases Scorpion Kick, a kind of modern interpretation of the daiquiri that captures the pseudo-tropical ambiance of the new establishment. The ingredients are white rum, lime juice, creme de cacao, cane syrup and mint leaves. The entire bar can be rented for a private event with up to 150 people.