Plastic straws, covers and bottles were all that's hurting the environment; now Styrofoam and even sunscreen are considered major environmental problems.
Maine became the first U.S. state to ban single-use containers made of polystyrene, also known as Styrofoam, to reduce plastic waste. Gov. Janet Mills signed a bill on April 30 that prohibits any product entirely or partially made of Styrofoam. The legislation will take effect on January 1, 2021, which gives businesses enough time to look for alternatives and adopt the change.
More: Save the Planet, One Straw at a Time
This means that restaurants and local shops will no longer use plates, bowls, cups or cartons that contain polystyrene. These containers are widely used because they are lightweight, inexpensive, and keep food hot. Businesses such as hospitals and seafood shippers are exempted from the ban. Also, manufacturers and stores will no longer sell loose Styrofoam peanuts for packaging.
Why Styrofoam?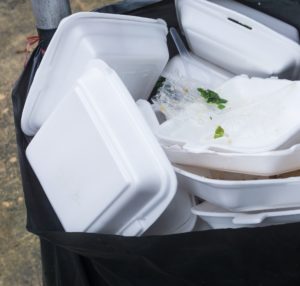 According to an article by Livestrong.com, a study by Washington University found that Styrofoam takes 500 years to decompose; it cannot be recycled and it easily fractures into small pieces which end up in landfills, where it doesn't biodegrade.
Although Maine is the first U.S. state to ban Styrofoam, several other cities in the U.S. such as New York City, Seattle, Portland, Miami Beach, San Diego, and San Francisco have already banned the use of Styrofoam food containers.
Sunscreen Ban
While Styrofoam is making its way to landfills, sunscreens are causing trouble under water. Following Hawaii, Key West, Florida—home of the largest coral reef in the continental United States—is banning non-biodegradable sunscreen. Chemicals like Oxybenzone, Avobenzone and Octinoxate present in sunscreen are found to be harmful to the coral reefs and fishes. The ban will take effect on January 2021, after which stores in Key West will no longer sell sunscreens that contain reef-damaging chemicals.
More: How the Hospitality Industry Supports Green Meetings
Across the Globe
Several spots across the globe such as Palau, The Maldives, The Great Barrier Reef, French Polynesia, Riviera Maya, Puerto Princesa and Bonaire have also banned chemical sunscreens. Although Mexican destinations like Xel Ha, Garrafon Natural Reef Park, Cozumel and Playa del Carmen haven't formally prohibited the use of sunscreen, they are requesting visitors to use only natural sunscreens before going into the water.
What is the Alternative?
Although these places will no longer sell chemical sunscreens, stores will still have mineral sunscreens on sale. Mineral sunscreen is made from ingredients that dissolve in water and they include two ingredients—​zinc oxide and titanium dioxide that are not harmful to the reefs or marine life. They also have a longer shelf life compared to chemical sunscreens. All you need to keep in mind is your mineral sunscreen should also be at least SPF30 and be "broad spectrum," which means it will protect you from UVA and UVB rays.