The robot takeover in the hospitality industry is imminent, moving beyond cutesy chatbots and automated telephone operators and into formerly human roles, such as chefs, bartenders and bussers.
Robots and hospitality in the United States have been merging at a glacial pace for some time now. Over the years, hotels all over the world have been bringing in robotic staff, answering frequently asked questions and delivering towels and soft drinks; but the last couple of years have served as a reason to up the ante.
The Pandemic Sped Things Up
It wasn't until the pandemic that things really ramped up, spurring an increased interest in contactless technology in the hospitality industry, translating into more robots. A survey by Hotel News Resource found that 86 percent of respondents believe technology would help the industry, which has been slowly getting itself out of recovery.
Read More: Indicator Lights: 2022 Industry Predictions
The 122-room Hotel Trio in Healdsburg, California, has had Rose the Robot since 2018, though it transitioned from "novelty to necessity," as a result of the pandemic, according to a statement. The silver cylinder finds rooms and elevators easily, delivering wine, snacks, groceries, towels and toiletries.
Also borne out of a response to Covid-19 was Waldorf Astoria Beverly Hills and The Beverly Hilton's Xenex LightStrike Robots, which use ultraviolet light to kill germs as part of Hilton's CleanStay with Lysol protection program.
What's New for Robot Delivery?
The newly opened 196-room Marriott Fort Lauderdale Airport in Dania Beach, Florida, recently appointed their first robot employee, Betty Bot, who will serve as a busser for the hotel's multicultural restaurant, Radiant 166.
Betty was created by Bear Robotics to battle the increasing pressure placed on the food service industry, which can attributed to employee shortages. Designed with customer-facing interactions in mind, kitchen staffers load food and drinks onto Betty Bot and send her into the dining room to deliver. Give Betty dirty dishes and she will place those in the dishwashing station.
Read More: Essential F&B: 2022 Catering Trends
South of Fort Lauderdale, AC Hotel Miami Dadeland is offering a robot food delivery service, in partnership with Cartken and FanFood. Next to Dadeland Mall, AC Hotel Miami guests are provided a QR code with FanFood's website, which displays a list of participating restaurants Charley's and Guaca-mole at the mall's dining pavilion.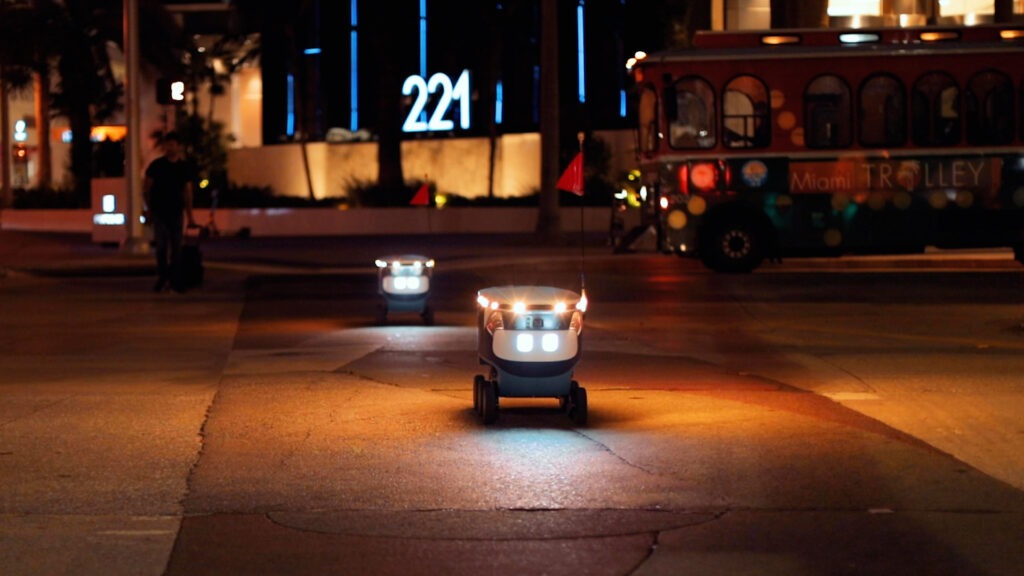 The robot will pick up the order and deliver it to the hotel lobby. Guests receive texts with the robot's progress to track delivery. Customers receive a custom PIN to unlock the robot's lid.
Over in Beijing, visitors of the 2022 Winter Olympics, held Feb. 4-20, are also being served by completely robotic food delivery with dishes that have been prepared by robot chefs, putting together foods such as noodles, sandwiches, hamburgers and ice cream, to deliver to the more than 13,000 people in attendance.
WATCH: Meet the robots serving at the Winter Olympics in #Beijing2022 pic.twitter.com/j8GFpy83fU

— Reuters Asia (@ReutersAsia) January 27, 2022
Operated by an overhead grid, the food drops down from the ceiling to tables partitioned by individual seat in an effort to stave off Covid. Additionally, there are robots that clean, serve coffee and whip up cocktails.