Adding a dash of cinnamon to a seasonal dish can pique attendee taste buds tied to memories of holiday traditions to elevate any dining experience. The olfactory senses tantalized during holiday meals are powerful bonding forces that can help event organizers creating lasting networks. Who better to break down amazing holiday cooking strategies than the folks in the massive kitchens whipping up holiday cheer for your big event?
When selecting ingredients for a holiday meal, "we typically go with what's in season and what fits traditionally for that holiday," says Santiago Ramos, executive chef of Little America Hotel of Salt Lake City, Utah. "Just the fall flavors, squash, acorn squash for Thanksgiving, we're going to add a little brown sugar and cinnamon to add a little pop to the dish," Ramos says, "but it also helps bring back memories—all the food we serve—it's all about memories and tradition so when people taste a certain flavor during a certain season, it brings back memories of years past so we try to focus on that."
Tradition Sparks Inspiration
Sometimes, a traditional style of cooking can be reimagined through inspiration found in unexpected places. When thinking of concepts for a dessert option for a group holding a fundraiser, Ramos went camping with his kids. The tradition of camping shone brightly on the excursion. "We had smores," Ramos said. "So, I made a cheesecake smores," he recalled, creating a chocolate cheesecake with a graham cracker crust and toasted marshmallow topping.
Ramos says he found inspiration simply through spending time during an activity with his kids. "The creativity of chefs just comes out and sometimes you really have to dig deep into what your background is, what you can produce and what lasting memories you want to provide."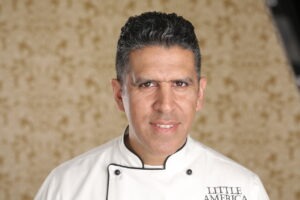 However, not every dish can sway from the lane of tradition and people expect some traditional consistency when it comes to the main savory dish. But that doesn't mean it has to be typical. Ramos says turkey and prime rib are common offerings at holiday banquets and can be easily enhanced with various ingredients and preparation. "You want to add a little twist to make it a signature dish, to make it the best they ever had," he says. "Adding a certain flavor to a dish—let's say adding rosemary to turkey to add just a little extra flavor will bring it a long way from just ordinary turkey breast."
Read More: Where to Meet in Wallet Hub's 2022 Best Winter Holiday Destinations
And for an extraordinary bird that is sure to carve out new memories for guests this holiday season, Ramos has this advice to offer: Flip the turkey—literally. "One year, we started cooking the turkey upside down," says Ramos. "Basically, the juices move downwards," he says, adding, "by the time the turkey is done cooking, the breast meat is dry." By cooking the bird breast meat down, all the juices will seep into it and keep it moist. "During the last 45 minutes, you flip the turkey and brown it." However, this method will not produce the most beautiful Thanksgiving turkey imaginable, "but at the end of the day, you're looking for flavor and not how great it looks."
While many chefs agree that locally sourced ingredients are preferable not only to create a traditional flavor, Chef Josh Carter, executive sous chef at JW Marriott Grande Lakes Orlando, had this advice: "Don't skip the marinades, brines and seasoning blends," adding, "All these things factor into why something tastes the way it does. For example, brining your turkey with the proper herbs, spices and acids, will prove to produce flavors that have way more depth and are more impactful on the palate."
'Tis the Season to Shine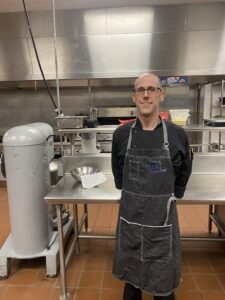 Not every culinary experiment goes smashingly and even the professionals say that holiday cooking for friends and family is not a prime time to go crazy. Banquet Chef Bill Delp at the Wisconsin Center says that while seasonal cooking allows for exciting new combinations of ingredients and spices, sticking with what you know, and know how to do well, is a guaranteed recipe for success.
"That's when I try to show off," says Delp. "I'm more comfortable to stray from experimentation to something that's tried and true and that I've made 1,001 times," adding that it also depends on what can be accomplished in a home kitchen. Dishes that wow and don't require an industrial kitchen includes large batches of risotto and stuffed meat, such as a pear-stuffed pork loin.
And when bringing your A-game, make sure you brought enough for everyone. "Have something for everyone to enjoy," Carter says. "With the trends of today, there are so many diets based on health, religion, as well as preference," he says, noting the difficulty of pleasing everyone when so many different diets and preferences are requested, but stresses these factors be considered when creating special holiday menus.
Regionally Elevated Seasonal Dishes
As the holiday season spans several chilly weeks, at least in some parts of the country, Delp says there's ample time to create something delicious and new while embracing regional specialties. When it comes to cheese, it's tough to find a state that is more enthusiastic than Wisconsin. And Wisconsin is also a top producer of apples, creating the perfect opportunity to pair sweet and salty ingredients.
One of Delp's favorite winter recipes is his apple cheddar soup, which is the perfect vehicle for winter-themed spices and ingredients, including mulling spices, apple cider and nutmeg. "You have the tartness of the apples with the saltiness of the cheese," Delp says, adding that he prefers five-year-aged Wisconsin Cheddar, creating a "creamy, tart, sweet and saltiness right there in one place."
And what better to go with a thick and hearty chowder than warm, delicious bread? "Everything gets a little hardier around here during the holidays," he says. "I would serve a denser, more crusty bread—sort of like an Irish soda bread." The combination of a hardy chowder and bread fresh out of the oven is a great meal to help guests warm-up during the brisk holiday season.
The Badger State is also a primary producer of cranberries with cranberry bogs located in many of the region's large freshwater lakes. And while the timeless debate over the superiority of either canned or fresh cranberry sauce rears its seasonal head every year, Delp says the abundance of cranberries makes it an easy decision for him. "It is even its own standalone dish," he says, "everyone does that one a little differently."
Since the image of the cylindrical blob jiggling in an ornate serving dish might call back memories of yesteryear for some, preparing cranberry sauce from scratch is a great way to revamp a holiday mainstay. "Whether it's someone who has never cooked anything before and they decided this year to start off by trying to make cranberry sauce or if it's someone who has been cooking their whole life and they want to try it in a new way," Delp says the home-made process is always preferable.
Together for the Holidays
The holiday season brings not only communities closer, but also creates a welcoming environment for visitors, regardless of religion or background, which is exemplified at hotels and large meeting venues. "Especially during holiday parties, there's an extra level of excitement for our hotel and staff, bringing in all the emotion during the holiday season whether you celebrate Christmas, Kwanzaa, or anything like that, it's all-encompassing and everyone's included," says Bailee George, director of catering services for The Grand America Hotel and The Little America Hotel, Salt Lake City.
Read More: How to Work Around Shortages During Holiday Event Season
The Grand America Hotel is steeped in holiday traditions. The first portion of The Grand America's sister property, Little America (located directly across the street) was built in the 1940s, George says, and since then many of the cookie recipes from owner Carol Holding have been passed down through the generations. "They still serve that same cookie recipe to this day," she says.
Many of the other recipes offered at the two properties were passed down through the generations, including their homemade rolls and bread pudding. "If you come during the holiday season, you may see a family member enjoying something that's been offered for over 40 years and now their kids and grandkids come and it's really a continued tradition," noting that the same is beginning to happen at The Grand America Hotel now that it's been operating for over 20 years.
A Family Tradition Continues and Expands
Utah is a very family-oriented state, especially in and around Salt Lake City, George says, but she stressed that many are still open to trying something new. "We constantly strive to create something better and give a little more each year to make sure it's more enjoyable than the last without going too far away from what our tradition is," she says.
"We have a malt vinegar and bourbon syrup that's going on our salmon, which sounds way more exotic than it normally is, George says, "but once people taste it, it's very familiar in a way, but elevated." And elevating traditional dishes with new ingredients is something George enjoys beyond The Grand America.
"My husband is half Syrian and holidays are a big deal for us," she says. "I find myself doing a lot of typical celebrations with Syrian food, which has become a tradition for me," she says, adding that trying new dishes around the holidays has given her appreciation for trying new and unique things. She bakes a lot of Syrian bread and loads it with an assortment of traditional American toppings, allowing her to elevate tradition by combining foods from different cultures.