Whenever I attend a trade show, I am always interested to learn about the suppliers who participate in order to promote their destinations and spaces to attendees. The medical meetings genre is particularly intriguing because of international suppliers and planners who stage events outside North America.
The 2015 Global Pharmaceutical and Medical Meetings Summit taking place this week at the Hyatt Regency Philadelphia at Penn's Landing includes representatives from Dubai, Ireland and Switzerland in addition to Melia Hotels International.
According to Chris Karassik, sponsorship sales manager for World Congress which stages the summit, recruiting global suppliers was a key business goal for the third installment of the medical meetings trade show and conference.
"We're trying to expand our reach," Karassik said. "I made some good international connections at IMEX and also got some great introductions thanks to Access Destination Services."
Based on planner data collected during the 2014 medical meeting summit, more than 70 percent traveled internationally for a meeting at least once. Approximately 50 percent planned at least one international meeting and 30 percent planned more than six events outside the United States.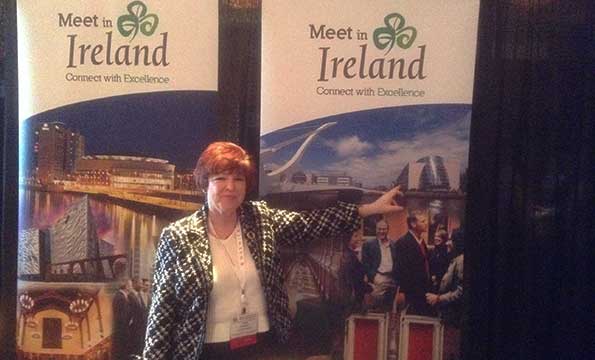 Dubai, the business center of the Middle East, is participating in the medical meeting summit for the first time and also sponsored breakfast on Wednesday. Daniella Middleton, director of Dubai Business Events-North America, is in Philly to talk up the United Arab Emirates city and learn more about medical meetings.
"It's a strategic decision," Middleton said. "We are seeing interests from pharmaceutical companies who need a host destination for regional meetings. We decided it was time for us to segment this industry, to do some tactics around it. Some of the planners in this area are hard to reach, so we are here to further develop relationships. We want to be an active participant."
Sharing the Switzerland booth is Basel, which is a key player internationally in medical meetings. Basel is home to the country's largest convention center, which can hold up to 10,000.
There are a few surprising United States-based suppliers in Philadelphia this week. For example, I thought it was pretty cool that Visit Anchorage, Alaska, was in the house. The CVB gets bonus points for giving away cute, stuffed moose, a coveted souvenir for anyone with children.
It's also fun to reconnect with Smart Meetings' California friends such as the Monterey County Convention and Visitors Bureau, which is sharing a booth with Portola Hotel & Spa. The Woodlands Resort & Conference Center outside Houston is here along with Hyatt, MGM Resorts International, Starwood Hotels and Resorts and Visit Tampa Bay,  among many others
Smart Meetings has a table at the medical meeting summit, positioned next to the Philadelphia Convention & Visitors Bureau and across from Meet Detroit. Needless to say, we're in good company!