Rust-colored leaves, cooler temperatures and cozy beverages are all part of fall's bountiful event decor inspiration. This season is all about contrasting color patterns and multi-functional table settings. Take a cue from fall fashion by paring different textures and styles together. Or jump on the farm-to-table food wagon with some classic autumnal favorites. These five fall event decor trends are designed to impress and add a touch of elegance.
Deep Tones
Choose darker tones at your event to herald the change in seasons. Marsala is a warm wine-colored hue that exudes confidence and sophistication, according to Pantone Color Institute which selected it as the color of the year. Midnight blue, olive green and deep aubergine also add a rich, earthy element to table and furniture decor.
Color Combos
To keep things from looking too drab, perk darker shades up with a pop of color. Choose lighter pastels such as pale blue or mint green, or veer towards the unexpected with a punchy coral or vivid turquoise. Jewel-toned colors also pair well with glamorous metallic shades. Instead of gold and silver, try pewter bronze or copper for a luxe vibe. Metallic can extend to glassware and tableware for some of understated sparkle.
Autumnal Accents
Orange pumpkins and leaves are autumn's staple offerings. Painted or bejeweled gourds are perfect for table settings. Decorative twigs and pine cones can twine around rustic goblets and votive candles. For an alternative to fresh, spring-like flower arrangements, check out one of the latest design trends: paper flowers. Order cut-out patterns on colored paper for a different floral accent.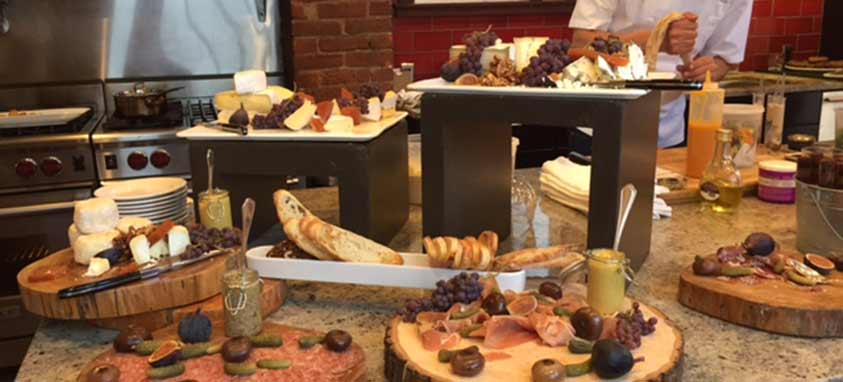 Visual Treats
One of the biggest event trends is around farm-to-table food. Decorative, yet edible table displays are all the rage at many venues. At a recent San Francisco event with Visit Santa Barbara, Bacara Resort & Spa created a finger-food setting with local prosciutto, salami, spreadable cheese and figs spread over rustic slabs of wood. It's a great way to feature the best of what a destination has to offer.
Interactive Displays
Demo stations and interactive tables are a great way to break the ice and get groups to mingle. Attendees can create their own deserts, choose crepe fillings or even play bartender for the evening. One great option for fall is a DIY pumpkin spice late—it's a healthier take on everyone's favorite fall beverage. Designate a table for pumpkin puree, spices, vanilla, espresso, sugar and whip cream. People can make their drinks as strong or sweet as they like—or with extra whip cream.