With the increasing travel and remote work happening in different industries across the U.S., meeting planners need to stay on their toes now more than ever to arrange last-minute travel accommodations and meetings.
There's a new mobile app that's here to help.  Bizly, a mobile app for iOS devices, just launched in New York and provides planners with the power of on-demand booking of small (40 people or less) meetings at leading hotels at competitive prices. And here's the best part: the service was designed to accommodate last-minute bookings, with a window of under 30 days.
New York-Born Bizly
The self-financed tech company has partnered with prominent New York hotels including Ace Hotel, Bryant Park Hotel, Mandarin Oriental, and Standard Hotels. Meeting rooms are aggregated and sold at hourly rates as low as $75 per hour and the app offers negotiated rates for same-week bookings up to 75 percent off.
"Our exclusive focus on hospitality inventory makes all the difference versus any other solution available today," says Bizly founder and CEO Ron Shah.  "Enterprises can be confident that they will always get consistently high-quality meeting experiences that boost productivity and morale."
Shah explained that the downside to booking conference rooms within another business is there's a risk of contention between businesses sharing a space.
"We exclusively work with the hospitality industry so you know you're getting privacy in a quality hotel," Shah says.
Users know what to expect before booking. They're not only provided with photos of the space, but a description of the layout that's written by Bizly staff who have been onsite to check the venue out. Whether the room includes bottled water, audio visual equipment, or an Apple TV, every detail is disclosed in the app.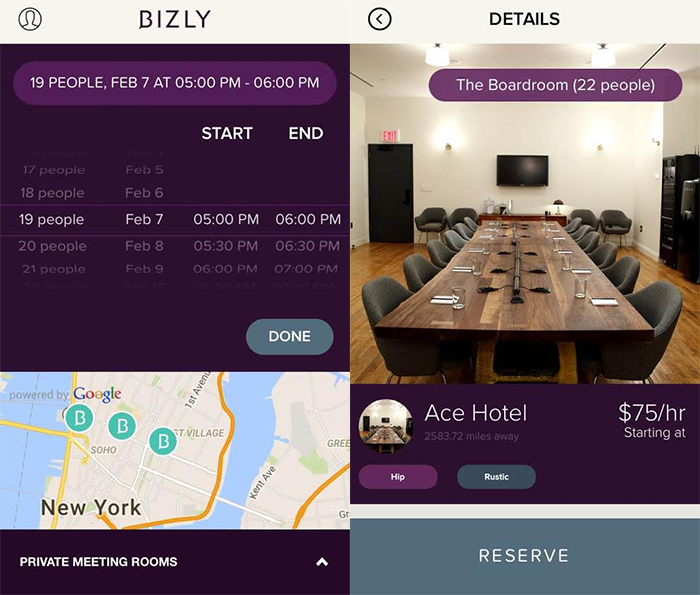 Bizly app interface (Photo courtesy Bizly)
The app's easy-to-use interface allows planners to transparently compare prices and brands, check hotel accommodation options, and even select pre-negotiated food and drink options for their meetings. Other features of the app include sending meeting invites and booking rides to the meeting location with the rideshare company Uber.
Guests who receive a meeting invite from the host will then receive an email with a digital VIP boarding pass that includes location details, Wi-Fi password, and contact information so they can check in quickly and get to their meeting.
"We're an end-to-end solution so there is a back-end interface shared with the hotels," Shah says. "There is a series of alerts that let the hotel know when a room has been booked; it can remind the caterers when food has been ordered [for the meeting] and reminds the front desk that attendees will be arriving, so there are multiple touch points between us and the hotel."
Tags appear under venue photos that describe the decor of the office, such as Rustic, Upscale, Casual, Efficient, Sleek, Zen and Modern.
The Future of Bizly
If you're not an Apple user and don't hail from the Big Apple, fear not. Bizly has plans to launch a web interface and an Android app later this year, and hopes to expand all over the U.S. throughout 2016.
They're also eyeing the possibility of adding a private dining function to the app, converting small hotel guests rooms into optimal work spaces, and are searching for innovative ways to partner with meeting planners to create an incentive plan that will benefit them.