Photo from Doughnuttery
Doughnuts are no longer just a breakfast staple. Thanks to the growing number of shops that specialize in creating gourmet and artisan doughnuts, they come in a surprising variety of shapes, sizes and outlandish flavors.
If you're looking for a snack that will have hungry event attendees coming back for more, doughnuts are the perfect option. To celebrate National Doughnut Day on June 3, treat your attendees to some of these delightful snacks. Here are a few of the most appetizing doughnuts you can serve at events.
New York City's Doughnuttery makes high-quality mini doughnuts from seasonal local produce and locally sourced flour. Doughnuttery stands out for incorporating exotic ingredients and unique flavor combinations, as well as its innovative baking methods.
In addition to serving traditional doughnut flavors, Doughnuttery offers a plethora of creative options such as Flower Power, which features the flavors of hibiscus, honey and rose petals; Purple Pig, with a topping of maple, purple potatoes and bacon; and even PBCP, a peanut butter, cayenne and pretzel-topped treat.
Hungry attendees can also indulge in Doughnuttery's dipping sauces, which come in flavors including Beer Caramel and Deep Dark Chocolate. Corporate event planners looking to create a memorable food and beverage experience can opt for the shop's Doughnut Robot, a semiautomated doughnut machine that lets guests experience the process firsthand. The Doughnut Robot is ideal for groups of 100 or more.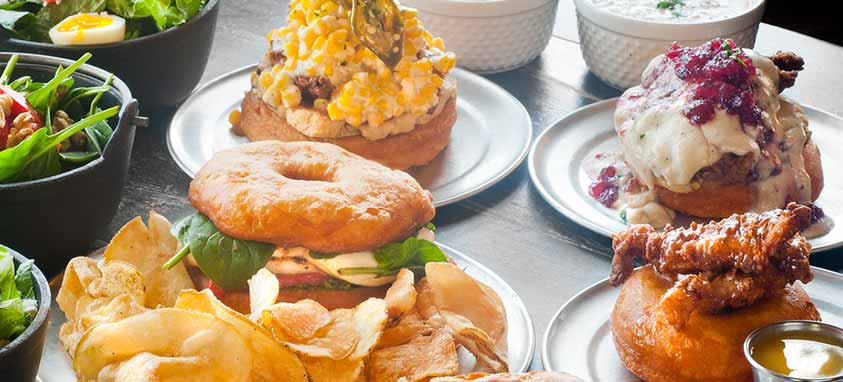 Photo from Gourdough's
True to its slogan, Gourdough's Big Fat Donuts in Austin, Texas, offers doughnuts that are big enough for a meal. In addition to two restaurants that serve doughnut burgers and doughnut entrees (meals served atop a freshly made doughnut), Gourdough's has a trailer that serves a doughnut-only menu; the trailer can also be rented out to deliver doughnuts to events.
Gourdough's doughnuts come in more than 20 creative flavors, but guests are also welcome to order doughnuts of their own creation. Some of Gourdough's most interesting treats are Mother Clucker, a doughnut topped with honey butter and a strip of fried chicken; Fat Elvis, which features grilled bananas, bacon, peanut butter icing and honey; and Son of a Peach, which has a peach filling, and cinnamon, sugar and cake mix topping.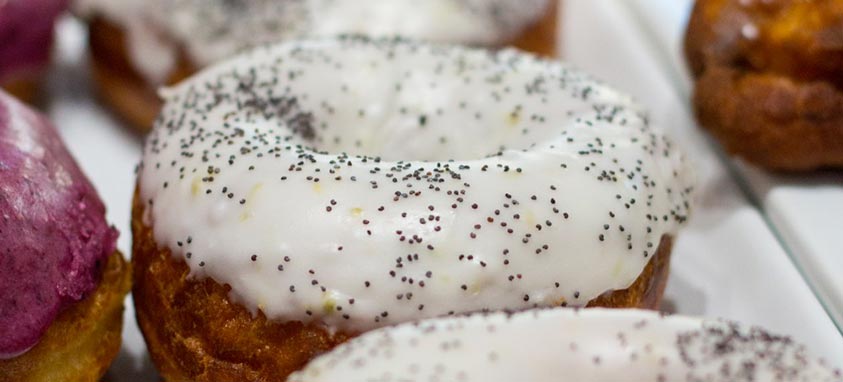 Photo from Johnny Doughnuts

Based in San Rafael, California, Johnny Doughnuts sells hand-crafted artisan doughnuts made from fresh locally sourced ingredients. The shop uses only organic wheat flour for its doughnuts, which come in a variety of classic and seasonally inspired flavors.
Johnny's specialty is its raised doughnut, a light and fluffy creation that incorporates fresh potato into the dough. It comes in 10 flavors, including lime poppy seed, orange you glad and zebra (a glazed doughnut drizzled with chocolate). The menu also features the Bismarcks, which it calls "the Holy Grail of filled doughnuts." These doughnuts are filled to the brim with fresh homemade jams and custards.  For events, Johnny's Doughnuts has three modern trucks that can serve fresh doughnuts at any meeting, big or small.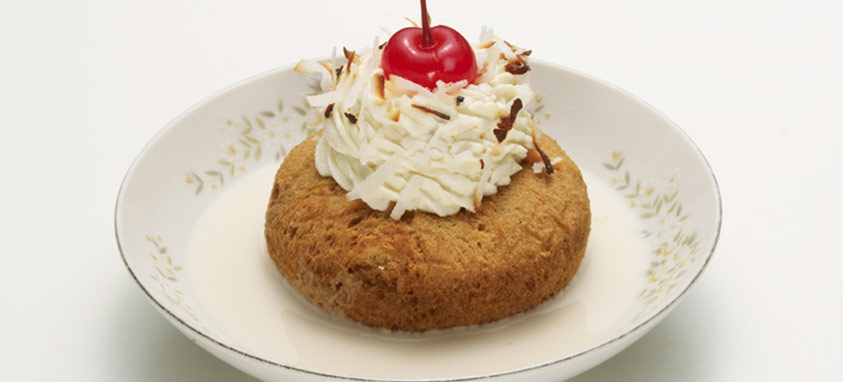 Photo from Glam Doll Donuts

Glam Doll Donuts in Minneapolis specializes in creating unique doughnuts completely from scratch. Just one look at their menu will make it clear that these are not your typical snacks. Although the shop serves standard donuts with the usual toppings, its bakers are known for constantly experimenting with new and unusual flavor combinations.
Some of the more unique menu items include Chart Topper, which features a peanut butter and Sriracha topping; Peek-a-Boo (pictured), a tres leches cake turned doughnut; and Girl Next Door, which is topped with provolone and muenster. Corporate event planners will be happy to know that Glam Doll Donuts can create custom menus, branded treats and table displays for events.