Food and beverage is one of the most important variables in meeting and event planning. Delicious, thoughtfully prepared cuisine can leave a long-lasting, positive impression on your attendees, while a poorly executed meal might literally send them home with a bad taste in their mouth.
---
---
Planners looking to impress hungry attendees should stay updated on the latest culinary trends. Kimpton Hotels & Restaurants' 2017 Culinary & Cocktails Trend Forecast surveyed chefs, sommeliers, bartenders and other food influencers from more than 70 Kimpton restaurants, bars and lounges across the United States to uncover the food and beverage innovations groups will be craving in the coming year.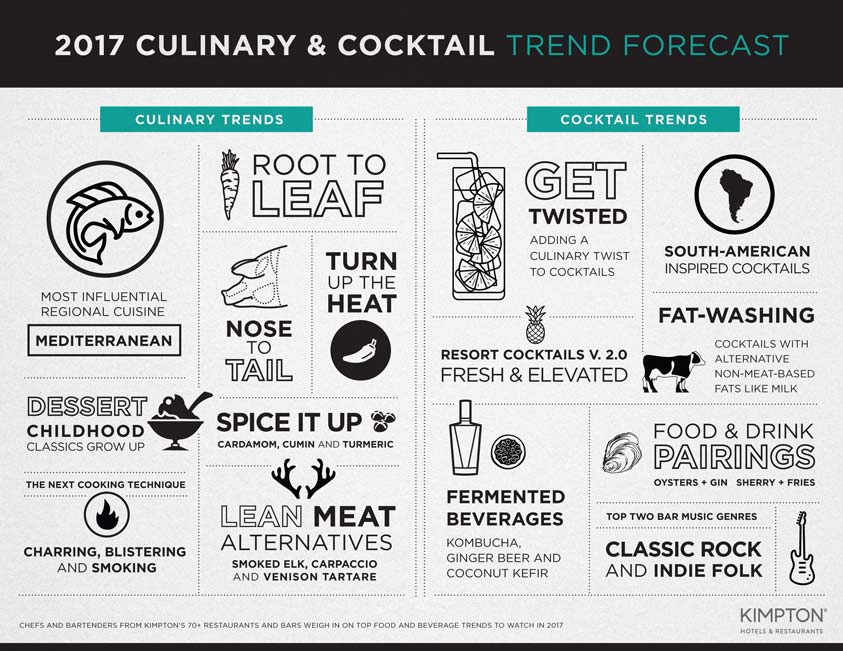 6 Inventive Food Trends
1. Creative twists on beloved childhood desserts will please adults looking for culinary nostalgia. Expect boozy berry sundaes and grown-up versions of push-up ice creams to make an appearance.
2. In 2017, chefs will likely go wild in the kitchen, thanks to the growing popularity of elk, venison, bison, ostrich and other lean-meat alternatives.
3. Chefs are increasingly going from head to tail, using the whole animal to create innovative, flavor-packed dishes. Don't be surprised to see options ranging from bone marrow to chicken skin, to pork neck on the menu.
4. Restaurants are not only making the most of the whole animal—they're also getting in on the root-to-leaf movement, which lends itself to surprising creations including carrot top pesto.
5. The regional cuisine of the Mediterranean is expected to be trending next year, leading to a burst of Mediterranean-inspired dishes such as hummus with braised chickpeas and Moroccan spiced lamb chops.
6. Cardamom, cumin and turmeric will help spice up any dish that needs a kick.
5 Experimental Cocktail Trends
1. One of the hottest trends in cocktails is fat-washing alcohol by adding a liquid fat such as melted butter or bacon grease to infuse the spirit with savory flavor. Fat-washing with alternative fats, including milk, coconut and peanut butter, is on the rise.
2. In 2017, interesting new food and beverage pairings, from oysters and gin to sherry and fries, will emerge to compete with wine and cheese.
3. Cocktails with a culinary twist are predicted to be a hit at events, thanks to unique ingredients with innovative cooking methods, including roasted grapes, smoked tomato water and even pickling brine.
4. Bartenders are incorporating fermented beverages ranging from Kombucha to kefir into creative cocktail creations such as a cranberry and tangerine Kombucha cocktail.
5. Mezcal, serrano chili syrup and other ingredients and flavors associated with South American cuisine will be featured prominently in cocktails.