Editor's note: This is a sneak peek from the upcoming May issue. You can expect the entire issue online next month.
---
Regardless of the circumstance, airport dining often isn't very appealing. Much of the food is often overpriced, over-processed and underwhelming. However, when an airport restaurant does manage to impress, it can have a lasting effect on the rest of a trip. But which airports offer the most positive experiences?
RewardExpert, a free service, is designed to help travelers maximize airline points and miles. In another endeavor to help travelers, the company released its 2017 Airport Dining Scorecard. The data-based report ranks the 20 busiest airports, from best to worst.
The ranking was based mainly on customer satisfaction, price and quality. Satisfaction was determined by Yelp score per venue, and average Yelp score per reviewer at each airport. Price was also calculated using Yelp data. Quality was measured by a cumulative average from Zagat reviews, Physicians Committee for Responsible Medicine healthiness scores and J.D. Power rankings. These factors were analyzed using nearly 75,000 restaurant reviews and factors in menu and pricing options.
"Airport infrastructure has been widely discussed this past year, and dining amenities can play a big factor in a traveler's experience at an airport," says RewardExpert CEO Roman Shteyn. "We set out to find which major U.S. airports go above and beyond to offer exceptional culinary options for those in transit."
Ranking Highlights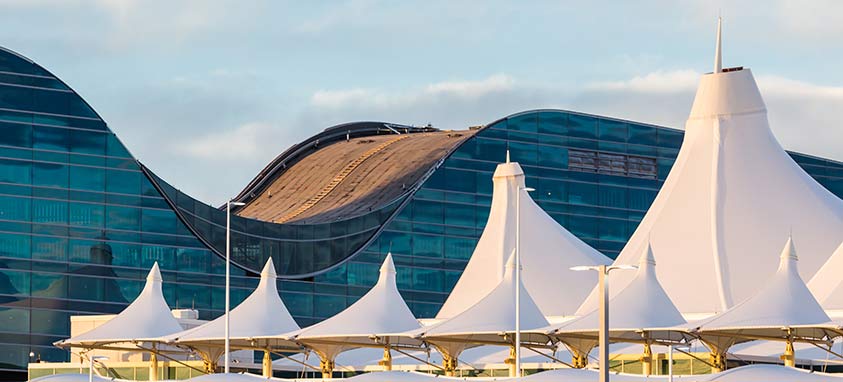 Denver International Airport (DEN) wins the No. 1 spot overall because of its highest overall rating, reasonable prices and wide range of food options. It is also No. 2 for price and variety.
Philadelphia came in fourth overall and No. 1 for Cheap Eats. Philadelphia offers almost 30 percent less expensive food, on average, compared to Newark Liberty International Airport (EWR), the most expensive in the top 20.
All three airports from the Greater New York area—La Guardia Airport (LGA), John F. Kennedy International Airport (JFK) and Newark Liberty International Airport—were at the bottom of the list due to their poor variety of options, high prices and high number of low-rated chain restaurants.
Best by Category
High-End Bites: Los Angeles International Airport (LAX)
Cheap Eats: Philadelphia International Airport (PHL)
Local Eateries: San Francisco International Airport (SFO)
Gluten-Free Accommodations: Dallas/Fort Worth International Airport (DFW)
Vegetarian and Vegan Options: George Bush International Airport (IAH)
Top 5 Airports
| | | | | | |
| --- | --- | --- | --- | --- | --- |
| # | AIRPORT | QUALITY | PRICE | SATISFACTION | OVERALL SCORE |
| 1 | Denver | 3/3 | $ (out of $$$) | 5/5 | 5/5 |
| 2 | Phoenix | 2/3 | $ | 5/5 | 4/5 |
| 3 | Atlanta | 2/3 | $ | 3.5/5 | 4/5 |
| 4 | Philadelphia | 2/3 | $$ | 4.5/5 | 3.5/5 |
| 5 | Houston | 1/2 | $ | 4/5 | 3.5/5 |
Full Top 20 (ordered)
Denver International Airport (DEN)
Phoenix Sky Harbor International Airport (PHX)
Hartsfield-Jackson Atlanta International Airport (ATL)
Philadelphia International Airport (PHL)
George Bush Intercontinental Airport (IAH)
Dallas/Fort Worth International Airport (DFW)
Chicago O'Hare International Airport (ORD)
San Francisco International Airport (SFO)
Miami International Airport (MIA)
Boston Logan International Airport (BOS)
Minneapolis Saint Paul International Airport (MSP)
Detroit Metropolitan Airport (DTW)
Seattle-Tacoma International Airport (SEA)
Orlando International Airport (MCO)
Charlotte Douglas International Airport(CLT)
Los Angeles International Airport (LAX)
Las Vegas McCarran International Airport (LAS)
New York LaGuardia Airport (LGA)
John F. Kennedy International Airport (JFK)
Newark Liberty International Airport (EWR)