Spokespeople for Tourism Australia, Meet South Africa and Ritz-Carlton spoke to attendees at the DMAI 2016 conference about their advertising strategies and social media campaigns.
Following the presentation, a hands-on Innovation Lab was made available for the duration of the convention, where attendees could try out the latest technologies including VR/AR, live streaming, intelligent assistants and more.
Here are some of the biggest takeaways these destinations illustrated that can be applied by any destination looking to refresh their approach:
An Evolving Strategy
Jesse Desjardins, global head of social content for Tourism Australia, began the presentation by featuring one of the most iconic tourisms ads. Paul Hogan "won almost every conceivable award at the time" following the filming of his tourism commercials, because he spoke the language of the people. He went on to film eight ads for Australia, and though they were affective at the time, today's strategy does nearly the opposite: leveraging users to tell the story.
Australia is too large and contains too many destinations within it to have a single spokesperson represent it now, Desjardins says.
A quick look at Tourism Australia's social media profiles shows that today, everyone tells their story.  Skift showcased 200 of the most liked travel photos on Instagram, and 197 out of 200 came from Tourism Australia's account. How?
Create Millions of Spokespeople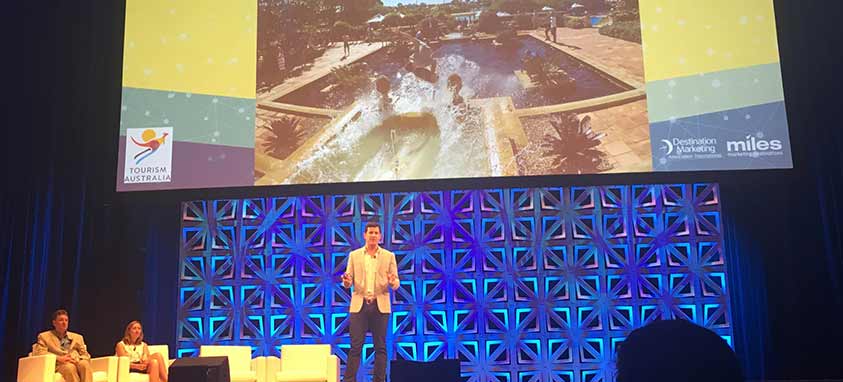 First, Desjardins advises, create value. Not vanity.
"There are two questions we ask ourselves: How much value does this create for the consumer? And how much value does it bring to the organization?" notes Desjardins. Destinations need to look for opportunities that provide value, and come up with a creative way to educate the audience about the experience.
Second, put the spotlight on the user. "When you make other people the hero, you open yourself up to opportunity" (and don't need to put all the work into it.)
Third, build platforms, not just campaigns. The Paul Hogan campaign while successful in its time, wasn't scalable.
Tourism Australia's food and wine campaign strategy is a perfect example of a social media campaign platform. It was based on people, places and produce. People who had experienced the continent's food industry rated it's F&B high, and people who hadn't rated it low, demonstrating a misperception that they aimed to corrected.
The tourism bored launched several initiatives around their food and wine campaign. It's employees can now come into the office Monday morning, take a look at what was posted over the weekend using the hashtag #RestaurantAustralia and weed through them to create content called "What Australia Ate this Weekend." Simple, effective, effortless and created by the user.
South Africa Social Campaigns
When the Ebola virus scare hit, tourism dropped for South Africa, despite the fact that the region affected was in West Africa. Justine Barnette, marketing and communications manager of South African Tourism USA was tasked with educating the world about the destination in hopes of recovering.
The tourism group decided to pull a page from the history books. They introduced a mobile app that offered 27 Nelson Mandela experiences offered in South Africa — one for every year he was imprisoned.
They also launched an Instagram influencer miniseries, #MeetSouthAfrica that matched people visiting with locals based on their interests. In a two week period,  @VisitSouthAfrica, the board's Instagram account, grew their following 38 percent.
See a brief episode of the miniseries, here: