Photo credit: Napa Valley Film Festival
In true show business form, Napa Valley Film Festival (NVFF) will go on as scheduled in Wine Country from November 8-12. Organizers are not letting devastating wildfires get in the way of the celebration. Similar to IMEX's resilient pledge to hold their annual North American trade show in Las Vegas just one week after the tragic massacre on The Strip, event professionals in Sonoma and Napa counties are going ahead as planned.
"Our hearts and thoughts continue to be with all of our Napa and Sonoma County families, friends, colleagues, neighbors and partners during this difficult time," NVFF co-founders and directors Marc and Brenda Lhormer say in a press release. "Our intention is to put on the most memorable and meaningful film festival to date. Our partners and venues are eager to share this festival with those who love and need great stories, conversation and bonding experiences."
With the exception of Hilton Sonoma Wine Country and Fountaingrove Inn in Santa Rosa, which were both destroyed by the fires, almost all area hotels have already re-opened and are welcoming guests. One of the festival's lodging partners, Silverado Resort and Spa, is due to re-open on Saturday, in plenty of time for the beginning of NVFF.
Tourism is one of the leading industries and employers in Napa Valley, according to the 2016 Napa Valley Visitor Industry Economic Impact report conducted by Destination Analysts. "Festivalgoers will be able to support the Valley's rebuilding efforts by booking hotel rooms and making restaurant reservations," the Lhormers add. Brenda tells Smart Meetings they sell multi-day passes to encourage attendees to stay overnight.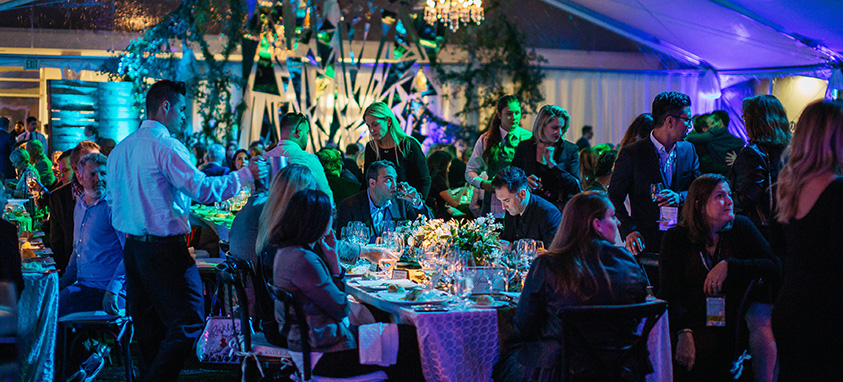 Photo credit: Napa Valley Film Festival
Besides donations of clothing, food and household supplies, what Wine Country residents most need is for visitors to continue to pump money into their economy to help stay afloat and rebuild, Michele Gardner-Kelley, director of sales for Kenwood Investments in Sonoma, tells Smart Meetings. She wants meeting professionals to know how essential they are to filling hotels in the region. She's seen planners cancel meetings through November out of fear, although the area is running business as usual. If this pattern continues, Gardner-Kelley is concerned residents will lose jobs and struggle even further to recoup their losses.
"You still have the national news scaring off everybody," Brenda points out. "[It's hard to] change people's perception who live in New York and Florida."
The NVFF is more than just about movie screenings, popcorn and soda. Attendees can expect to sip and dine on the best wine and food from Napa's many vineyards and restaurants. In addition to fans, over 300 filmmakers are anticipated to attend this year. In 2016, attendance was recorded at 11,000 people. NVFF will utilize nine venues within the region, including The CIA at Copia, Lincoln Theater and Farmstead at Long Meadow Ranch, to screen over 120 new independent films and studio sneak previews.
Brenda tells Smart Meetings that NVFF welcomes meeting professionals to book group excursions to the festival. They can customize unique experiences, such as private screenings and meet-and-greets and cooking demos with celebrity chefs.
Ten percent of proceeds from ticket sales sold from October 16 onward will be donated to the Napa Valley Community Foundation's Disaster Relief Fund. In addition, the NVFF Presenting Sponsor Lexus announced they're donating 1,000 tickets to fire victims.
Since the fires have been contained, the air quality has improved and access roads, the Napa Valley Wine Train and Charles M. Schulz Sonoma County Airport are open to travelers.