Weekly travel updates for the busy meeting professional.
Covid-19 Updates
As Covid-19 rates decline in NYC, the CDC has added 15 countries to its Level 4 or high-risk category. Those countries are: Columbia, Costa Rica, Dominican Republic, Fiji, Guadeloupe, Jamaica, Kuwait, Mongolia, Niger, Peru, Romania, Saint Barthélemy, Saint Martin, Tunisia and the United Arab Emirates.
In other Covid-19 news, The Republic of Ireland has announced a relaxing of Covid-19 restrictions: bars and restaurants will not need to close at 8 p.m. and indoor and outdoor venues will return to full capacity, although mask mandates for public transport and shops remains in place until February.
Norway Drops Covid-19 Travel Quarantine
Upon a recommendation from the Norwegian Institute of Public Health, the Norwegian government is removing current requirements for travel quarantine during Covid-19. The requirement is being removed as of January 26, the government said in a press release.
"I agree with the Norwegian Institute of Public Health that in light of the low proportion of confirmed cases of COVID-19 among arriving travelers without a Covid-19 certificate, compared with the current status of the pandemic in Norway, the time has come to change the travel quarantine requirement," said Minister of Health and Care Services Ingvild Kjerkol in the statement.
"Removing travel quarantine will help society reopen more quickly, as it will simplify entry into Norway. This can have positive socio-economic consequences for the business sector in general, and the travel industry in particular."
Torunn Tronsvang, founder and CEO of Up Norway, a travel advisory company that works with incentive groups, told Smart Meetings: "The American Embassy in Oslo, international businesses and tourism providers have put pressure on the government for months and are relieved to finally see results."
"The removal of quarantine means that businesses again can plan and venture on meetings, incentive trips, conferences and events in Norway; though maybe with more thought and consideration than before."
Tronsvang said that the company was expecting longer journeys with more "creative and meaningful" incentive and event programs.
American Airlines, British Airways Tease JFK Terminal Specs
American Airlines and British Airways have released more details on plans to co-locate operations at Terminal 8 starting in December of this year.
The $40 million expansion of the existing terminal will move the airlines closer together and "offer a more seamless customer experience."
The terminal will have five new widebody gates, a revamped baggage handing system, new passenger amenities and expanded business and first-class offerings.
American's Flagship First Check-in at JFK will close, beginning Feb. 1 for construction. Premium customers traveling on eligible itineraries will be sent to temporary check-in counters located nearby. All lounge spaces will continue to remain open and operational through the duration of the redevelopment project. Following completion, the Concourse B Admirals Club will close. The Concourse C Admirals Club will continue to serve members, qualifying elite customers and those traveling on eligible itineraries.
British Airways' Director of Brand and Customer Experience, Tom Stevens said that the new terminal would also create a "better transfer experience, enabling passengers to travel to more than 30 destinations across the US, Caribbean and Latin America with American Airlines."
Our Take: Expect that planned upgrades may take longer than announced. Travelers flying while the construction continues should expect possible disruptions. Allow more time if you're flying on AA or BA through JFK until the Terminal upgrade is finished and up and running for a few months.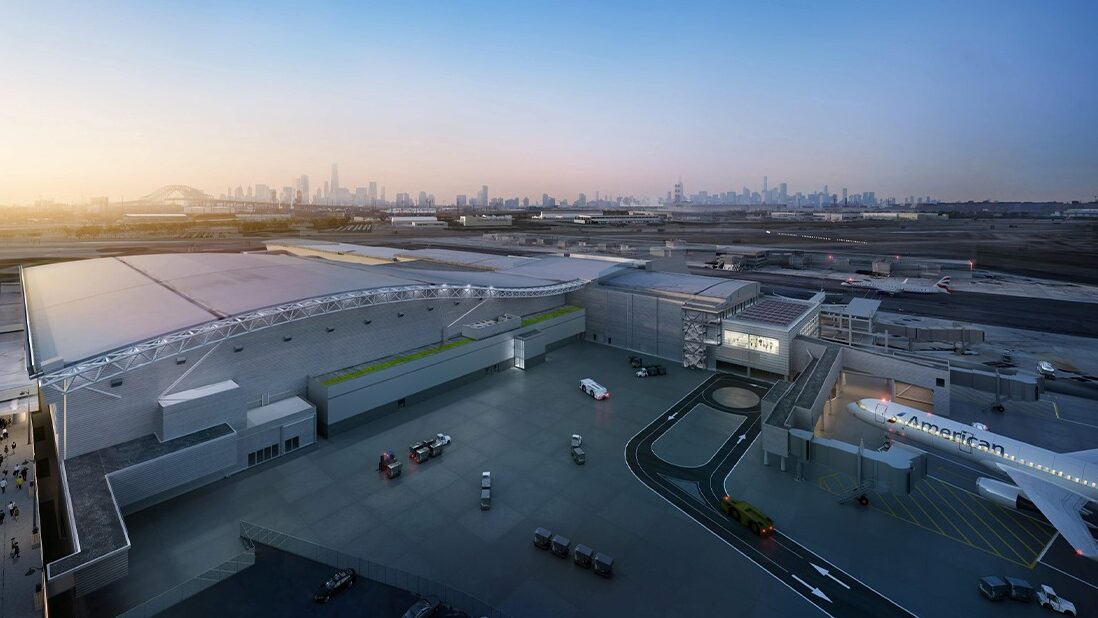 The expanded and reconfigured terminal will include five new widebody gates and 130,000 square feet of new and renovated space.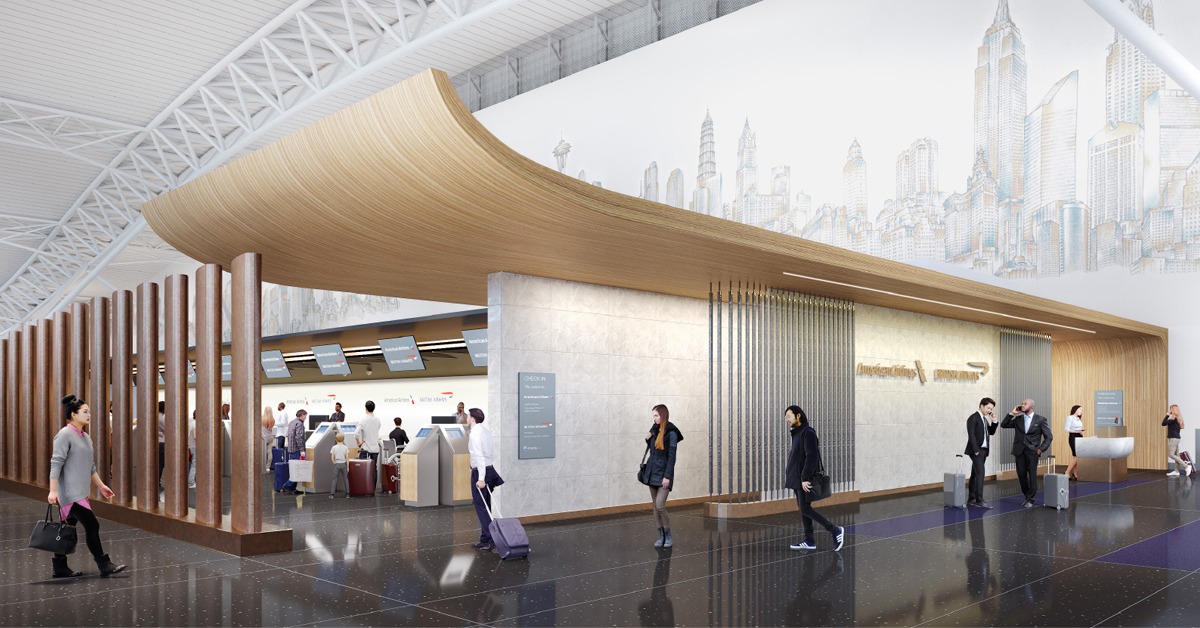 Architectural features will define, guide and direct customers towards an expanded joint premium check-in area on the ticketing level of JFK's Terminal 8.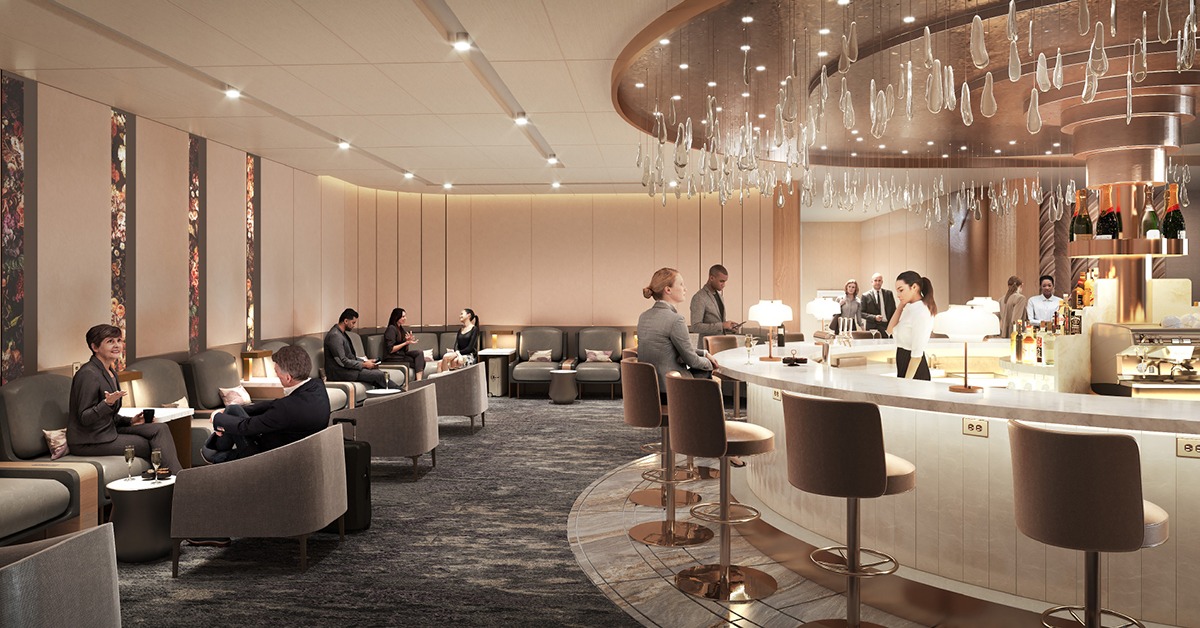 A high-end champagne bar defines the entry to American and British Airway's most exclusive lounge.