The rumors are true! Face-to-face meetings are happening again and where better to celebrate a comeback than in West Hollywood (WeHo), where the pool decks sparkle along with the chandeliers and not just the penthouse is suite.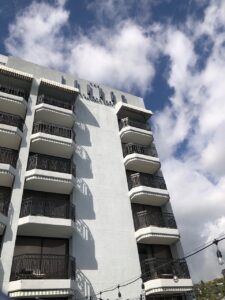 In fact, at The London West Hollywood West Hollywood at Beverly Hills where meeting professionals met this week for Smart Meetings Experience Southern California to learn about all the new opportunities for getting back in ballrooms through curated appointments, all 226 guest rooms are suites, and the 11,000 sq. ft. of meeting space is in addition to a two-story penthouse with 360-degree views.
The luxe quarters were the site of the welcome reception and closing festivities with behind-the-scenes work from Champagne Creative Group to set the celebrity tone.
Ain't No Stopping Planners
In between networking receptions, the group met in the plush private screening room for some resiliency lessons from "American Ninja Warrior" Alex Weber. The author of "Fail Proof: Become the Unstoppable You" shared his five lessons for achieving big goals—like planning a meeting during late-stage pandemic times.
Read More: Sandy Toe Treatment on California's Coast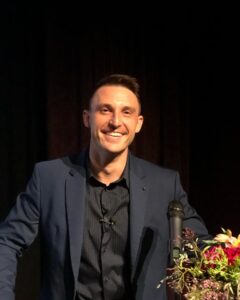 "Goals are hard, and life is busy, noisy and judgement-laden," he acknowledged right from the beginning. Then he shared five specific steps to doing hard things beyond staying positive. In fact, he shared that having a positive outlook is powerful.
It can increase productivity by 13%, help our bodies work better by minimizing toxic cortisol caused by anxiety and open our eyes to possibilities. It is also irritating and counter-productive, though, if it isn't authentic. "I am generally positive, but not always. Because I am a human being and not a golden retriever," he joked. Then he got to the steps.
Be clear: Take time to understand the goals that really matter to you, not to him or her or them, but the goals that are important to you.
Claim it: Start with an idea—maybe getting certified—and be clear on what you want. Even if you struggle with feeling worthy, when you write down and say you deserve it, acknowledging that it can be real is a first step.
Commit: Make a commitment to ourselves, the people in our lives and our goals and be unwavering about moving forward.
Connect: Reach out to the things that lift you up—the people, choices and habits that support you. Limit the ones that hold you back. We are human and we make mistakes, but if we lean into the things that support us more often, we will be positioned for success.
Choice: Own that you have a choice of how you show up, how you engage with others and what big, beautiful goals you want to go after. You have a choice to believe in yourself so when you hit the roadblocks and the fears, you can lean into what supports you (see No. 4).
When your life and expectations change and you are suddenly feeling like a failure, questioning yourself, spiraling down, you have a choice to quit or commit. Quitting can be loud and public and take the form of flipping a desk and storming out of a room. Or, more dangerously, quietly giving up and not putting yourself out there.
"Goals change and evolve, but you are the constant. You have to choose yourself," Weber said. "Know that all you can do is the best you can do so you will never live with regret.
Meet with like-minded meeting professionals at our next 3-day event Mar. 13-15 at The Galt House in Louisville, Kentucky. Register today!