An unfortunate result of the disruption over the last two years is an increase in depression, anxiety and tension in relationships both familial and romantic. An effect of this is more people seeking care, as reported by nine out of 10 therapists in a New York Times piece.
Kimpton Hotels & Restaurants is tackling the issue head-on. In partnership with online behavioral healthcare company Talkspace, the company will provide mental health services to its guests and more than 4,000 employees in the United States.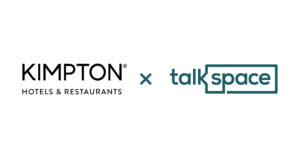 On Feb. 23, Kimpton began offering 1,000 complimentary virtual therapy sessions with licensed counselors to guests over 18 at more than 60 participating properties.
Through December 2022, they can also get $100 off the first month of any Talkspace Plan, and Kimpton employees will receive a free one-year Talkspace subscription. Free virtual therapy sessions are on a first come, first basis, and can be redeemed through talkspace@kimptonhotels.com.
"We know that travelers are facing more stress and anxiety than ever before, and employees in the hospitality industry have been pushed to the limit during the pandemic," said Mike DeFrino, CEO of Kimpton Hotels.
Read More: How to Support the Mental Health of Event Planners
"Our founder Bill Kimpton was public and brave about his own personal struggles with mental health and made both physical and mental health a priority for all of his employees from the beginning," he continued. "We take our commitment to heartfelt hospitality seriously, and we are proud that our Talkspace partnership gives us an opportunity to bring our Stay Human ethos to life while providing more mental health support for our people and our guests."
This virtual therapy is of equal benefit to the company's meetings and events teams, as well as to their clients. "As consumers continue returning to travel and planning in-person meetings, we know that people will have new worries and stresses as they start re-acclimating to travel experiences," said Suzanne Halperin, vice president of catering and banquet operations for Kimpton Hotels.
"The M+E space is no different, and we are actively working to reshape and create programming that fits new consumer demands. Whether it's the return to corporate events or celebrations around big life milestones from weddings to family reunions, we want our guests to know that they have support to manage the stresses and challenges that can arise with the return to in-person gatherings," she added.
Halperin said the ongoing $100 Talkspace discount is a great additional perk for their event teams to offer to groups—and they're looking into providing even more. "We are already exploring future group discounts and offerings that continue to encourage our guests to make their mental health a priority while traveling," she said.