When does a webinar cross the line into an experience? How do you make virtual meetings immersive? Can a hybrid meeting deliver the same—or more—impact than a contained ballroom? Hubilo demonstrated the answer to these and other questions in its Mastering Immersive Experiences (MIX) 2022 hybrid event this week.
The day-long presentation mixed content from three in-person hubs—San Francisco Bay Area, New York City and London—along with thousands making up the remote audience from around the world. Live and recorded virtual panels shared a vision for a how to transform events into experiences.
A celebrity guest (teaser for The Office celebrity Mindy Kaling below), DJ and meditation exercise was a nod to the human element of gathering. Polls and chat in the app kept everyone engaged.
The Transformative Answers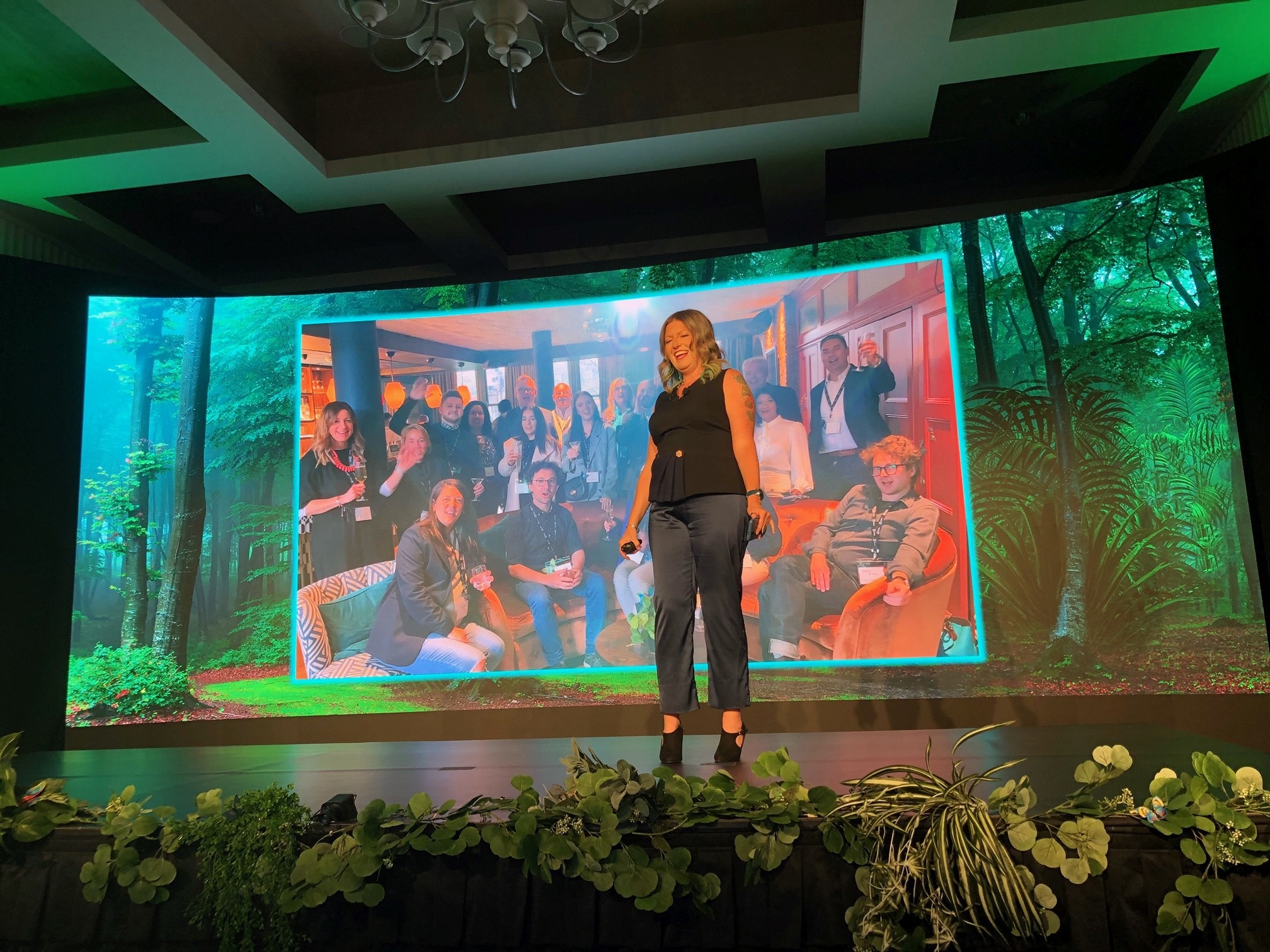 A wall-sized LED screen with rich tropical graphics was the window to bring virtual content to the live audience with help from moderators at each gathering.
Vaibhav Jain, founder and CEO of Hubilo, kicked off the existential questioning. "I understand how hard the last few years have been, but somehow we, like you, managed to pull off miracles. How does that happen?" he asked rhetorically, referencing the pivot his company made from event management to building a platform in a matter of a month.
Then he answered his own question. "Someone, usually an event planner, has to have incredible creative vision paired with strong work ethic. They can think across the worlds of art, design and technology. They can summon the brilliance to pull off miracles."
He explained that today meeting professionals are the epicenter of marketing strategies, driving brand interest, meaningful community, loyalty, growth and demand. Meeting professionals have the power of data. They know what people are interested in, when, why and how.
Events are now global and diverse, widening their reach and bringing in new micro-communities that had not engaged before.
But it wasn't easy and adopting new technology can still be a challenge, he acknowledged. "How many hits can you take, how much sleep can you lose? How many weekends can you give up?" he asked.
His vision is to offer a platform with dedicated client experience teams, a mobile broadcast studio, real-time analytics and easy links to existing marketing systems to simplify branding and enable personalized event journeys and hyper-targeted campaigns.
The goal is turning events into can't miss experience without the planner having to worry about the technology. "When purposeful content combines with immersive experiences it is powerful; we call that #hubilove," he concluded.
Read more about how going virtual helped West Hollywood, California, connect to its community.
Personalized Responses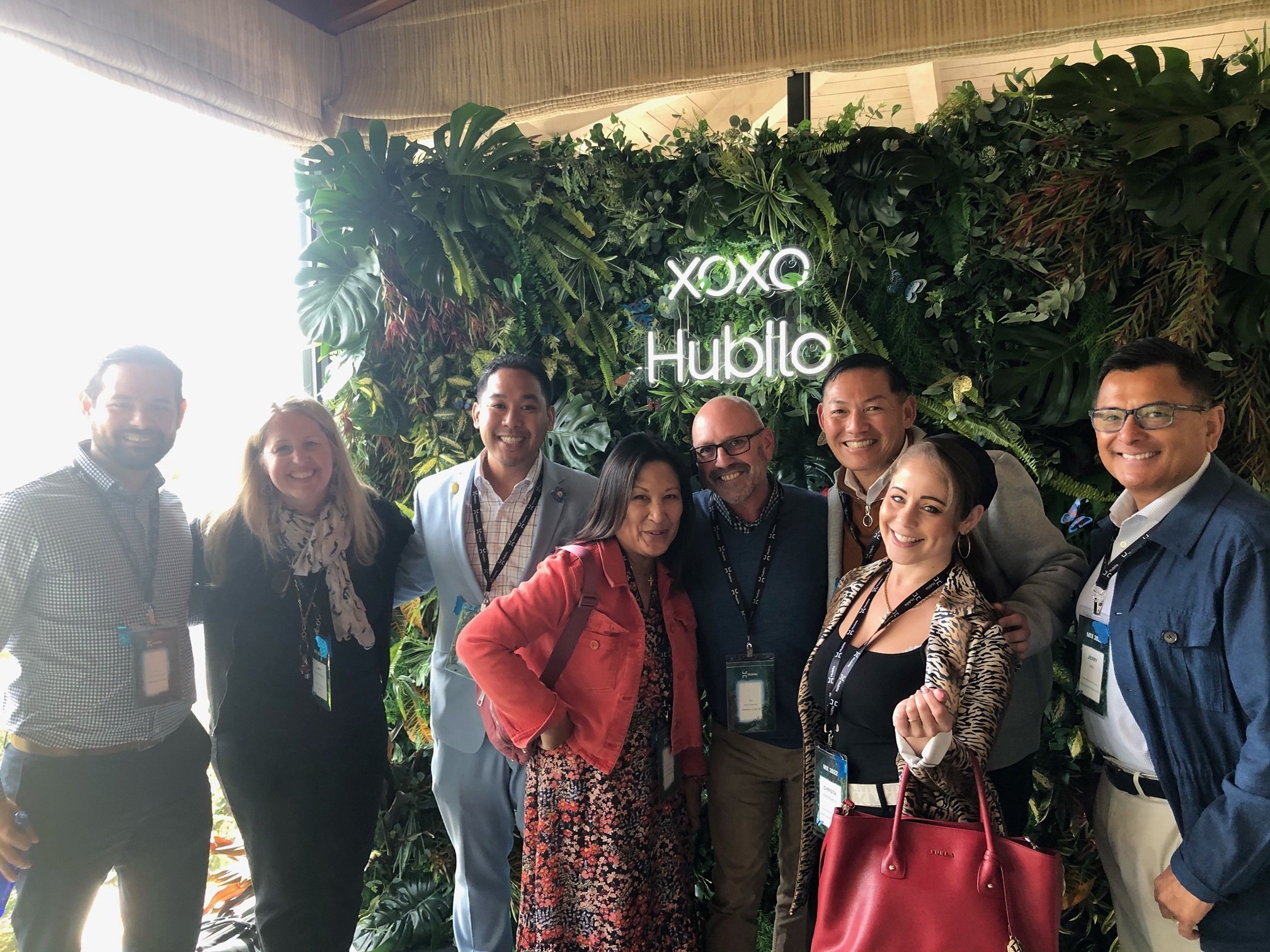 Real-world planners shared how they are using the tools to personalize events and increase audience attendance and engagement. Duncan Reid, CEO and co-founder of Reset Connect, joined RD Whitney, CEO of 365 Media and founder of community with Leaders Institute, to explain how they are adopting the Netflix model to mine the rich data virtual meetings offer first and adjust the in-person agenda based on that insight to better anticipate participant needs. This asynchronous model can also be simpler to plan and execute.
Reid deploys a webinar on a topic first to monitor behavior (when people drop off and what questions they ask). Then he knows what to deliver in person.
"The success of an event is about the connections you make and business you can do and the longer people stay, the more connections are made," Reid said.
"Personalization makes everything stickier," he said.
Whitney marveled at the incredible convergence happening between online learning, in-person gathering and identification of interests to funnel down to micro-community.
"The amount of innovation in last 20 months in terms of minimal viable community has made technology simpler, more accessible and lower risk," he said.
The pair left the audience to answer the question of how meetings can adopt the behavioral science tricks that have been mastered by game designers, cable television and movies to personalize and engage in a way that keeps them coming back.
Learn about the next wave in virtual meetings: language interpretation.
The Ambition Project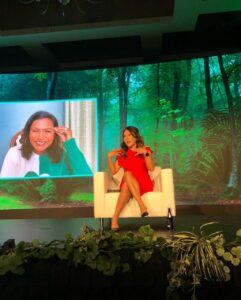 The featured speaker, writer, director and actor on shows such as The Office and The Mindy Project, Mindy Kaling, brought the feels with question formatted the way her "Never Have I Ever" show reveals character through details.
On the question of setting expectations, she answered with more questions.
Cathy Song Novelli, Hubilo senior vice president of marketing and communications, asked her: "Do you set realistic expectations so you aren't disappointed or have huge ambitions and fail a lot?"
"I ask, 'Why not me? Why can't I do it?'" she said.
"Just because I haven't seen someone who looks like me do it before is not a good reason," she said. "We have stories to tell."
What is the best way to advance to the highest levels in any field? Kaling had an answer for that as well. "Having someone that people respect believe in you is so important," she said. "Championing others is a risk that can pay off big time."
Her final piece of advice: "Sometimes you just have to put on lip gloss and act like you are psyched. Life is hard and rarely are all parts of life going well. Even if I'm not feeling it, I owe it to the people in my life to show up and pretend I am." Then she paused. "If you do it convincingly enough, you might find you actually like it."