The 1,700 attendees checking in live at Meeting Professionals International's World Education Conference (WEC) at Moscone Center in San Francisco this week were treated to a performance in three acts designed to provide "perspective," "approach" and "action," according to Paul Van Deventer, MPI president and CEO.
Each speaker was chosen with help from internal and external experts to advance that day's message in a variety of delivery methods.
Annette Gregg, MPI senior vice president of experience, explained that attendees could sort and choose their journey through the day based on the topic, level of interaction, speakers and even the location. The offerings started with an invitation to consider new perspectives and worked their way through to a call to design based on a healthy understanding of where people have been, what they need now and what will work in the future.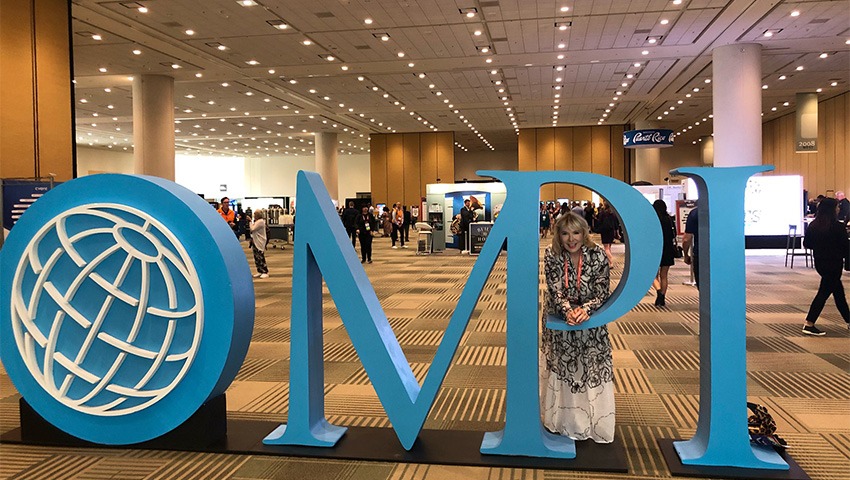 The approximately 300 people who tuned in online were treated to the keynotes from human connection expert Riaz Meghji, Project Enye creator Denise Soler and Rock Your Business CEO Brian Allan and others.
"We want to recognize all the people who got us here and make everyone feel like heroes." Said Van Deventer at the introductory press conference.
The tradition of consolidating the show into three days that started with MPI 2020 in Grapevine, Texas, during the pandemic continued based on positive feedback, a reality that led to consolidating closing ceremonies at San Francisco City Hall with the Rendezvous fundraiser. The celebration correspondent with the colorful kickoff of Pride Week in the City.
Read More: Authentic Experiences 101: A Hot New Hotel and Restaurant in San Francisco
Forward Looking
At the Thursday lunch, attendees were treated to a taste of the festivities that await next year when the annual event moves to the Mexican Caribbean, Riviera Maya, June 12-15, 2023, as a culmination of conversations that have been going on at the highest levels of MPI and the Mexican government since 2011.
In the meantime, 2022 MPI Board Chair Bonnie Carlson, president and CEO of Bloomington Convention and Visitors Bureau, shared that the organization's priorities will be on continued advocacy, education and membership growth from 120,000 to 250,000 people.
Other new initiatives include MPI Academy, which is now offering digital badging and credentialing so participants can show off their skill enhancement, a new Healthcare Meetings certification for venues launching in Singapore and an MPI certification program for San Diego State University L. Robert Payne School of Hospitality & Tourism Management students.
The much-anticipated launch of in-person European Meetings and Events Conference was announced for Brighton, England, March 2023 where the group has grown to 700 European members.
Read More: TWT: Masks Off for Euro Air Travel
A Foundation for Reflection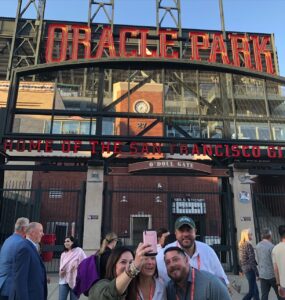 MPI Foundation Presidents Dinner at San Francisco Hilton Union Square marked the 50th anniversary of the organization with a tribute to Brian Stevens, co-founder and CEO at ConferenceDirect. As a longtime industry volunteer, he has played a role in helping the industry through numerous challenges. He started in 1978 with Hilton Hotels Corporation, rising from sales trainee to vice president of sales and marketing. He pioneered a new type of meeting services company in 1998 and raised millions of dollars over the years for industry causes.
Rise Awards recognized the current members stepping up during a critical time. Member of the Year recipients were Elite Productions International Vice President of Events and Marketing Pawntra Shadab, and Destination South Meetings + Events Manager Shannon Jones. Meeting Industry Leadership Award went to CTA Event Designer & DMC Managing Director Valeria Serrano Suzan. Innovative Educational Programming went to MPI Italia Chapter. Industry Advocate went to MPI Kansas City Chapter. Membership Achievement went to MPI Oregon Chapter and Marketplace Excellence went to MPI Caribe Mexicano Chapter.
The dinner is both a recognition of excellence and a fundraiser to support the continued growth of the industry. Gary Schirmacher, senior consultant of talent acquisition at Maritz Global Events, and 2022 MPI Foundation Chair shared that the philanthropic arm of the organization spent $1.2 million to help members preserve their link to MPI's educational resources over the last two years. He is now working to help legacy members set up endowments so they can continue to have an impact for years to come.
"MPI Foundation is in the kindness business, but also in the business of creating belonging," he said.