At the end of last year, National Association of Music Merchants (NAMM) was facing a tough decision. As one of the largest associations in the world with 10,000 member companies from over 100 countries, including manufacturers, distributors and retail music and sound products, the group had canceled their pair of 2021 events and were looking forward to getting back to the bi-annual schedule their members expected with a summer show at Nashville Music City Center and a winter show at Anaheim Convention Center where they have been meeting for 40 years.
Then another Covid wave hit, war broke out in Ukraine and supply chain issues challenged the industry in new ways. Cindy Sample, director of NAMM trade show operations, remembers the moment well. "All of a sudden, it wasn't looking good," she said bluntly.
A Desire to Move Ahead
NAMM President and CEO Joe Lamond consulted with the executive committee, influencers, partners and stakeholders and talked through the options: cancel or move? "We didn't make the decision in a vacuum," Sample said. "The overwhelming majority of people said they had a desire to move ahead; the industry needs this."
The team was committed to finding a way to make it happen. That just left the logistics of negotiating, planning and communicating a move from January to June for the 2022 Winter Show in Anaheim, combining with the planned Nashville Summer Show and moving the 2023 Winter Show from January to April to get closer to back on schedule. "There were a lot of moving parts," Sample said, once again understating the complexity.
Uncertainty was one of the big challenges. For an event that traditionally brought 115,000 people, how many would come on the heels of a Covid wave? How to estimate the number of square feet that would be needed? What sponsors would step up? "We were looking for quality, not quantity, with fewer international attendees as things were just opening up," Sample said.
Read More: What Event Planning Best Practices Are Here to Stay?
Luckily, after 20 years of working together, her team was able to work with partners at Visit Anaheim and the host hotels to find alternative dates. "They squeezed us between Star Wars and the Southern Baptists," Sample said.
Because of the long history, the change was treated as an addendum to amend the space and fee, no lawyers required. "We didn't go into renegotiations. They moved mountains to find us space and we worked together to make sure it made sense," she said.
Hotel partners were also spectacularly flexible, honoring the winter rates, considering that NAMM wasn't the only piece of business pushing into spring-summer when the destination was already seeing heavy transient demand.
The new dates and footprint required some operational challenges, but Sample reported that the group was just grateful to be able to have the show in a familiar place. "It was good to have some consistency and muscle memory," she said. "We focused on the positive, more activations outside and enjoying the great weather and seeing another side of the destination during the summer months."
Sample praised the relationships formed over the years with everyone involved. "What got us through it all was the partnerships we have built up over the years. Everyone was willing to jump in and do whatever it takes. We were all in the trenches," she said.
Communicating All That Change
Then came the tough part: explaining all those changes to hundreds of thousands of people deciding where to go and when. Although the convention was being moved to June, they couldn't call it the NAMM Summer Show because that event in Nashville was being canceled.
In the end, everyone worked together to make sure communication was clear and consistent and answered everyone's questions. There was a lot of hand-to-hand contact," Sample said. The wording focused on the upside. "Mark your calendars for a once-in-a-lifetime show, combining the greatest hits from both Summer NAMM and The NAMM Show. Join us, June 3–5, for an incredible reunion, uniting buyers, sellers and influencers from all over the globe. We'll see you in Southern California!" read one promotion.
All communication was also very vocal about the health protocols in effect. They offered masks and optional on-site testing. "We wanted everyone to feel good," Sample said.
Read More: Navigating Comfort Levels: Third-party Planning in an Age in Flux
Attendees were evidently feeling very comfortable. Sample told the story of how she ordered green, yellow and red stickers so people could indicate their comfort level for interacting on their shirts. She ordered more red stickers, thinking people uncomfortable with shaking hands would be the ones who would want to be public about their feelings, but she ran out of green because people were excited to share their desire to be close. "I didn't see that coming," she laughed.
A Happy Ending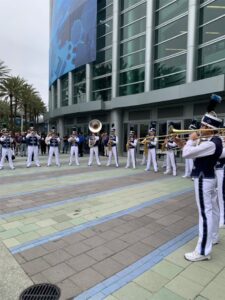 The consensus, according to Sample, was that it was better than expected with 48,000 showing up in person and more participating online. "We provided options," she said. When asked, she predicted that the group would probably continue to offer some sort of virtual product to expand their digital reach and monetize the content in a different way. "I'm pretty sure hybrid is here to stay," she said, praising the group's in-house technology team and commitment to continuing to learn and adjust the experience.
In the end, the event that almost didn't happen represented $77 million to the local economy and supported an estimated 26,000 jobs. The NAMM Foundation also makes significant contributions to the community. Over the years, The NAMM Foundation has donated more than $75,000 to Anaheim schools to provide students the opportunity for a well-rounded education that includes music.
Jay Burress, president and CEO of Visit Anaheim reported that the 17 events that came to town in June, including three other citywide conventions, produced the largest TOT (tax generated revenue for the city) in a single month since 2019. This positions "our entire destination for a strong start to the summer," he said.