For meeting professionals tasked with answering questions about the security concerns when sourcing a city such as Portland, Mayor Ted Wheeler has answers.
"Portland, like many other cities has experienced a number of challenges," Wheeler says, "particularly since the beginning of the pandemic and we are here to say that we have doubled our efforts in addressing the humanitarian crisis and homelessness on our streets and our goal there is to get people off the streets and helping by intervening as quickly and as humanely as possible to help connect people with the resources they need to get off the streets," he says. "We're already seeing good results on that front."
People are noticing. Wheeler noted that Portland was recently recognized as one of the most livable cities in the country, ranking eighth among the top 10, according to U.S. News & World Report. "We've made great inroads to improving public safety for the community at large," he said. "And we know as you're working on behalf of your clients, they're going to ask you questions about how safe attendees will be, what type of livability situations they will be walking into and we want you to know I'm really happy with the progress we have made."
Next-level Meeting Venues
Located on the east side of the Willamette River, the correct pronunciation rhymes with "dammit," as any local will be quick to point out, is the over 478,000-square-foot Oregon Convention Center, which is located adjacent to Portland's nearly 20,000-seat Moda Center and features five exhibition halls, two ballrooms, massive pre-function areas and concourses and two outdoor plazas. The Oregon Convention Center is also home to Stir Bistro and Lounge and Portland Coffee Roasters, which serves Blue Star Donuts—a local favorite—providing attendees with space to break out and refresh.
Read More: Portland, Oregon: City of Roses Focuses on Equality
But perhaps what sets the Oregon Convention Center apart from other large-scale meeting venues is the personality imbued onto the space through the convention center's art collection. In fact, it is the largest in the world, valued at more than $2 million. The Principia Foucault pendulum—also the largest of its kind on the planet—swings high over one of the pre-function spaces and is surrounded by countless murals and other large, mixed-media constructions throughout.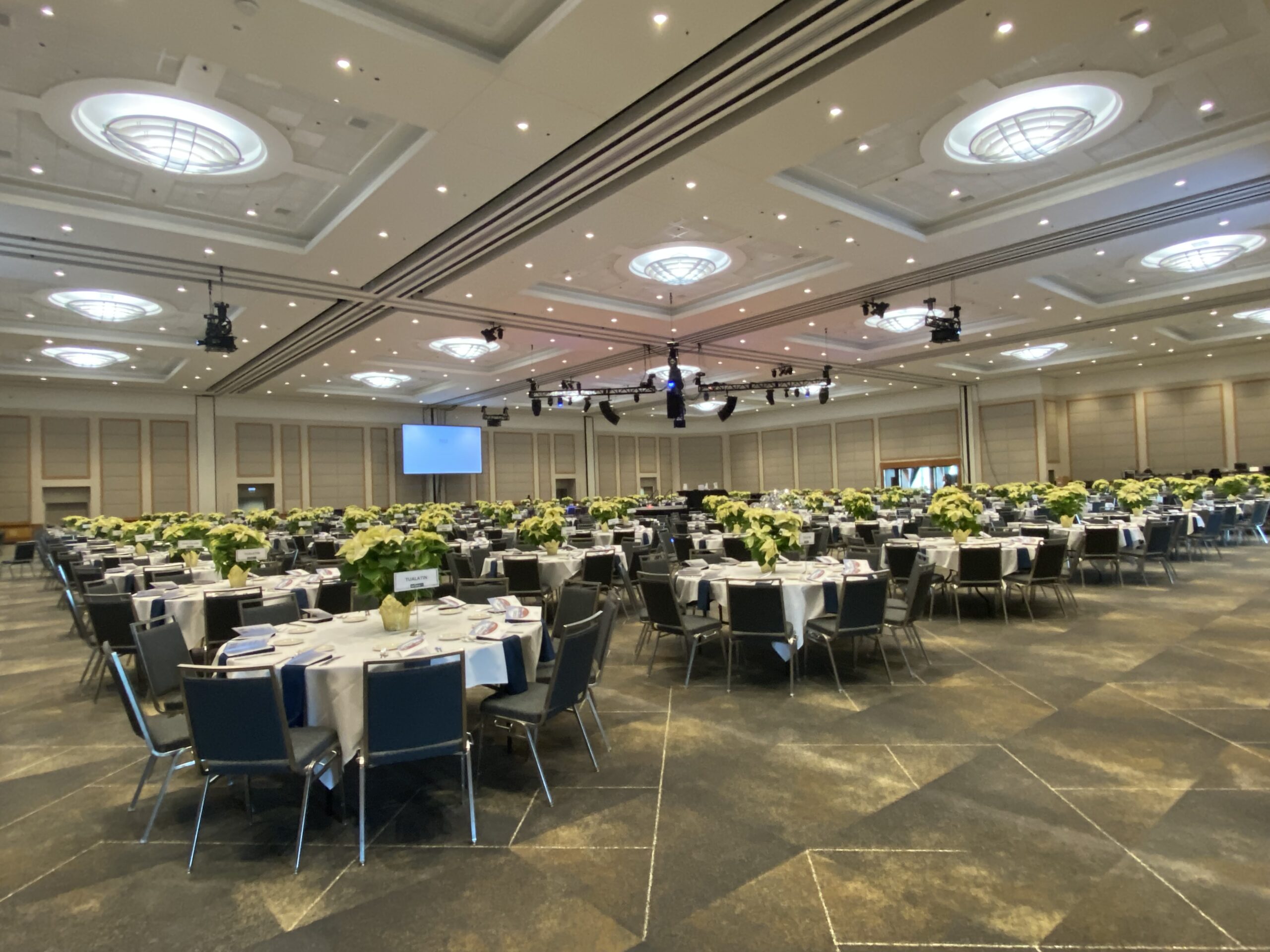 Another aspect of the Oregon Convention Center that sets it apart is its commitment to sustainability, which first kicked off in 2004 and was the first employee-led campaign for energy efficiency. Those efforts led to the convention center to being the first in the United States to achieve the Leadership in Energy and Environmental Design (LEED) certification, rising up to LEED Silver level in 2008 and then leveling up to Platinum—the highest level of certification. So, it comes as no surprise that the convention center has over 6,500 solar panels installed at the facility (one of the largest solar arrays at a convention center in the U.S.) and offsets 100% of energy consumption with energy from renewable sources.
Other perks of hosting at the convention center include street-level loading docks with two drive-up ramps and catering services provided by Levey Foods and headed by Senior Executive Chef Allan Wambaa.
Nearby hotel options include the over 500-room Portland Marriott Downtown Waterfront with stunning views of the river and even the decommissioned submarine used during the filming of Hunt for Red October. The spacious and modern venue is decorated with a fun bicycle theme and features 46,000 sq. ft. of meeting space across a total of 33 meeting rooms, boasting the 14,144-square-foot Oregon Ballroom—expanding the options of hosting east of the river.
However, Portland Marriott Downtown Waterfront also offers more than what's immediately visible. A 15,550-square-foot exhibition hall with 10-foot ceilings is located below street level on the property and can accommodate 69 -106 booths and up to 1,000 people for a reception.
Brewing Culture
Portland is home to a galaxy of breweries, wineries and distilleries, many of which have ample meeting space to host private events. Freeland Spirits is a woman-owned and operated distillery in Portland and belongs to the 2% of distilleries around the globe to share that commonality. Freeland Spirits produces vodka, gin and bourbon with an extensive list of custom cocktails and flights. The distillery has an indoor capacity of up to 40 with an outdoor patio that can accommodate an additional 20-25 guests. Tours of the distilling facility are available for up to 20 people.
Some of the Freeland Classics include the Five Star Old Fashioned made Freeland Bourbon, vanilla simple syrup and cinnamon bitters or the Spice Pear Fizz made with Freeland Gin, pear juice, lemon juice, thyme simple syrup, cardamom bitters, vanilla extract and sparkling water. "Drinking snacks," such as hummus and pita, herbed popcorn and mixed olives are also available.
Ponzi Vineyards is maybe one of Portland's most storied wineries with founders Dick and Nancy first arriving in the Willamette Valley in the late 1960s and is known for producing a world-renowned pinot noir. The family purchased 20 acres in the region just southwest of Portland following an extensive search for the perfect location including scouting land in Burgundy, France.
In 2021, Bollinger family acquired Ponzi Vineyards with the goal of the continued production of high-quality pinot noir and chardonnay. But Ponzi is more than just vino. Led by Executive Chef Nathan Jones, guests can enjoy custom and creative menus featuring dishes such as scallop ceviche, Oregon Mushroom crostini and the stew-like beef daube with fall vegetables—all perfect for pairing with one of Ponzi's featured wines.
The elegant meeting space at Ponzi Vineyards offers planners several options depending on the size of their group with space for 12 to 50 guests. The Laurelwood at Ponzi features a terrace overlooking the sprawling vineyards, The Pearl meeting space is slightly smaller with a private bar and floor-to-ceiling windows with an adjoining terrace and The Founders Room is a spacious dining room that can accommodate up to 50 guests for dinner. In addition, The Laurelwood also features the Vineyard Green, perfect for expanding meeting options while providing a natural transition from indoor meeting space to the vineyard.
Makers Market
Portland is teeming with talented makers who not only produce quality items of all sorts but take part in teaching their craft to others eager to create something new and unexpected. Bullseye Glass Co. offers classes that demonstrate the craft of glass blowing, along with the history of the craft and allow participants the chance to create vibrant glass coasters that are a great takeaway from an event.
Before making their coasters, participants are given a tour of the facility—arguably one of the first artist-based makers businesses in the city—to see how Bullseye produces handcrafted kiln-glass using an expansive palette of colors. What began in 1974 as a collaboration of community artists has since evolved into a small business with worldwide distribution and influence.
Wheeler explained that while the pandemic presented a slew of issues for Portland to contend with, it also provided an opportunity for the city to reevaluate as the post-pandemic recovery continues. As opportunities continue to expand in Portland, it's vital that economic prosperity is shared by all members of the community. "We have made a huge commitment to equitable economic prosperity," Wheeler says. One example of this is My People's Market, he says. "It's part of a larger program we have through the city to encourage minority entrepreneurship in the City of Portland."
Program participants learn how to create products, market and distribute them. "They get to try out in real-time with the public at large at these My People Market events—and they're hugely successful in the City of Portland." Event planners can host pop-up My People Markets during events creating the opportunity for something that's "fun, innovative, different and creative that's typically Portland," Wheeler says. "We think all conventions can benefit from this."
Portland by Any Other Name
Portlanders will tell you their city goes by many different names—all of which highlight various aspects of the city that make it an exciting and unique place to host meetings. The moniker "Stumptown" was first coined in the 1840s when the city was expanding at such a fast rate there wasn't a workforce large enough to keep up with the removal of tree stumps—having a lasting impact on locals.
Another popular nickname, Rip City, first came about in 1971 during the first season of the Portland Trailblazers when then-announcer Bill Schonely after Blazers' guard Jim Barnett sank a long-distance shot—three-pointers did not yet exist—and Schonely exclaimed "Rip City, baby!" as Barnet gave Portland renewed hope in defeating the great LA Lakers.
However, Portland's official nickname is "The City of Roses," although it wasn't made official by the Portland City Council until 2003 and dates back to 1888 when it was christened as such by visitors at an Episcopal Church convention in the city when the same year Portland's Rose Society was formed. Portland held it's first Rose Show in 1889.
But regardless of what you choose to call it, planners can take advantage of the easy access the city provides to numerous and diverse meeting venues, beautiful hotels, an immense foodie scene and countless activities. "We are the city that's known for a lot of great things," says Portland Mayor Ted Wheeler. "We have terrific culinary opportunities, travel opportunities, we're within spitting distance of the Cascade Mountains, and we're also very close to the Oregon coast, both of which are spectacular." In other words, there's always something amazing just outside of your meeting room.
And getting from bed to boardroom is truly a sinch for attendees, removing the hurdle from any planners' playbook. Portland is known as one of the most walkable cities in the country and is a perfect way to explore and discover. Portland's MAX light rail provides a quick way to move throughout the city and runs every 15 minutes. "We have so much to offer in terms of really good transportation and hospitality, the restaurants are just amazing and there's just so much to see, so much to do and Portlanders are just really great people," Wheeler says.