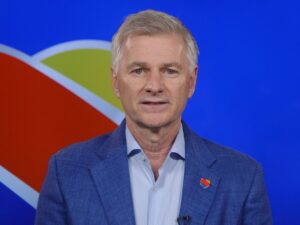 After a firestorm of criticism over the way Southwest Airlines handled the holiday season and weather delays and cancellations, the airline is getting broiled on the fires of internal critiques.
In an open letter posted this week on the Southwest Airlines Pilots Union (SWAPA) website, Captain Tom Nekouei, Southwest Airlines Pilots Union 2nd Vice President, wrote: "How did we get here? How did we go from the most stable and profitable airline in history to the greatest meltdown in airline history?
"As with most organizations, the answer can be distilled down to one word: Leadership. Actually, in our case, it's three words: Lack of leadership. While we continue to receive saccharine corporate-communications-department-written and legal-counsel-reviewed 'we're sorry' and 'I love you' meaningless and generic messages from SWA corporate executives, they obscure a genuine cancer within our Company that has been an ever-growing existential threat that must be excised before it becomes terminal."
He went on to say, "System-wide meltdowns at Southwest Airlines have been increasing in frequency and magnitude over the past 15 years."
Nekouei blames the meltdown on "conscious operational, manpower, or tech infrastructure investment decisions…" and the fact that "there has never been any real accountability for the decision-makers" in regard to similar breakdowns in service.
Finally, he laid the blame at the feet of "corporate automatons whose defining skills are sheltering the boss from bad news from below and never disagreeing with him."
He blamed former Southwest CEO Gary Kelly for padding his and shareholders wallets while "there were aspects of our operation that were in desperate need of significant investment and upgrade." He cited Kelly as "The airline darling of Wall Street who Gordon Gekko'd his own company from within through greed, ambition, and neglect for the operation itself."
Buttigieg at the Barricades
The airline was also the recipient of a verbal rebuke from Transportation Secretary Pete Buttigieg who commented on FoxNews Special Report that "…what we're doing right now is using the full force of this department to make sure customers get taken care of—I made clear to Southwest Airlines that they will be required by our department— by the way, this is something that wouldn't have been possible before the work we did this summer—They are now required to cover lodging, to cover ground expenses, to cover hotels for these delays and cancelations that were their responsibility."
Southwest Responds
The airline's CEO Bob Jordan posted an update on the site's press room on Thursday, Jan. 5, saying: "Our Leadership team is focused on a thorough review of the disruption with all the needed resources involved, and I expect that work to be completed swiftly. We've already taken immediate actions to mitigate the risk of this ever happening again, and the review work will inform additional actions and investment as well.  We've asked our unions to participate in this review effort as well, and likewise we are in regular communication with our Board of Directors.
"As a company we spend about $1B a year on technology. And we'll will continue to upgrade the tools and processes our Employees use to serve you, our valued Customers, and make sure those items deliver on our mission: to connect People to what's important in their lives through friendly, reliable, and low-cost air travel. We have a proud 51-year history of doing just that, and I'm confident we'll continue to deliver on this all-important Promise."