To chart a path forward, it helps to have some guiding lights. PCMA's Convening Leaders gathered 3,300 meeting professionals in Columbus, Ohio, for three days of education, networking and some transformative ideas. PCMA CEO Sherrif Karamat explained the need to focus on the future this way: "Covid happened for us, not to us. Our industry has shown remarkable resilience. Sometimes things that seem so tragic give us inspiration for what is to come. This is not about looking back, it is about blazing a trail forward with and for all of us."
Smart Meetings was there for a backstage view of what went into the production and brought back tips for planning even more intelligently in 2023.
Discomfort, Don't Dos and Uncertainty
The advice coming from the colorful mainstage at Greater Columbus Convention Center was an indicator that reinventing the future is going to be challenging. Yes Theory founders Thomas Brad and Ammar Kandil suggested everyone move out of their comfort zones, that is where connections happen. Their meeting at a party in Montreal while in college morphed into a movement that included challenging strangers to skydive and getting Will Smith to bungee jump. "The energy you show up with is what will be mirrored back to you," said Brag. "Be open to opportunities."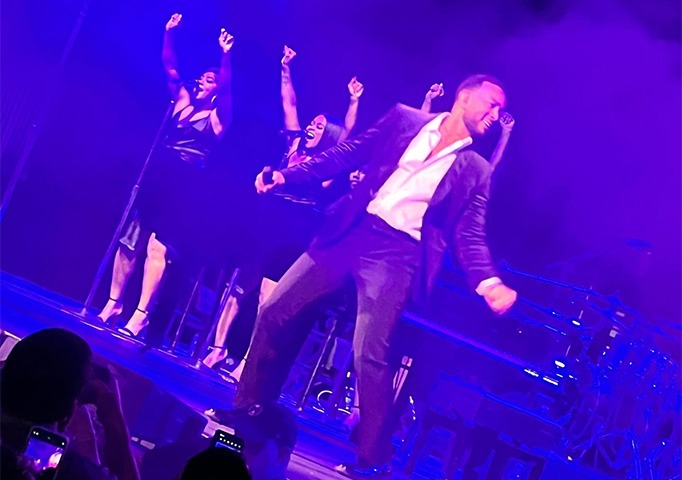 The most awarded Olympic athlete in the world, Allyson Felix, suggested embracing uncertainty. She challenged everyone to move out of their comfort zones as she had to do when she shifted to an advocate role for women in sports. "The most challenging part is being consistent. To maintain, you have to have passion and vision and think about the long game to motivate yourself to bring it every day."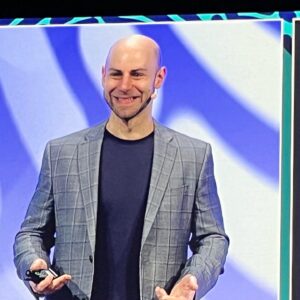 Author and professor Adam Grant advocated for building a challenge network. "Look for people who will tell you the truth," he said. That is how you get better. Author Daniel Pink celebrated the power of "to-don't" lists. Stop adding things to solve problems and consider subtracting. Award-winning singer John Legend wowed at Nationwide Arena. The Smart Meetings team went backstage at Great Columbus Convention Center for a tour of what goes into a high-production value event and how many people are pushing buttons to make the magic.
Business travel is back, reported Chris Nassetta, president and CEO of Hilton, who explained that at its core, what people want now is not that much different than in 2019. "The core of what people want is a reliable, friendly experience." He said the smart money is on focusing on wellness and doubling down on delivering fabulous F&B. As part of the same panel discussion, Encore Global CEO Ben Erwin called for investing in people assets. "That is a clear winning strategy."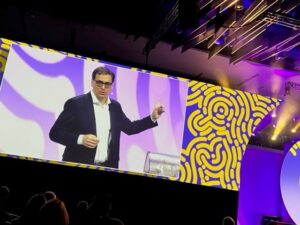 "The Power of Regret" author Daniel Pink, who took the place of Viola Davis at the last minute delivered powerful action items. He celebrated the life-changing power of "To Don't" lists. "Stop adding things to solve problems and consider subtracting," he advised. He also championed progress rituals, focusing on why, scheduling active, social breaks and taking chances. Even if you regret it, you might regret not doing it more and you will learn from it.
Behind the Scenes
The main stage was all curved screens with bright graphics and laser lights (which allowed them to meet weight limits for the room compared to LEDs) to bring color and energy to the proceedings. Vibrant-colored organic designs reflected what meeting professionals experienced as they moved through and around obstacles by working with partners and communities to find solutions. There was no straight line to get us where we needed to go. Each day employed a different dominant color: purple, Columbus blue and yellow. None of background was printed, it was all projected light on muslin panels, so it's reusable and sustainable.
Backstage, a team of 18 people managed the graphics and inputs from the seven cameras and the green rooms for presenters. The Encore Global team partnered with PCMA to create an intimate feel for 3,000 of their closest friends on risers, and in elevated VIP booths at Greater Columbus Convention Center.
A mezzanine acted as a secondary stage above the action with DJ Dana bringing a fun note that went beyond what a traditional Spotify station would deliver. Even the press conferences mixed up the approach with no long microphone-topped tables in sight. PCMA made their announcements (below) from the main stage and the press conference room stage was anchored with two comfy armchairs and a worn wood podium in the corner in case any of the presenters preferred that approach. In addition to all the mainstage action, the PCMA Foundation continued its work, raising $20,000 for Hospitality Open Hands and YMCA while Party with a Purpose raised funds for The Above and Beyond Foundation.  
News from PCMA
PCMA announced during the first day of its annual Convening Leaders conference in Columbus, Ohio, that it had forged a series of acquisitions, alliances and partnerships.
PCMA acquired Event Leadership Institute, a learning portal with an existing library of 260 videos. CEO Howard Givner will stay on as senior vice president of knowledge and innovation. Current PCMA members will have access to the library at no additional cost.
PCMA acquired Event Marketing Association-UK, a community of more than 800 corporate event marketing professionals from the United Kingdom.
PCMA implemented a strategic alliance with the National Coalition of Black Meeting Professionals, a co-locating partner of the 2023 Business Events Industry Week, Power of Purpose, which will convene March 7-9 at Gaylord National Resort & Convention Center, National Harbor, Maryland in collaboration with ASAE, AMC Institute, Events Industry Council and Destinations International. The event will move to Walter E. Washington Convention Center in Washington, D.C., April 9-11, 2024.
PCMA partnered with American Geophysical Union, a global earth and science publisher, to focus on active steps to address climate change.
Sherrif Karamat, president and CEO of PCMA and CEMA said, "Covid didn't happen to us, it happened for us; sometimes things that seem so tragic give us inspiration for what is to come." He continued, "As of today, we are only moving forward—blazing a trail forward with and for the global business events community."