"Las Vegas is recharged and ready for the next chapter of business," said Mary Beth Sewald, president and CEO of Vegas Chamber, this week at Las Vegas Chamber of Commerce preview of major upcoming events in town, including 2024 Super Bowl and Formula 1 Racing.
"In most cities, to have even one of these opportunities would be a big deal, but to have all three of these monumental events happening in about six months, that's just incredible. Only Vegas could make that happen," she said.
Sewald was joined by some veteran and new faces at Las Vegas Convention Center's (LVCC) new West Hall. Jeremy Aguero, principal analyst of Applied Dynamics provided an economic forecast; Lucas Walton, president of MSG Sphere gave an update on the massive globe emerging behind The Strip; Stefano Domenicali, president and CEO of Formula 1, and Renee Wilm, CEO of Las Vegas Grand Prix and offered insights on the race impact; Steve Hill, CEO and president of Las Vegas Convention and Visitors Authority (LVCVA) shared his excitement about upcoming development; and David Kieske, executive vice president and chief financial officer of Vici Properties opened up about the company's growing resort footprint.
Nevada's Economic Outlook
The Past
As an analyst, Applied Dynamics' Aguero said he's often asked, "What's next?" He believes before asking that, there's another more pressing concern: "Before we talk about where we're heading, it's helpful to talk about where we've been."
Major improvements included the $2.4-billion expansion to the recently renamed Harry Reid International Airport (LAS). "Had we not disrupted it, where would we be today?" he asked. The answer: At capacity.
Major openings in the midst of Covid included Circa Resort & Casino, Resorts World Las Vegas and LVCC's West Hall. Plus, Las Vegas Raiders played its first season at Allegiant Stadium.
Read More: Las Vegas: Bigger, Shinier Strip
In 2022, the dialogue is largely be around global conflict, Ukraine and the economy, he said. "We talk about gasoline prices spiking, food prices and inflation going up." But still Las Vegas is moving forward with new hotel openings and expansions, including the eagerly anticipated 67-story Fontainebleau Las Vegas scheduled to open by the end of this year. "Not a bad 10-year stretch for us overall. In fact, it's pretty incredible," he said.
Over the past decade, Nevada has added roughly 330,000 new residents and 250,000 new jobs across almost every sector, a rate higher than most other states in the U.S. Visitation is down a bit from a decade ago when it hit 42.5 million. Today it's roughly 40 million, largely due to a delayed return of international travel.
The Future
"Now let's imagine we do the exact same thing over the next decade. Are we ready to bring another 400,000 people into the urban valley?" he asked. "Our ability to continue to grow at that rate is going to be put to the challenge," he predicted.
Another 30% of growth or 300,000 additional employees in the valley may not be realistic either, considering the percentage of workers has declined by 1.4% over the last decade while the percentage of retirees across the U.S. has gone up 3.3%, stretching the age-dependency ratio. "We're aging, which means we have [relatively] fewer people in the workforce," he said. "We're going to have to adapt to a new reality for us to see the same prosperity and growth we've seen over the years."
Going forward, he said we need to prepare for slower population growth and a reality with fewer employees. "We are either going to pay for the workforce we want or we're going to pay for the workforce we get," he said.
Vici Properties Is Bullish on Vegas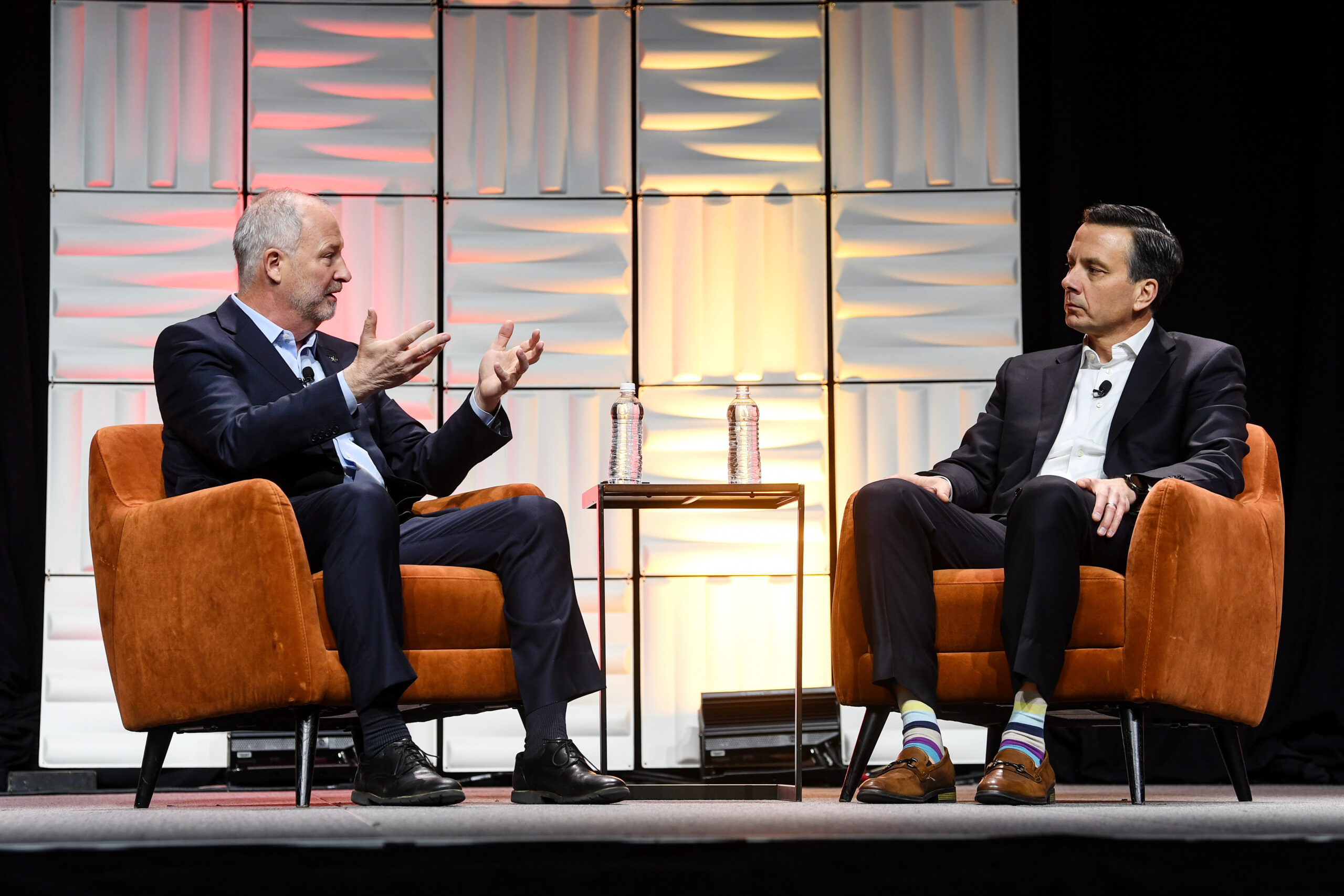 After laying out the economic Nevada's economic state, LVCVA's Hill sat down with Vici Properties' Kieske to discuss why the real estate investment trust is all in on Las Vegas. The experiential investing firm owns 11 of the 38 properties on The Strip, including Caesars Palace Las Vegas, MGM Grand and the Venetian Resort Ls Vegas. The firm also has an investment in Fontainebleau Las Vegas.
Vici, a spinoff born out of Caesars Entertainment's bankruptcy settlement in 2017, began as a $13-billion company, $7 billion of which was in debt. "Nobody expected Vici to survive," Kieski said. "We were basically set up to fail."
Today, the company is not only solvent, but thriving. "Myself, John Payne [Vici president and chief operating officer] and Ed Pitoniak [Vici CEO] set out to institutionalize gaming real estate and what we did in the last five-plus years is take Vici from a $13-billion enterprise company to just over $50 billion," he added. Vici properties' interest in The Strip can be attributed to this major factor, as Kieske put it, "It is the most economically productive strip in the world." He said no other road in America can replicate what goes on along The Strip.
"What the operators have realized is that it's not important for them to own the real estate," Kieske said. "You think about Home Depot, Walmart or Starbucks; they haven't grown because they own their real estate, they've grown because they've focused on what their core business is. The end-product these operators deliver is leisure and hospitality, so freeing up capital, selling us their real estate allows them to take that money, reinvest in their business, grow their business and deliver new experiences for their customer."
MSG Sphere
The first MSG (Madison Square Garden) Sphere, MSG Sphere at The Venetian, is scheduled to open this fall. "Our mission is to introduce an entirely new medium that will unlock shared experiences," Walton said. "We hope to make Las Vegas the birthplace of a new medium that changes lives of entertainment forever."
Inside Sphere, guests will see the first 16K LED screen in the world. At 600,000 sq. ft., the screen's size is equal to three football fields. Sphere's audio experience will also be something never before experienced according to Walton. It will be heard on 164,300 channels—eight channels per attendee—and with "beam-forming audio" the quality will provide "headset sound without the headset."
Vibrating haptic feedback in Sphere's 17,500 seats will give guests a far more intense experience than they would have otherwise. "In addition to sight, sound and vibrating seats, Sphere is designed to touch and inspire all the senses. Sphere can deliver wind to the audience that will blow their hair back and if we take you to a forest…we'll be able to deliver scent and temperature."
Walton said Sphere will feature four to six musical residencies per year, providing six to 12 shows at a time. He was adamant about Sphere's productivity, saying the venue will host two to three events per day with no dark days.
Formula 1 Racing Is Coming to Vegas—Permanently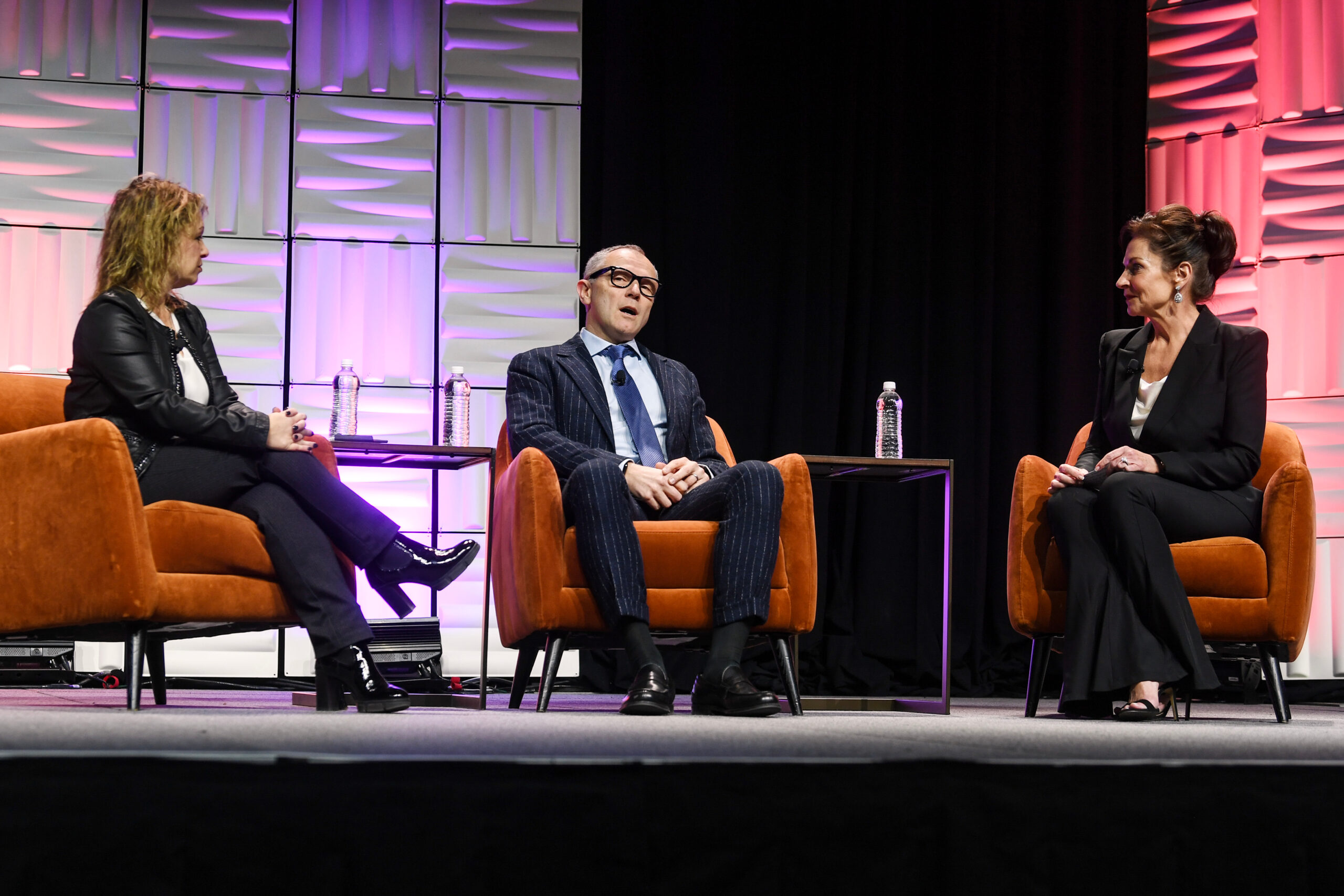 On Nov. 16-18, the first Formula 1 Grand Prix in the U.S. will come to Las Vegas.
"F1 has seen significant growth in interest in the United States year-over-year and that was truly our goal when we acquired the sport [in 2017]," Wilm said. "We understood the magic of the sport and the legacy, but what was missing was that U.S. focus." The company also opened itself up more to social media, which Wilm said completely changed their audience to a much younger and more female demographic than before. The latter stands at 40%.
Hill said the two-day racing event is going to be the largest event Las Vegas has had in his lifetime and Aguero estimated that it could be the city's first billion-dollar event. Wilm said the event, expected to have 100,000 guests, sold out so quickly domestically that European and Asian fans didn't get a chance to participate due to time zones.
The 3.8-mile track will pass casinos and hotels along The Strip at speeds of up to 212 mph. When the high-speed event is over, F1's presence in Las Vegas will remain, completing F1's No. 1 goal, which Wilm said is to establish the city as the home of Formula 1 in the North America.
The Paddock, F1's new Vegas venue, will be open to host events and exhibitions year-round. Hill later added that the F1 venue will be three stories with the bottom floor consisting of 13 parking garages, 10 for the teams and a few extras; the second level will serve as hospitality for the racing teams; the top floor, larger and made for the public, will house a restaurant. The second and third floor will feature a balcony surrounding the entire building.