Incentive travel has always been more about inspiration than dollars given for work done. The motivation inherent in earning public recognition in the form of time spent with executives is almost, as they say, priceless. At a time when many companies are taking a second look at the new ROI (return on incentive) out of an abundance of caution over global economic conditions, Society for Incentive Excellence (SITE) Global brought 800 planners and suppliers together at New York Marriott Marquis Times Square for a celebration of the transformational power of immersive experiences. 
The global professional organization officially launched 50 years ago in 1973 in that very city and has since grown to include more than 2,000 members, delivering research, education and networking. The banner New York City anniversary event was a record attendance for the organization and the content reflected the golden anniversary moment and the pivotal time for the industry as it faces the challenges of sustainability, economic uncertainty and changing demographics. It reflected the association's "50 Reasons to Love SITE: Connections, Friendships, Education & Opportunity" storytelling campaign and culminated in former SITE presidents flying in to celebrate together.
"I think the reason incentive travel has always survived economic downturns and remained a priority for achievement programs is our drive to explore and experience new destinations. After the pandemic, there's an even great desire for us to be together. The incentive market will continue to lead the way in presenting new locations, unique experiences and immersive programming," said new CEO Annette Gregg, who joined the organization in November after serving as chief revenue officer for MPI.
Overcoming
"The only airplane that doesn't experience turbulence is the one that stays in the hangar," shared Amelia Rose Earhart, who is not related to her namesake, but followed in her footsteps to be the youngest woman to fly around the world in a single-engine airplane. She brought her action-packed message about overcoming to the incentive experts with a laugh and a nod. "When we set our minds toward any big goal, we imagine creating our plan and executing it to completion. Then we are thrown off course by something we never saw coming…This is the point where we have to ask ourselves if we are doomed for a crash landing or if we are willing to learn to love the turbulence," she challenged the audience.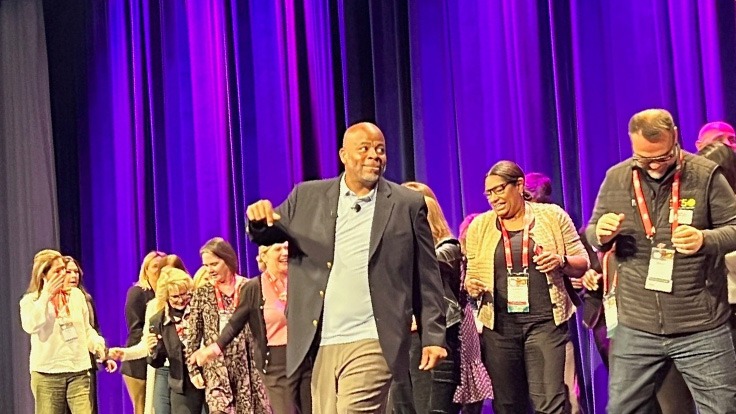 Andre Norman, former prison gang member and author of "Ambassador of Hope: Turning Poverty and Prison into a Purpose-Driven Life," shared his story of redemption with a ballroom filled with teary eyes and dancing feet. He recounted how he went from surviving as boy from a poor, violent family, to an aspiring musical talent to losing his way in the streets and earning the title of "King of Nowhere" in a state penitentiary. While in solitary confinement, he decided he was going to get out and go to Harvard University and spend his life giving back, helping others who were on a path to making some of the same mistakes he did. He was paroled 23 years ago and armed with his GED, did just that all over the world. 
"Transactions took me to prison, relationships moved me forward," he said. 
Read More: SITE Classic Demonstrated Gen Z-worthy Incentive Trends
His advice for the influential incentive professionals in the room: "Don't jump over your own to take care of others. Make your family number one. You can help them by showing you care."
$10 Million Strong
SITE Foundation, the philanthropic arm of the association, had its own celebrating to do. After 35 years, the total dollars raised and invested in the business events industry is now $10 million and the group is in the midst of a matching fundraising campaign to help victims of the earthquake in Turkiye, which happens to also be the newly announced location for next year's SITE Global Conference, Istanbul.
New Foundation President Hamish Reid, MICE Consultant with Hills Balfour, shared that between 2016 and 2022 alone, more than $1.7 million was invested in 105 projects, touching 16,000 people. The funds go toward funding educational certification programs, such as Certified Incentive Specialist and Certified Incentive Travel Professional. Since its founding in 1987, the organization has also funded research, such as Incentive Travel Index, which is produced in partnership with Incentive Research Foundation and Financial & Insurance Conference Professionals.
More Wise Words from SITE Global
With dozens of sessions over three days, some of the most challenging industry issues were addressed. Here are three takeaways from breakout sessions worth repeating.
"Stop overscheduling people. You can give them a break and save some money," said Chetan Shah, CEO of micebook and moderator of the "Mitigate Cost Rises and Keep Your Incentive in Play" session. He added, "

Itemize all value given to help with procurement departments and partner with DMCs and CVBs."

"To thrive in the future of work, you have to build trust. Once you have established trust, a little intellectual conflict can actually be a good thing," said Eric Termuende, author of "Rethink Work: a Practical Guide to Finding and Keeping the Right Talent" and speaker at the "Thriving in the Future of Work: How to Build Incredible, Resilient Teams" session.
"Don't use TikTok to get mental health tips; be your own best cheerleader," said Kate Patay, director of engagement, Terramar DMC, during the "Hard Reset, Real Talk" session.
Crystal Awards
Eight SITE Crystal Award recipients were celebrated on the final night of the largest-ever SITE Global Conference in New York City. "This year's winners strongly reflected an ability to deliver the many impacts and benefits of incentive travel, while also leading the way in embracing new and emerging trends," read the press release, which highlighted the range of destinations and companies represented and the growth of incentive travel as a key reward and motivational strategy for top firms looking to retain and attract talent.
Carina Bauer, CEO of IMEX Group, which sponsored this year's awards praised the international reach of the programs honored. "The Crystal Awards bring our community together and spotlight the innovation and excellence powering these teams and their standout incentive programs," she said in a press release.
This year's complete list of Crystal Award recipients includes:
Access Holidays & Events, for Excellence in Incentive Travel: Africa and the Middle East
Amstar DMC (Costa Rica), for Best Destination-Based Experiential Incentive Travel Program
Amstar DMC (Mexico), for Best Destination-Based Experiential Incentive Travel Program
Arabian Adventures Meetings, Incentives & Events, for Excellence in Incentive Travel: Africa and the Middle East
Augeo, for Best Virtual Motivational Experience
AV Business & Communication, for Excellence in Incentive Travel: Latin America & Caribbean
Creative Travel India & FMC Solutions South Africa, for Excellence in Incentive Travel: Asia Pacific
Motivation Excellence, for Excellence in Incentive Travel: Europe