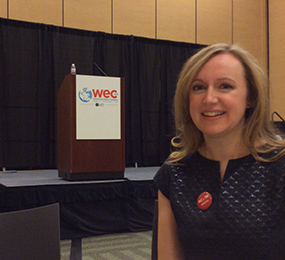 Fiona Pelham first became involved with Meeting Professionals International in 2004 because she liked the idea of a global community of people working together and sharing their passion for meetings. And a dozen years later, she'll be serving as the chair of the organizations international board of directors for the exact same reasons.
"I'm honored and privileged to be able to serve as chair," Pelham said at the recently concluded 2015 MPI World Education Congress in San Francisco. "I hope that chapters throughout the world will continue to try new things and that as a global community, we will keep experimenting as we move forward."
Pelham, who will be succeeding Kevin Kirby in 2016, is widely recognized as one of the most influential women in the meetings industry, particularly as a sustainability advocate. She has found the industry to be ideal for blending her passions for sustainability and events.
"I've been travelling around the world to help people understand the importance of having sustainable events," she says. "I want to make sure that every event we do has a positive environmental and financial impact, as well as a positive impact on the community we work with."
Pelham attended her first MPI event in 2004 when she was setting up a business in Austin, Texas. She went on to serve on the U.K. board for several years, and was president of the U.K. and Ireland chapter in 2010–11. She has served on MPI's international board since July 2012.
She serves as managing director of two companies based in Manchester, England, that plan sustainable events—Positive Impact Events and Sustainable Events Ltd. Pelham, was chair of the ISO 20121, an international standard that specifies necessary requirements to improve the sustainability of events and was the technical adviser for the environment for the 2018 World Cup bid.
Pelham graduated from the University of St. Andrews in 1999 and Leeds Metropolitan University awarded her with an honorary doctorate in business administration from the School of Events, Tourism & Hospitality, and the School of Sport. She was awarded the degree for her contributions to industry, commerce and public voluntary service.