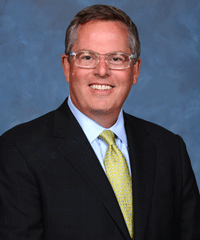 Richard Harper, executive vice president of HelmsBriscoe, has been appointed co-chair of Meetings Means Business, replacing David Peckinpaugh effective January 2016.
Harper's new role will have him sitting next to a former colleague and fellow co-chair, Michael Dominguez, senior vice president and chief sales officer at MGM Resorts International. Before joining HelmsBriscoe, Harper was executive vice president of sales and marketing for MGM Resorts International, directing strategic sales initiatives for meetings, transient business and leisure.
"I look forward to working alongside Richard to ensure that Meetings Mean Business continues to promote the industry's value, build support across the industry and work with leaders from other sectors to spread our messages further," Dominguez says. "Richard has been an active member of the coalition since 2009 and we are fortunate to have his leadership and vision."
Created in 2009, the Meetings Mean Business coalition reinforces the value that business meetings and events bring to the U.S. economy by developing resources, tools and information that show impact of the industry, in addition to uniting a variety of key players.
Meetings Means Business Promotes #GMID16
One of the biggest campaigns on the table right now is Global Meetings Industry Day (#GMID16) on April 14, 2016. Meetings Means Business is hoping to build on the success of North American Meetings Industry Day (NAMID) earlier this year.
Peckinpaugh , president at Maritz Travel, has been a co-leader of Meetings Means Business since 2013. Harper has 30 years of experience in the meetings industry. As executive vice president at HelmsBriscoe, Harper's key objective is to ensure company success in sales and grow its role in the meetings industry.
According to the HelmsBriscoe website, the company ranks as the highest volume purchaser in the meetings and event industry and boasts the most expansive and experienced network of associates in the market. Associates can be found in more than 55 countries averaging 12 years of hotel, meeting planning and industry experience.