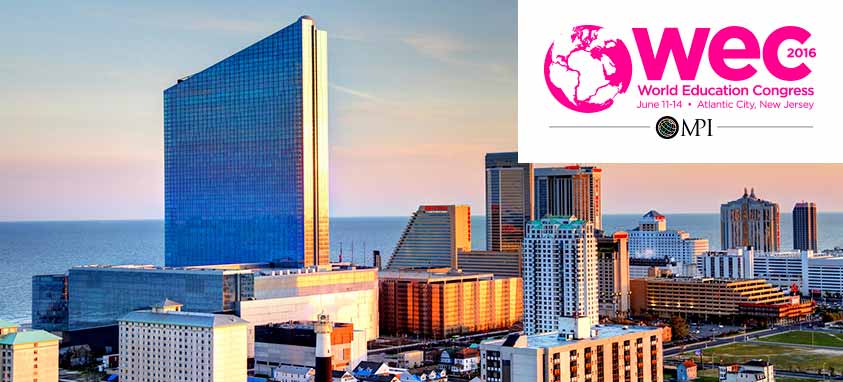 Meeting Professional International's signature annual event, World Education Congress (#WEC16), kicks off June 11-14 in Atlantic City, New Jersey. The mega event offers attendees from around the world education, networking and business opportunities, and shines a positive light on an industry that supports 1.8 million American jobs and contributes $280 billion to the U.S. economy.
What is MPI?
Meeting Professionals International (MPI) is the largest global meeting and event industry association. There are approximately 18,500 members in 70 chapters and clubs worldwide. The organization is a prominent voice for the promotion and growth of the industry.
Each year, MPI hosts WEC in a different city. Atlantic City is the site for #WEC16. The coastal destination boasts many firsts: it is the home of America's first convention hall, it is the place where boardwalks were born, the first-ever airplane passenger flight landed there and the first Miss America was crowned in Atlantic City. It is also the setting for the popular board game, Monopoly.
Educational Opportunities at #WEC16
Attendees will have the opportunity to hear speakers and participate more than 80 education sessions on topics ranging from international meeting planning and event security, to trends in convention center sales and retaining millennials. Informal networking can take place at opening and closing night celebrations, as well as at several organized fundraising and community service events.
Opening night on June 11 will feature a beach party at the Bally's Atlantic City Beach Bar. Guests will receive special wrist bands that will enable them to explore the iconic Steel Pier, an arcade featuring 25 rides, games, food kiosks and views of the Atlantic Ocean.
The opening session on Sunday morning, entitled Rewriting the Rules, will begin with a performance by The Water Coolers, a musical comedy act. Mike Shea, executive director of the Austin, Texas-based South by Southwest (SXSW) music/technology festival, will speak about how to keep events relevant. Joining him in a panel discussion will be GoodThink Co-founder Amy Blankson, who will discuss how to positively manage stress. Stand-up comic (and former Miss New Jersey) Dena Blizzard will perform, as will Melanie Rice and her band.
Other keynote speakers throughout the conference will include Susan Cain, who will discuss research that demonstrates how introverted leaders often deliver better results than extroverts, and Phil Hansen, who will deliver an inspirational talk about embracing creativity. Shiza Shahid, who works with Malala Yousafzai—the 15-year-old young woman who was shot by the Taliban because she wanted to go to school—will present a talk about you don't have to be a superhero to become an agent for good.
Next Year in Las Vegas
MPI has announced that Las Vegas will be the site of WEC in 2017. Las Vegas Convention and Visitors Authority (LVCVA) will host a preview lunch on June 14 to give attendees a glimpse of what they may expect to experience next year. Using its Vegas VR virtual reality technology, the CVB will allow attendees to literally see themselves in Vegas via immersive 360-degree videos. Live entertainment will be provided from musical icon Rick Springfield.
Last Updated June 14, 2016 – 8:38 AM
Hobnobbing with Ernest Stovall and Sandy Zanella, learning about MGM Grand developments @SmartMeetings @MGMGrand pic.twitter.com/icU0srlt9b

— Susan Jacobs (@SmartMtgsSusanJ) June 14, 2016
Hooked up with Tara Letort of New Orleans CVB during Train's version of Purple Rain @SmartMeetings @VisitNewOrleans pic.twitter.com/LmPE33Dh0M

— Susan Jacobs (@SmartMtgsSusanJ) June 14, 2016
Going to rendezvous in style @SmartMeetings @CaesarsMeetings pic.twitter.com/0YDFzfU9Ml

— Susan Jacobs (@SmartMtgsSusanJ) June 14, 2016
Dreaming of snow. @VisitParkCity @SmartMeetings #WEC16 pic.twitter.com/YLsHmTA27y

— Susan Jacobs (@SmartMtgsSusanJ) June 13, 2016
Best buds Mike Dominguez and Marin Bright @SmartMeetings #WEC16 @MGMResortsIntl pic.twitter.com/JJImhkZYuX

— Susan Jacobs (@SmartMtgsSusanJ) June 13, 2016
Buenos Dias to the lovely Luisa Canales Jurado of Mexican Tourism @SmartMeetings #WEC2016 pic.twitter.com/7v5EjoUlvr

— Susan Jacobs (@SmartMtgsSusanJ) June 13, 2016
Rubbing elbows with Jim Wood of Meet AC and Mike Massari of Caesars Entertainment @SmartMeetings #WEC16 @CaesarsEnt pic.twitter.com/6o8dh1fKKQ

— Susan Jacobs (@SmartMtgsSusanJ) June 12, 2016
Hail to the power players at Caesars, Caitlin, Reina and Ishma @SmartMeetings #WEC16 @CaesarsEnt pic.twitter.com/MfaVOpxgv5

— Susan Jacobs (@SmartMtgsSusanJ) June 12, 2016
The Water Coolers rock the house. @SmartMeetings #WEC16 pic.twitter.com/aOcL52Ywcl

— Susan Jacobs (@SmartMtgsSusanJ) June 12, 2016
Finally got to meet Reina Herschdorfer, director of marketing at Caesars @SmartMeetings #WEC16 @CaesarsAC pic.twitter.com/5mS4HykuMj

— Susan Jacobs (@SmartMtgsSusanJ) June 12, 2016
Smart Meetings is ready to network @SmartMeetings #WEC16 pic.twitter.com/VT4gx7xm33

— Susan Jacobs (@SmartMtgsSusanJ) June 12, 2016
The beautiful Atlantic Ocean beckons @SmartMeetings #WEC16 pic.twitter.com/wChgdFCuJB

— Susan Jacobs (@SmartMtgsSusanJ) June 12, 2016
Opening night beach party @SmartMeetings #WEC16 pic.twitter.com/Esk0IYvqlm

— Susan Jacobs (@SmartMtgsSusanJ) June 12, 2016
There goes the diet! @SmartMeetings @CaesarsAC #WEC16 pic.twitter.com/pq74M7paYT

— Susan Jacobs (@SmartMtgsSusanJ) June 11, 2016
A warm welcome to Philly from the friendly WEC rep @SmartMeetings #WEC16 pic.twitter.com/DFNiPuYbzv

— Susan Jacobs (@SmartMtgsSusanJ) June 11, 2016