Editor's note: This Week in Travel (TWT) is your essential guide to smoothing the road from here to there for your attendees and yourself.
Massive Hotel Aquarium Explodes at Meetings Hotel
The BBC reports that a massive hotel lobby aquarium has exploded in a Berlin Radisson Blu hotel. The lobby design feature was called the "Aqua Dom" and was claimed to be the largest free-standing cylindrical aquarium in the world. It was 82 feet high and held 264,000 gallons of water. The 1,500 tropical fish in the tank were said to have all died—either from the explosion, lack of water or freezing cold temperatures on the street where they landed.
The hotel moved guests from the property after the incident which, BBC reports, was speculated to have been caused by a cold-weather-induced crack in the tank. The hotel, which has three floors of meeting space has been closed following the incident.
Social media was flooded with images of the damage. John Newton, adaptations and translations editor at Conde Nast, said on his personal Facebook page and to Smart Meetings that "Maybe we should rethink using animals to create a spectacle, even in the relatively benign form of an enormous aquarium for a hotel lobby. Maybe some good will come of it if it makes people stop and think about whether they are necessary and add to the guest experience."
Security Threats Hover Over Business Travel Recovery, Study Finds
International SOS, a global risk mitigation company, has released its annual 2023 Risk Outlook Report, unveiling the top travel trends and risks for business travelers in 2023. The study revealed that 52% of respondents feel that business travel has returned to normal, a significant increase from the 9% last year. However, the study showed that travelers are increasingly concerned about potential security threats as we head into the new year.
43% of respondents expect that security threats will have the biggest impact on business traveler productivity in 2023.
While there has been an increase in business travel, 61% of respondents believe travel disruptions will contribute to the loss of appetite for business travel in the next 12 months.
Following travel disruptions, 59% of respondents believe geopolitical threats, including security threats, will cause less of a desire for business travel.
83% of organizations expect health and security risks faced by their travelers to increase or remain the same.
Alongside the report, International SOS has released its Travel Risk Map revealing each country's medical and travel security risk and, ultimately, the riskiest and safest countries to travel to in 2023.
Preparing employees for travel is not just about the destination risk. Organizations should pre-brief individuals to provide practical support to negate additional stressors. They should also take into consideration Covid impacts, destination medical risks, destination security risks and individual's profiles when preparing employees for travel.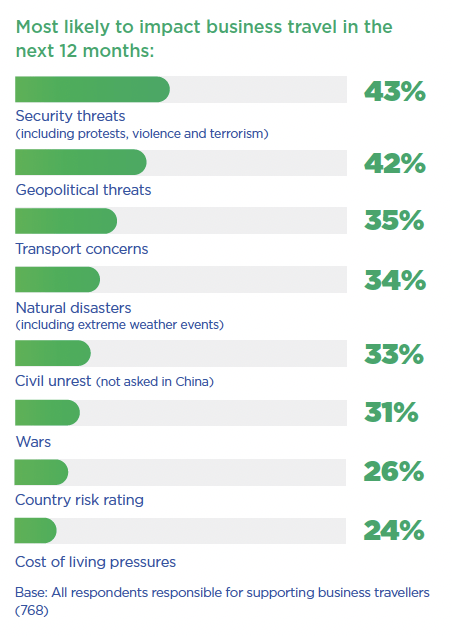 American Airlines Raises the Bar for Gold Status
American Airlines has raised the bar for attaining Gold Status. What used to be a 30,000-mile reward threshold is now going to cost 40,000 miles to acquire.
Once passengers have acquired Gold status, however, the airline is adding more tiers of benefits.
With the new Loyalty Points Rewards coming in March 2023, members unlock their first Loyalty Point Reward—formerly known as Loyalty Choice Rewards—after earning 15,000 Loyalty Points and before reaching AAdvantage Gold status.
These members will receive Group 5 boarding for the membership year and the choice between two Loyalty Point Rewards: Priority check-in, security and Group 4 boarding for one trip or five preferred seat coupons. Higher levels of status earn more Loyalty Points at 60,000; 100,000; 175,000; and 250,000 at six higher tiers. Some of the benefits acquired at higher levels include: systemwide upgrades, Admirals Club one-day passes, trip credits and award rebates for flights bought with miles.