Beer influencer Bella; Thomas Desrochers, sales manager, LIC Beer Project; and Callette Nielsen, vice president and global brand leader, Marriott Classic Select brands.
Four Points by Sheraton, a Marriott International brand known for its passion for beer, kicked off its global mission to find the best brews around at the Four Points Manhattan Midtown West—notably, on the eve of International Beer Day last week. It boiled down to Pee Peekskill Brewery and LIC Beer Project, with LIC ultimately dominating.
Winning breweries are crowned their respective hotel's newest Best Brew (not to mention, gain bragging rights).The expedition will continue across the globe before winding up at the Four Points Barcelona Diagonal in October.
During its signature initiative, the brand will venture to more than 225 global properties. The hotels will showcase a local, craft beer that embodies its surrounding culture. Some factors that will be assessed are taste, popularity, quality and proximity. The Four Points properties will also offer their Best Brews on tap so that guests can also indulge in the bubbly goodness.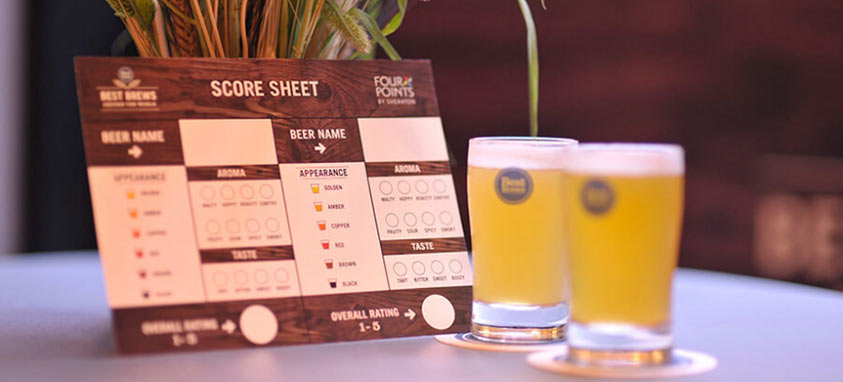 Photo credit: Hotel Management
At each property on the beer trail, a beer expert will host a head-to-head tournament between two local breweries. The Best Brews initiative also assigns associates from Cicerone Certification Program to each hotel. The certification is highly regarded in the food and beverage industry. Each associate will complete the first four levels of the program, and will then be deemed a Cicerone Certified Beer Server and an "on-property beer aficionado." The competition will be judged by the hotel's certified Cicerone, a group of beer enthusiasts and hotel guests.
"Four Points has a love for locally crafted beers, which is why we're traveling to the far corners of the globe to discover the best brews the world has to offer," said Callette Nielsen, vice president and global brand manager for Four Points. "We know the perfect pint has universal appeal, which is why we're celebrating International Beer Day with the launch of our 'Best Brews Around the World.' From Manhattan to Barcelona and Melbourne to Nairobi, we are taking our love of beer on the road. We invite local beer lovers and thirsty travelers to join us as we discover new Best Brews."