Hotels are bending over backwards, as it were, to promote unique fitness and wellness offerings to guests, including meetings attendees. But Kimpton Hotel Palomar Phoenix may have raced ahead of the pack, at least for the moment.
Among its new suite of fitness-focused teambuilding and breakout sessions for 10 to 35 attendees is Ironman training with General Manager Niels Vuijsters, whose Instagram motto is "the wind cannot defeat a tree with strong roots." Groups can hit the nearby South Mountain trails with Vuijsters for a mid-morning breakout while he trains for the Ironman Arizona in November. The trail runs range in distance from one to four miles, depending on the skill level of the group.
"This works best with smaller groups," Vuijsters told Smart Meetings, who says the fitness emphasis is proving attractive to "certain groups." A Google meeting will be convened at his hotel soon, and "they indicated interest in a fitness focus," he says. Next month's Ironman will be Vuijsters's first. He successfully completed a half Ironman in July on a visit to Sweden. He also leads a weekly "GM run"—a 5k through downtown Phoenix—that is open to both staff and guests.
Other fitness-related options at the hotel include 15-minute HIIT (High Intensity Interval Training) workouts, tastings of locally sourced kombucha and core-power yoga. The hotel also has standing meeting-room tables for rent, to help improve group focus.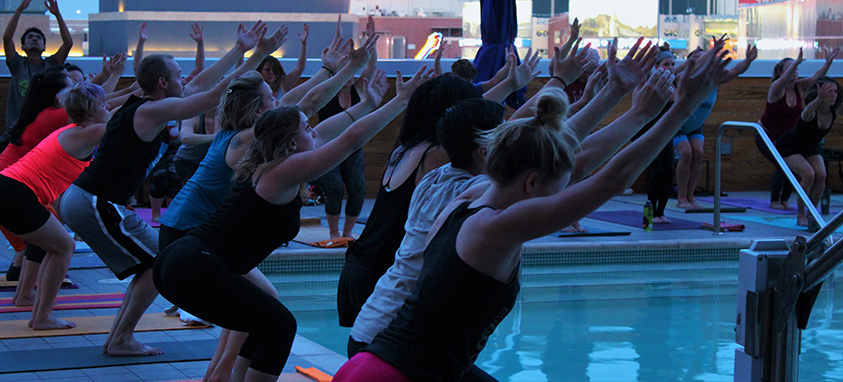 For a unique pick-me-up, Hotel Palomar's Blue Hound Kitchen & Cocktails will prepare customized healthy menus that adapt to any dietary restriction and use seasonal veggies and other local ingredients.
The hotel features 10 event venues of more than 11,000 sq. ft. of pre-function and indoor meeting space.