The new year is looking brighter. Big event venues such as Mandalay Bay and Palm Springs convention centers have upgraded to green-energy sources, a change that will benefit not just the environment but business, too.
According to this year's SITE report, sustainability and green initiatives have become very important. Ninety-four percent of corporate clients said a top trend that's having a positive impact on incentive travel is programs that show they are trying to do something positive. This trend is so important the IMEX Group, along with the Event Industry Council (EIC), are calling attention to it with the coveted Innovation in Sustainability Award.
The IMEX-EIC award was created to give recognition to a meeting, incentive, convention or exhibition program stakeholder team that is driving forward sustainability. The judges' criteria will include impacts on the environment, community and local economy; innovation in sustainability; collaboration with stakeholders; and legacy. Entries are open until March 1. The winner will be announced at IMEX in Frankfurt Gala Dinner in May. Last year's recipient was Carlson Rezidor, for its Blu Planet Initiative, which was implemented throughout Radisson Blu Hotels and focused on promoting water mindfulness.
Mandalay Bay Convention Center
UBM plc and its UBM Fashion Group have partnered with Mandalay Bay Resort and Casino Las Vegas to replace 1,000 florescent light bulbs with LED lights in its exhibit halls. The upgraded system, which debuted during the Las Vegas February edition of the show Magic, increases the luminescence range by 300 percent and reduces energy usage by 85 percent. That is enough savings to power all of Mandalay Bay for five days and prevent 900 metric tons of greenhouse gases from being released each year.
"This higher-quality lighting system will help Mandalay Bay Convention Center—and MGM Resorts International—achieve significant energy savings," said Chris Magee, vice president of sustainable facilities for MGM Resorts International, which owns Mandalay Bay, in a press release.
Over the 10-year project life, those 1,000 eco-friendly bulbs will do the work of almost 27,000 traditional florescent lamps, which, if stretched end-to-end, would cover more than 20 miles and contain 4 ounces of mercury.
Palm Springs Convention Center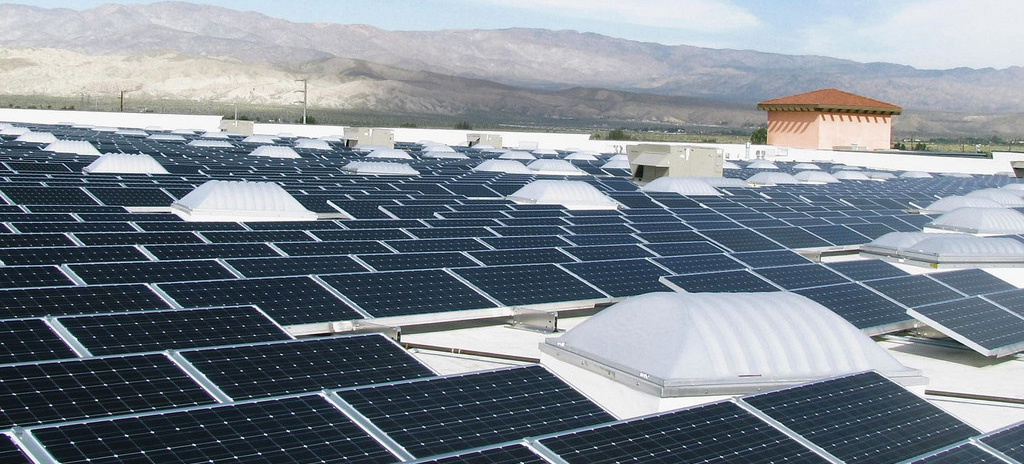 SolarCity has partnered with Palm Springs Convention Center in California to install nearly 2,000 solar roof modules.
The addition is expected to cut the annual electric load in half by the first year, and increase in subsequent years. Due to continued utility rate increases by Southern California Edison, the cost of electricity for Palm Springs is expected to double over the next 20 years. The city had been looking for a more affordable and sustainable alternative that didn't involve them raising their rates. This green solution will save Palm Springs $2 million, with the added benefit of producing clean energy.
SolarCity is planning to fund the cost of the entire project, from installation to maintenance, with the city paying a reduced fixed rate for the electricity produced to SolarCity for the life of the contract. The addition of solar panels is part of a package of measures the center is taking in its strive for sustainability.
"Along with our recycling, composting and other energy conservation measures, the center is truly a sustainable meeting location," said James Canfield, executive director of Palm Springs Convention Center and Bureau of Tourism, in a press release.