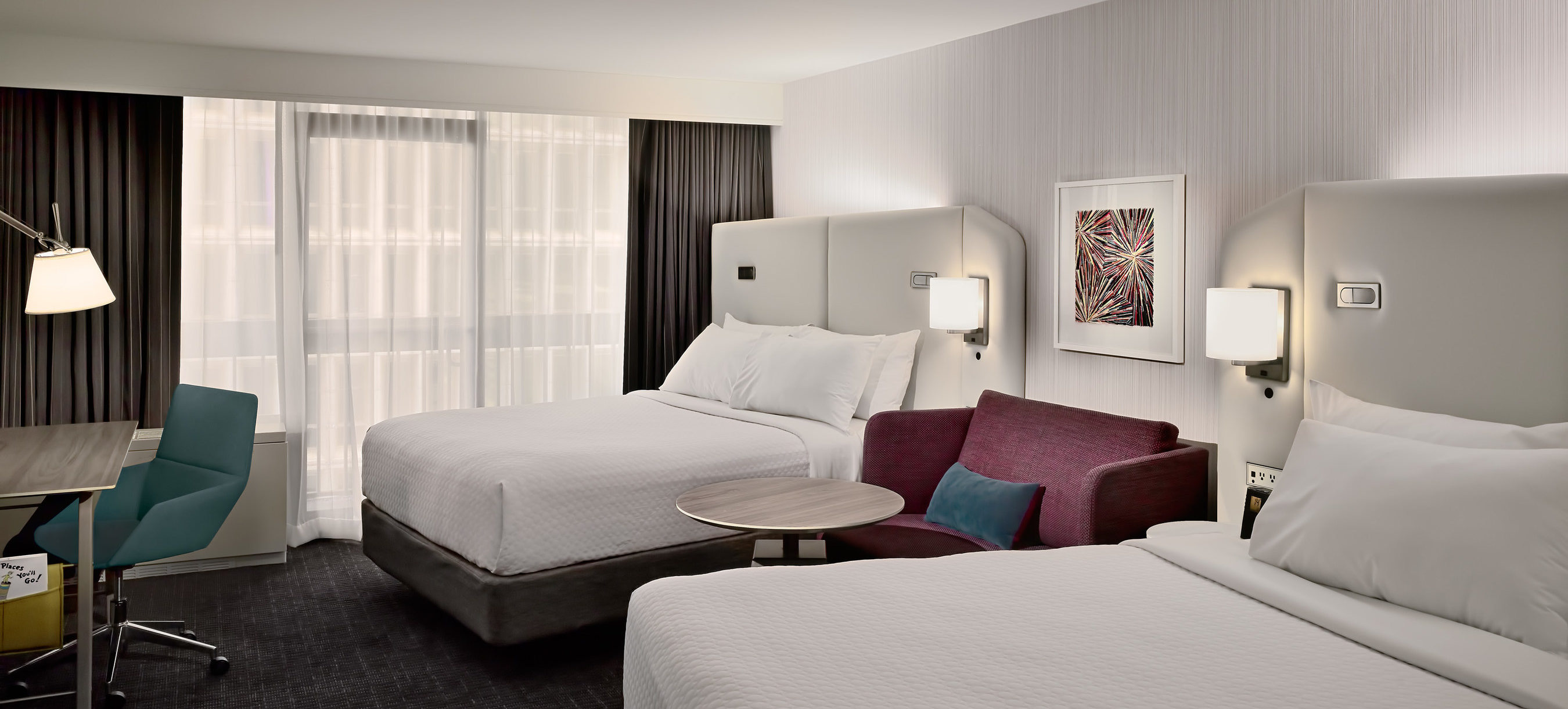 Crowne Plaza Hotels & Resorts has received a patent for its "guest room of the future," which is designed to help meeting professionals and other business travelers enhance their productivity in a space that fits their lifestyle.
The WorkLife Room, which debuted in early 2017, features a flexible environment that encourages guests to work, relax and recharge. It includes the following key components.
Angled bed, which opens more space for the room's distinct zones
Sofa nook, a multipurpose space for working, meeting with colleagues, reading and watching TV
Desk area, an uncluttered workspace
Welcome station, which provides a space for keys, bags and coats
Bathroom, featuring modern and bright design to help guests feel reinvigorated
The room also provides fast, free Wi-Fi and enough charging stations—consisting of USB and power outlets—to power up to 14 devices. Guests are never more than an arm's length away from a charging station and don't have to move furniture to reach outlets.
"Patent approval of the Crowne Plaza brand's WorkLife Room is a major distinction—one that speaks to the concept's ground-breaking design, and one that demonstrates how the Crowne Plaza brand is redefining what a hotel room can be," said Meredith Latham, regional vice president of Crowne Plaza Hotels & Resorts.
The WorkLife Room is currently available in the brand's properties nationwide, including Crowne Plaza Atlanta Midtown, Crowne Plaza Farmington Hills-Novi in Michigan, Crowne Plaza Springfield in Illinois, Crowne Plaza Cleveland at Playhouse Square, Crowne Plaza Suites Arlington-Ballpark-Stadium in Texas and Crowne Plaza Downtown Denver. The brand expects to install 3,000 additional WorkLife Rooms by early 2019 in properties including its first-ever flagship hotel in the Americas, Crowne Plaza Atlanta Perimeter at Ravinia.
InterContinental Hotel Group developed the room as part of the Crowne Plaza Accelerate program, a $200 million, multiyear investment to transform the brand in the Americas region. The patent approval marks a major milestone in the brand's quest to promote innovative design for the modern business traveler.
The Crowne Plaza Accelerate Program includes high-impact and distinctive innovations that feature modern amenities and sophisticated design. Other components of the program include new, modern design throughout hotel properties; adaptive spaces, known as Plaza Workspace; and an exclusive designer staff uniform collection, Momentum by Timo Weiland.