A rendering of Sheraton Grand Phoenix
Changes are coming to one of the oldest and largest hotel brands in the Marriott International portfolio. Sheraton owners across the world have pledged to invest $500 million to create a more consistent, elevated, yet residential experience at Sheraton Hotels and Resorts.
Indy Adenaw, vice president of brand management of Sheraton Hotels and Resorts for Marriott International, says 30 percent of the 440 properties in 75 countries have already been renovated or are in the process and another 90 new builds will conform to the updated brand specifications. He pointed to the Marriott-owned, 1,000-room Sheraton Grand Phoenix, which will complete its transformation by the beginning of 2020 as an example of what groups can expect when they come to a Sheraton property in the future.
Deep Community Roots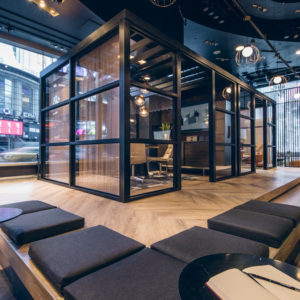 "We started two years ago by asking, 'What does the Sheraton brand represent?'" Adenaw said. Going back to 1933, when the founders purchased their first property in Massachusetts, the roots have always been around community. "In last 15 years, the brand began to change and was far adrift. The focus varied from place to place and didn't really stand for anything," he said.
Adenaw saw the redesign as an opportunity to take the vision of the public square into the hotel, based on the themes of meeting, working and traveling. The company is going back to the brand's roots to execute community in a fresh, modern way. Marriott's ambition is to be world's gathering space, so the focus is on how to make the buildings more collaborative and interactive.
"Most Sheratons are large, meeting-oriented hotels that lend themselves to celebrating bringing people together," Adenaw said. A total of 40 Sheraton Grands are in the portfolio—a designation that indicates an elevated experience. "As we are bringing up all of the properties, that means the Grands really have to step up," he said.
Upgraded Elements
Marriott is focusing on every aspect of the Sheraton business—how it is positioned and sold, along with the quality of the property.
Physically, this will mean larger, more inviting lobbies with integrated functions. Think big, open public spaces with collaborative seating and glassed-in, jewel-box areas for private conversations. A "coffee-bar bar" is designed for sipping and working day and night. Reception will be off to the side. "The central space is about community, rather than transactional activity," Adenaw said.
More: Cheers: Trends and Traditions in Hotel Bars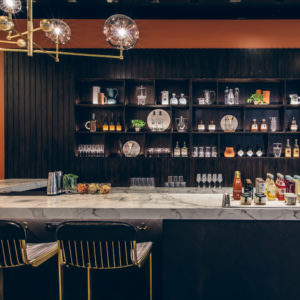 Marriott is advancing a more casual approach to food, as well. Guests can order bites and drinks through an app on their phone, to be delivered wherever they are on property. At night, an elegant lounge scene lights up. At the Phoenix property, a Spanish-themed restaurant spills outside, where creative cocktails and sharable plates are served. These late-night indulgences are backed up by a quick-serve restaurant during the day. A community manager will float the room, making sure everyone has what they need.
"The ground floor feels like a mercado, a central experience with pocket areas that offer different uses," Adenaw said.
The same elevated, yet relaxed approach will be integrated in the meeting spaces as well. Planners will be able to order whatever they need—extra chairs, coffee, a quick breakout room, help—through that same phone app. Technology will be integrated so planners can be more flexible and control the environment in real time.
More: How to Event Tech Like a Pro
"We are taking out the formality and making the experience more efficient to encourage a sense of community," Adenaw said.
A club lounge just off the meeting space at the Phoenix property is redesigned to feel like an enclave. It offers privacy for meetings, but is also relaxing. VIP guests can order food from their phones to be delivered there.
The guest room feels more residential and comfortable than a hotel room, Adenaw said. A warmer, residential feel does away with heavy case goods and offers a comforting vibe. In Phoenix, the rooms welcome in the sun, but also make it possible to dim the lights when needed.
On the operational side, the company is taking its cues from brands such as We Work co-working space and Eataly marketplaces—fluid experiences that mix business and pleasure, retail and personal activities.
"Our plans are very ambitious, but the goal is to create moments that feel alive and open to everyone," Adenaw said. His vision is modern, global and digital.