Two properties in Humboldt, California, just did something innovative but—given its location—not that surprising after all. A collaboration between a local cannabis dispensary and Humboldt Social, a hospitality and cannabis group, just made it easy for guests to indulge more conveniently and safely in the county's most prized product.
Guests at Scotia Lodge and Humboldt Bay Social Club can now order cannabis and have it delivered.
"Cannabis is such an innate and authentic part of Humboldt County," Amy O'Connor, cofounder of Humboldt Social, which owns the two properties, says. "As the world learns more about its benefits, we're thrilled to help lead the way in offering this type of delivery concept."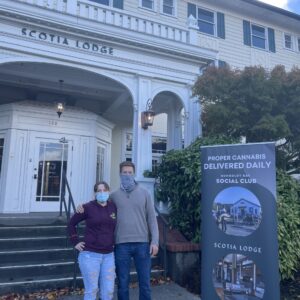 Cannabis products are provided by Social Nature, Humboldt Social's in-house cannabis brand, with products grown by three women-led farms, Sunrise Mountain Farms, Dewpoint and Emerald Queen Farms, all in Humboldt County. Delivery is handled by local dispensary Proper Wellness, not far from Scotia Lodge.
Guest orders of Social Nature's products, including tinctures, edibles, gummies and chocolate, can be delivered to the front desk or right to the guest room.
Scotia Lodge has 22 guest rooms. Humboldt Bay Social Club features four suites, as well as four extended-stay cabins. Humboldt also has event space spanning across four venues, such as the 2,500-square-foot Hangar and the outdoor Oyster Beach. Scotia Lodge also offers outdoor and indoor meeting spaces.
"Extending this offering to guests furthers our mission of embracing Humboldt County's roots and local cannabis culture, all while normalizing the connection between hospitality and cannabis," O'Connor says. "We want our guests to get a real taste of Humboldt when they stay with us, from our favorite redwood hikes to our favorite cannabis strain."
Although this project has just taken off, O'Conner says there are already discussions of expansion into one or two properties in Southern California. "We are committed to proving this concept, and we'd love to see cannabis delivery be as common as minibars in hotels throughout the country," she adds. "Humboldt is the original cannabis country, so it's only natural that we develop this model here, close to the roots, perfect it, and then branch out."
In 2016, the recreational use of cannabis was legalized in California. Seventeen other U.S. states, plus Washington, D.C., and Guam, have also legalized recreational cannabis.