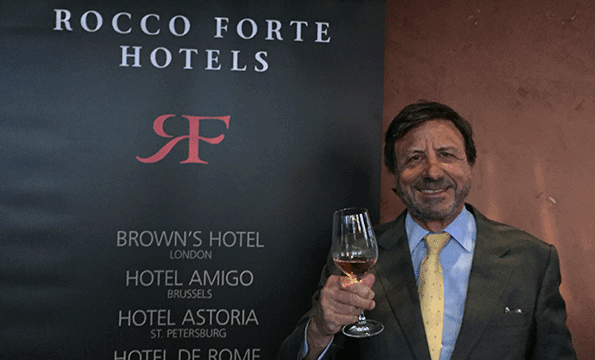 He just might be the most interesting man in the hospitality world. Sir Rocco Forte reminds me of the guy in the Dos Equis beer commercials, with a commanding presence balanced by an intriguingly inviting air, in addition to an eloquent international accent.
When Forte visited San Francisco on Thursday night to promote his 10 European luxury boutique hotels, I have to admit that I stood back in awe of his coolness as he glided around from group to group welcoming Bay Area travel agents and a few media members to his soiree. The event was part of Rocco Forte Hotels' five-city tour, which also included stops in New York City, Chicago, Los Angeles and San Diego.
Family history certainly adds to Sir Rocco's aura. The Fortes once owned a vast European-based empire that included 800 hotels and 2,000 restaurants. A contentious takeover broke up the company in 1996, leading Rocco and his sister, Olga Polizzi, to begin to rebuild their holdings through Rocco Forte Hotels.
Their father, Lord Charles Forte who passed away in 2007 at the age of 98, was knighted for his contributions to Great Britain's hospitality industry. Sir Rocco was knighted in 1994 for services to United Kingdom tourism. Just last month, he was honored with a lifetime achievement award at the European Hospitality Awards.
Sir Rocco gave a brief speech during Thursday night's event held at Mourad, a trendy restaurant in San Francisco's Financial District that is perfect for buy-outs. He told the crowd of about 125 that his company has secured a new financial partnership with an Italian investment company and there are plans to double the number of properties within five years.
This summer, Rocco Forte Hotels will debut Assila Hotel and Residence in Jeddah, Saudi Arabia. He also told us that he's still looking for the perfect location to expand in New York City, which drew cheers from the American travel agents.
Earlier in the evening, I personally welcomed Sir Rocco to California and snapped a few photos. I naturally asked him where he called home. He unveiled a pensive smile and told me he lives in London. "It's not too bad," he allowed.
These days, it's all good for the most interesting man in the hospitality world, just as you'd expect.
Here are the 10 properties that were represented during Rocco Forte Hotels' five-city U.S. tour: