It seems as though catering to millennials has been a topic for as long as millennials have qualified as a market in the hotel and travel industry. In 2015, an estimated $6.4 billion was spent to improve amenities and services like tech upgrades, better Wi-Fi connectivity, and new food concepts to impress the tech-savvy generation Y.
But, as any successful business person knows, you must keep looking forward and anticipating what's next. Forward-thinking hotels are not just keeping the baby boomers and millennials happy–they're bracing themselves for what's next by marketing to generation Z.
Comprised of 70 million people born after 1995, members of generation Z have been described as digital natives who tend to be more pragmatic, cautious, money-conscious, and globally minded than their predecessors.
Their size and potential spending power make them a hugely important market to start considering, even if its oldest members can't even legally drink yet.
"Age is irrelevant," Melanie Shreffler, senior editorial director at Cassandra Report, told Skift. "They already have money of their own and even if they aren't doing the actual booking, they are highly influential. Never underestimate them and their needs."
A 2015 study from Cassandra Report shows that 77 percent of generation Z consumers feel it's important for brands to reach out to them with offers, promotions, and messaging.
Shreffler predicts, based on findings from the study, that travel will be of major importance and view it as a major milestone.
How Hotels Are Marketing to Generation Z
Visual, meaningful, memorable, and entertaining are the qualities the next generation is looking for and reacting to. Take what Marriott Content Studios is doing, for example: In February, they launched the second installment of their promotional short film, Two Bellmen (titled Two Bellmen Two). Here is a trailer for the first video:
Marriott also launched a full marketing campaign in 2014 using Snapchat—a social media platform used heavily by millennials and Gen Z alike. What's more, Marriott chose four influencers to co-create the campaign—a strategy many brands are starting to do to make users/ audiences feel like a part of the creative process.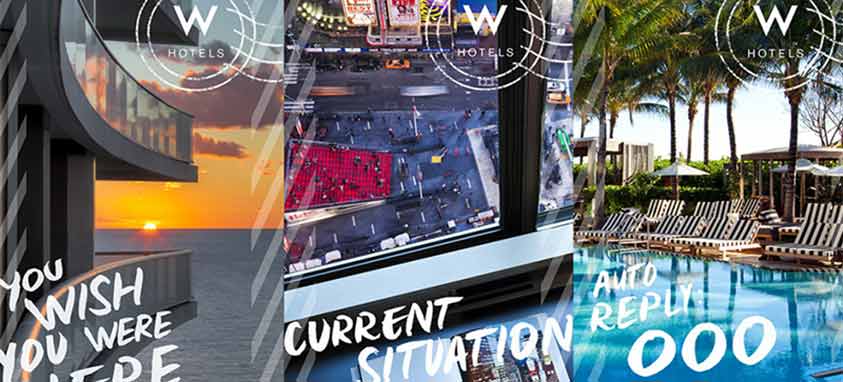 W Hotels' Snapchat campaign
W Hotels took a similar approach, launching a Snapchat campaign that allowed users to create travel postcards with the W Hotel logo branded onto the photos.
Hotels looking to use Snapchat as their next vehicle for social campaigning should be cautious in how they use it; younger audiences are looking for interactive engagement that doesn't feel like marketing. Hoteliers can use it to share behind-the-scenes experiences and tell their property's story in a personal way. Here are some ideas Cloudbeds.com offered on what to share to grow your audience:
–Snap a video of your cook preparing today's breakfast
–Show your bartender whipping up your famous cocktail
–Show your front desk staff checking in guests and showing them to their room
–Share pictures and videos walking around your property explaining what's going on that day
–If your property offers tours, you can have the guide snap pictures and videos of the experience