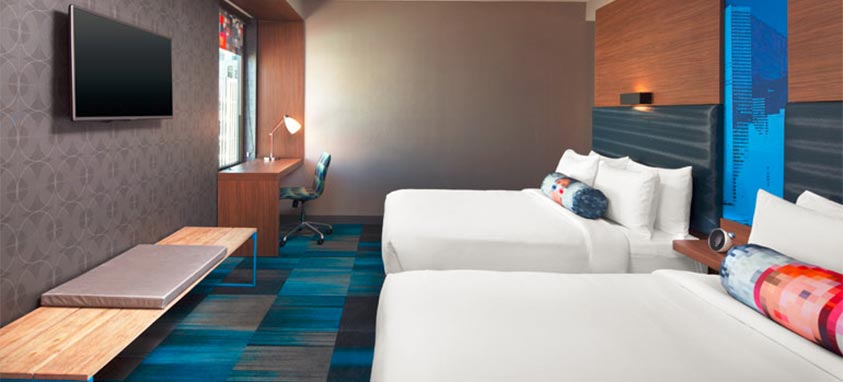 Aloft Denver Downtown
Hotels ready to appeal to the newest wave of business travelers have their ears to the ground discovering what features are going to win over the millennial and Gen Z travelers against their competition.
The more data that comes out about the trends and experiences these groups are looking for, the more ideas hoteliers have about providing those unique experiences, in their hotel rooms, lobbies, outdoor spaces, and even in their marketing campaigns. Some of the basic characteristics they're after are affordability, tech-savvy, cool and minimal décor, custom experiences, social media connectivity, and authentic, local feel.
It's a wonderfully creative time to be in the industry, as brands experiment to find what sticks, and what doesn't. Here are some of the things hotels are doing to attract a younger crowd.
1. Aloft – Based on the explorer nature of younger travelers, brands like Starwood's Aloft line offer free Wi-Fi work spaces in their outdoor pool areas and at their bars, they've unveiled a robotic bellhop, and guests can even order room service by texting a string of emojis (at select locations). Their menus include a hangover kit of Vitamin water, Advil and bananas for $10; a phone charger for $25; a Surprise Me package of what the Aloft emoji room-service menu calls "fun swag and cool stuff" for $25, and more.
They use Foursquare and their own mobile app to share local travel trips with millennials – who tend to explore outside of their immediate area when traveling.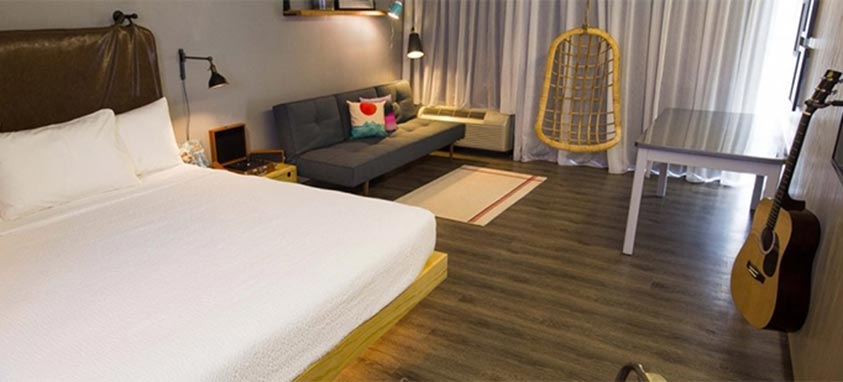 A guest room at Moxy by Marriott
2. Marriott – Marriott has often been lauded for leading the way in creative content marketing, being the first hotel brand to use Snapchat as a promotional tool, and introducing short films on YouTube.
At this year's Super Bowl, Marriott held a "Suite Stadium Contest" that gave a winner and three guests an overnight stay at Levi's Stadium the night before the Super Bowl in a converted guest room suite, along with tickets to the game.
Marriott's Renaissance Hotels now host "Evenings at Renaissance," a free event for guests featuring local craft beverages chosen by the hotel bartender and local drink experts. The program is part of the brand's new "It's Business Unusual" global campaign to appeal to young entrepreneurial business travelers.
Marriott's Moxy brand positions itself as an affordable boutique hotel with modern design, keyless entry for reward members, and "no rules."  It's currently running a social campaign encouraging artists to compete for a chance to have their work featured in the Moxy New Orleans (which opens this month).
3. Hilton – One of the most recognizable connections between brands and younger generations is (and arguably always has been) music, and that's no different with the millennial and Gen Z crowd. Hilton used that to its advantage when it introduced Hilton Play's Concerts, a loyalty program that lets users cash in points for shows.
Hilton also uses Twitter to connect with guests by sharing suggestions from travelers around the world about things to do, see, places to eat, etc. on their @HiltonSuggests page.
4. Intercontinental Hotels Group (IHG) – IHG is testing a pilot program in select hotels that places beacons in their lobbies and restaurants that recognize rewards members, so they can receive personalized notifications and offers based on their location.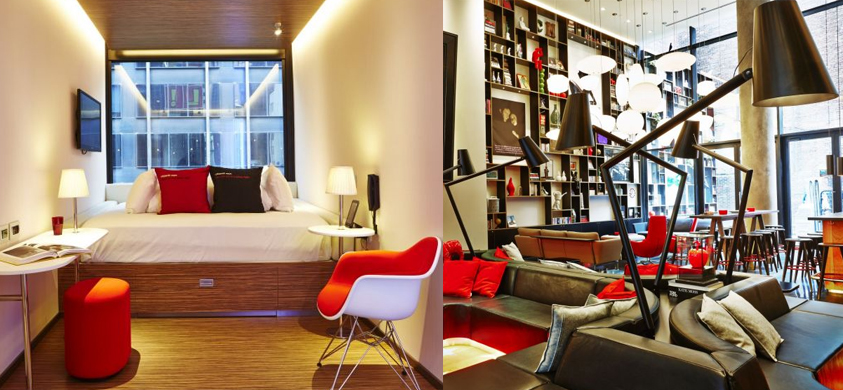 Guest room at citizenM New York (left) Hotel lobby, designed to look like a living room (right)
5. citizenM is the epitome of a minimalist hotel with millennials in mind. Trading conventional hotel services for affordable rooms and authentic experiences, it boasts free WiFi, free movies, anti-jetlag rain shower, 24-hour food service, 1-minute check out, and a MoodPad tablet that lets guests control just about everything in the room.
After doing some research on how time is spent (at hotels and at home) the folks at citizenM decided to do away with closets and use the space for more functional things (a drawer under the bed allows for an open suitcase) and decided the hotel lobby should really feel like a cozy living room with lots of books and other means of entertainment.
6. Ace Hotels – Unique, quirky, and hipster, Ace Hotels have made a name for themselves as a boutique hotel brand with a young soul. Rooms in their Los Angeles hotel, for example, include acoustic guitars and/or turntables, music from a nearby vinyl shop, and local toiletry products (and of course, free WiFi).