La La Land photo by Dale Robinette
Los Angeles' exceptional cityscape seems to have it all: rich art and culture, Hollywood stars, grand hotels, the magic of Disneyland and a lively night life.
La La Land took the Golden Globes by storm on Sunday, winning all 7 of its nominations, including Best Motion Picture (Musical or Comedy). The recently released film features Emma Stone and Ryan Gosling as star-crossed lovers struggling to make it in LA as an actress and jazz pianist. La La Land is a captivating homage to classic MGM musicals, evoking nostalgia for old Hollywood style in a powerful way.
Planners looking to design an event full of retro glam should head to these Los Angeles-area hotels for a dreamy escape.
The Hollywood Roosevelt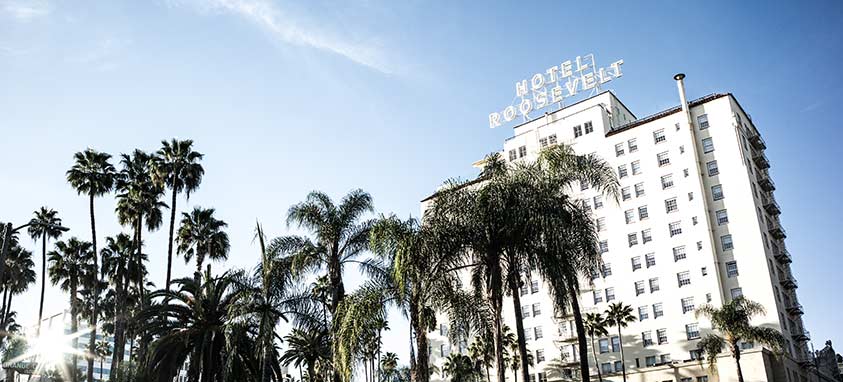 Shortly after opening, The Hollywood Roosevelt Hotel established its legendary reputation in 1929, when it hosted the first Academy Awards. Celebrating its 90th anniversary this year, The Hollywood Roosevelt has welcomed illustrious icons such as Prince and Angelina Jolie. It has also hosted megastars such as Clark Gable, Shirley Temple, Charlie Chaplin and Marilyn Monroe.
Today, the hotel still buzzes with industry executives and talent, standing as a landmark attraction and popular destination for people from all over the world. The Hollywood Roosevelt offers 300 newly refreshed guest rooms and suites. The hotel also contains over 25,000 sq. ft. of flexible venue space.
Hotel guests can choose from top-notch accommodations like poolside cabanas and tower rooms with stunning views. The hotel's heated outdoor pool remains the only one in the world containing a million-dollar work of art, painted by acclaimed artist David Hockney.
The Beverly Hilton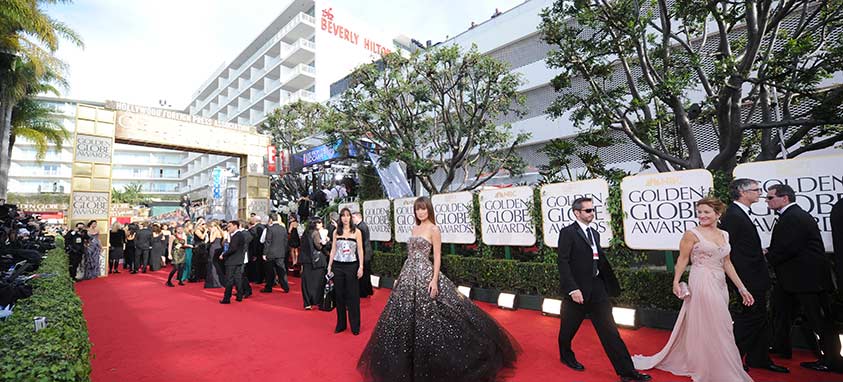 The Beverly Hilton has a glamorous, star-studded history, combining Hollywood thrills with the prestige of Beverly Hills. Since its opening in 1955, the hotel has welcomed countless renowned historic figures, including Hollywood celebrities Frank Sinatra, Judy Garland, Cary Grant and Burt Lancaster; United States Presidents John F. Kennedy and Ronald Reagan; as well as royal Duke and Duchess of Cambridge and Princess Grace Kelly.
The hotel has sustained its trendy image to this day, hosting over 200 red carpet events each year, including the annual Golden Globe Awards and Oscar Nominee Luncheon. The Beverly Hilton offers 569 rooms and suites along with over 60,000 sq. ft. of event space on the lobby level. The famed Aqua Star Pool is the setting for several easily recognizable photo and film shoots. Currently, The Beverly Hilton remains an iconic place to see and be seen.
The Peninsula Beverly Hills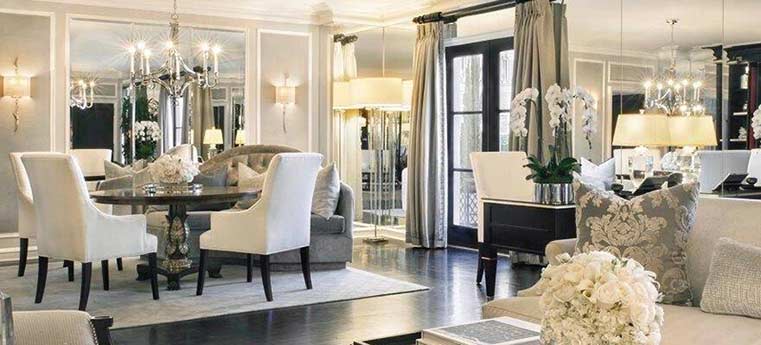 Known for its covert location, The Peninsula Beverly Hills is nestled among lush tropical gardens and located within walking distance of Rodeo Drive. The hotel offers 195 guest rooms, including 38 suites and 17 private villas. Additionally, The Peninsula Beverly Hills contains 3,398 sq. ft. of space designed for versatile meetings and events.
Guests can take advantage of one of the hotel's most unique amenities, the "Hollywood Piano Legend: A Private Lesson, Lunch and Cocktails" experience. This involves a private 90-minute piano lesson and subsequent lunch in the property's Belvedere restaurant, both accompanied by Antonio Castillo de la Gala, the historic hotel's resident pianist. Throughout the experience, Antonio Castillo de la Gala shares his knowledge of music history and personal recollections of performing for Hollywood legends.
Shutters on the Beach & Hotel Casa del Mar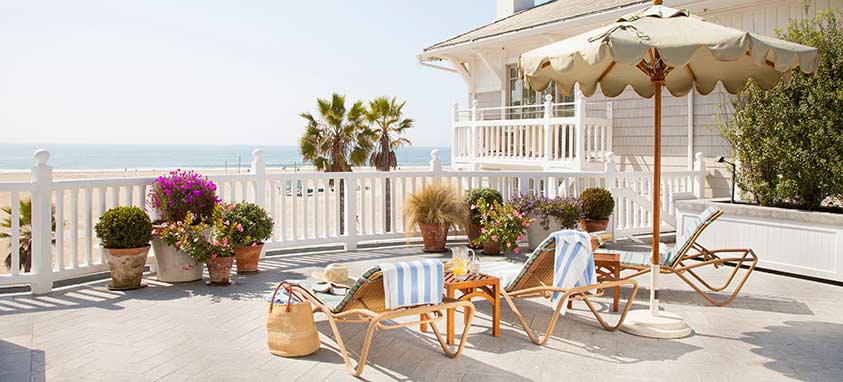 Casual yet elegant Shutters on the Beach serves as Santa Monica's prime retreat for Hollywood's elite. Guests such as Gwyneth Paltrow and Jennifer Aniston have enjoyed its new, relaxed Hollywood charm. Overall, Shutters on the Beach presents a thoughtful blend of indulgence and serenity. Just steps from the sand, the resort features interiors by Michael S. Smith, who has designed the White House's interiors since 2008, amid unrivaled views of the Pacific Ocean. The hotel contains the luxurious ONE Spa, two signature restaurants, 198 stunning rooms and a venue that can host up to 400 guests. A Tesla house car offers guests on-demand rides with eco-minded style.
For those seeking older Hollywood appeal, Shutters on the Beach's sister property, Hotel Casa del Mar, is very close by. The coastal escape is slightly smaller than its sister hotel, with 129 rooms, including 17 suites. However, it also offers an event space capable of accommodating 400 attendees. It offers a storied history and a lively lobby containing floor-to-ceiling windows, cozy nooks and indoor cabanas. Hotel Casa del Mar is sure to evoke stylish wonder and grandeur.