Starwood Preferred Guest (SPG) has launched a mobile service for its members that will enable them to access app features such as check-in, check-out and room ready alerts at 22 hotels across the United States.
The new service, SPG Mobile Check-In, enables members to quickly download the SPG mobile app and then book their travel directly through their smartphone or the SPG website. Once booked, 48 to 72 hours prior to the member's stay, they will be prompted on how they would like to check-in. On the day of their arrival, they will receive notifications about the readiness of their room.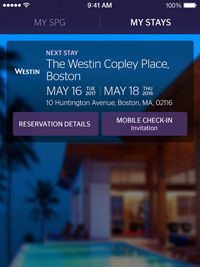 SPG, a Marriott International loyalty program, first began its mobile journey with a keyless entry system. Available at select hotels such as Aloft, Element and W hotels, it will debut at 500 Marriott Rewards and The Ritz-Carlton Rewards program hotels by the end of this year.
The drive for Marriott International to offer this feature to SPG members stems from the more than 200,000 Marriot Rewards check-ins each week. Marriott has sought to improve the mobile experience of its guests, since half of smartphone owners use its mobile devices for travel.
The convenience of SPG's mobile app will not stop there. Soon to come are even more features that will allow guests to have the best possible experience during their stay. Members will be able to personalize their visit with more choices and will be able to interact with hotel associates. In 2018, members will be able to make requests through their mobile device. They will be able to choose from a list of frequently requested amenities and services, and even text with hotel associates before, during and after their visit.