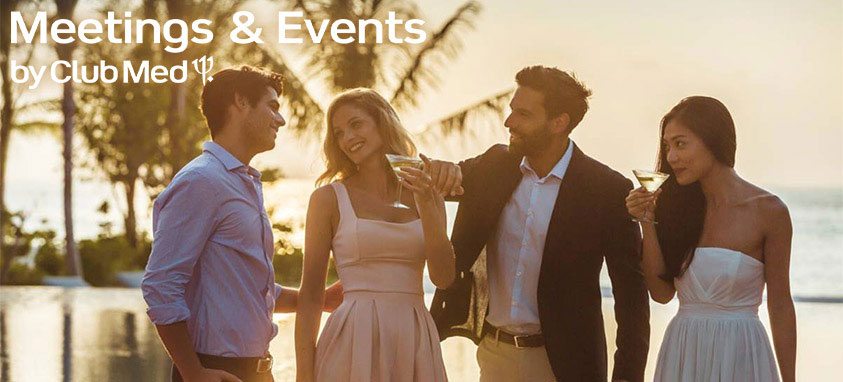 We want every event at Club Med to be amazing. That's why we totally revamped our Meetings & Events offerings—now called the Group Advantage Program.
You'll get more from your gathering with group incentives, and you can even take meetings to the next level with a full resort buyout, and have an entire resort dedicated to your group. We can accommodate groups of any size, whether you're with an intimate group or hosting over 1,000 guests.
With a full resort buyout, you're in complete control.
You set the schedule
You choose the menu
You select which activities you'd like to do and when
Here's what you can expect from Meetings & Events by Club Med:
A seamless group experience: You get all-inclusive value with the ease and convenience of paying one price for the whole group.
Professional meetings team:  You will have a dedicated team who will take care of all details, from pre-planning to on-site – you'll have a dedicated expert the whole way.
Worldwide locations: You'll have amazing options no matter what your group requires. You can hold your escape close to home in or in an exotic locale.
Variety of accommodations: From Club and Deluxe Rooms, to Suites & 5 Trident Luxury Rooms – you'll find chic accommodations that best suit your group's needs.
Take a look at some of our top destinations for groups:
What better place to get together than a Caribbean paradise?  Make your gathering memorable with unique teambuilding activities like the acrobatic adventure park, Club Med CREACTIVE by Cirque du Soleil.
Club Med's only U.S. resort, Sandpiper Bay, is as beautiful as it is accessible. Located near West Palm Beach, Sandpiper Bay is a favorite for groups of all sizes–with facilities from ballrooms to boardrooms.
Mexico's west coast is just as gorgeous as its eastern counterpart.  Experience authentic Mexican culture in a lush, tropical setting located at the edge of the Pacific.
No one is going to turn down an invite to the ultimate resort in the ultimate destination. Your groups can explore the ancient ruins at Tulum or Chichen Itza.
Meetings and gatherings can happen anywhere. But to make an event truly remarkable, you need a beautiful locale, stellar service and all-inclusive everything. Choose an amazing place to get together with Meetings & Events by Club Med.