You can certainly pick one of the ordinary places to hold your next meeting – or you can get off the beaten path and choose Tucson, located in the heart of the gorgeous Sonoran Desert.
Tucson has incredible resorts with meeting space galore, but here they're tucked into the foothills of the mountains that surround the city, creating backdrops for your events that you won't believe. Plus, there are unique places to hold offsite events – from team-building at a luxury spa, to an opportunity to experience a bit of the Old West at a guest ranch.
Tucson is home to Canyon Ranch and Miraval, among America's premier destination spas. And our resorts reflect the big brands you've come to trust for meetings – JW Marriott Starr Pass, Loews Ventana Canyon, Westin La Paloma, Omni Tucson National, Westward Look Wyndham Grand.
The Power of Connection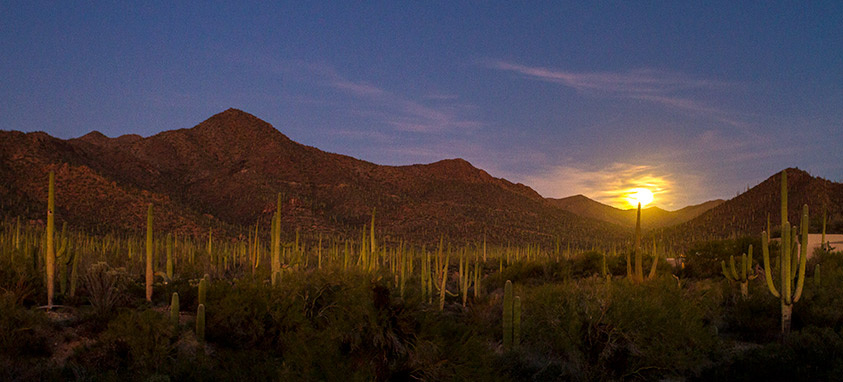 Why did USA Today include Tucson in a list of cities emerging as a "top pick for biz meetings"? It's about the power of connection: the essence of what makes Tucson special. Not just the surprising affordability of holding a meeting in Tucson, but the connection between a planner and the Visit Tucson staff going the extra mile to make your event spectacular. This connection is evident in the fact that eight of ten meeting planners choose Tucson after a site visit.
Site selection isn't just a matter of who has rooms and where – it's about culture and the opportunity to have a real experience. Savvy meeting planners choose Tucson because it's a city that offers unique experiences beyond the ballroom – yes, we have world-class resorts and destination spas, but we also have new restaurants, a vibrant nightlife, working cattle ranches, desert gardens and historic theaters.
Tucson is among Cvent's top 50 meetings destinations and it's easy to find – Tucson International Airport is a one-stop gateway to more than 325 global destinations.
Revitalized Urban Core
Tucson's Destination Downtown is heating up. With last fall's opening of the AC Hotel by Marriott, a renovated Tucson Convention Center, the modern Sun Link Streetcar allowing for easy exploration, and more projects in the pipeline, perhaps it's time to consider an urban meeting in a resort destination?
And Tucson offers a wide variety of urban properties – from larger-scale resort spa and conference centers, to recently-renovated, full-service city center properties for small to mid-sized meetings, with an additional 500 rooms of inventory under development downtown.
Food
Tucson is also the first UNESCO City of Gastronomy in the United States, an honor our resorts and hotels have embraced. You'll see local influences and ingredients on the menu nearly everywhere. Consider having an off-site event at any one of our award-winning eateries that have received national media coverage. Or book a culinary tour and taste a little bit of everything.
Learn more at VisitTucson.org/Meetings