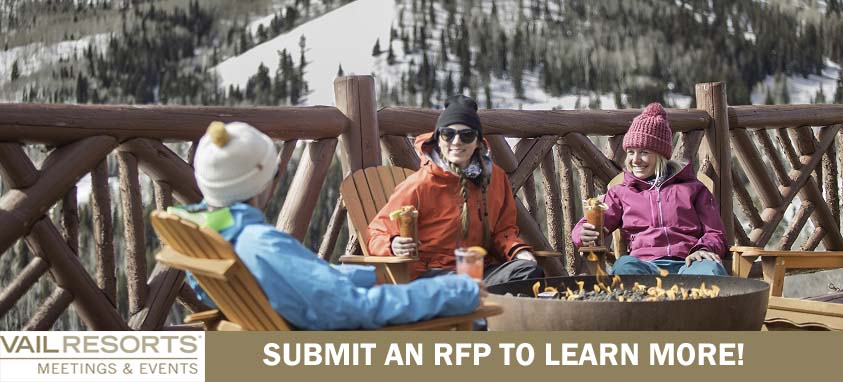 With Vail Resorts Meetings and Events, prepare to discover meeting locales where year-round blazing blue skies and lush alpine landscapes illuminate your event agenda with free-flowing creativity and unbridled imagination. Here are three ways you can transform your agenda into an experience.
1. Make a Statement
At Vail Resorts we dedicate our energies to giving your guests the Experience of a Lifetime™. With our seamless approach to planning we make it remarkably easy to create an engaging event. How might you ask? By utilizing the breathtaking beauty of one of our 10 mountain destinations and weaving it effortlessly within your group exercises, brainstorming sessions or networking events. In Vail, CO, instead of having an ice breaker in one of our beautiful ballrooms, have it as you ride up the Gondola to the top of the mountain and regroup with some delicious hot cocoa from one of our many fine establishments on the mountain top.
2. Team Building with a View
At Vail Resorts Meetings & Events, adventure is built into our itineraries but that does not mean you have to be an expert Skier or Snowboarder to be able to join in the fun. Choose from a variety of different activities that will take your team building to the next level. Imagine taking your team or attendees on a guided snowshoe adventure in Breckinridge, CO surrounded by snowcapped mountains. Between the incredible view and fresh air your guests will feel invigorated with a slew of new ideas. Snowshoeing not sounding like the right activity for you or your guests? There is a wide range of activities you can build within your itinerary that no one will feel intimidated or left out!
3. Finish Off Your Event with a Bang
As you bid farewell to your guests, instead of a lovely catered dinner, surprise and delight your guests by having our sleigh in Keystone, CO pick them up and escort them to a themed event celebrating all the achievements they made over the week. Work with one of our dedicated Sales Managers to ensure your farewell event leaves your guests surrounded with positivity and celebration of their accomplishments.
No matter how you choose to format your meeting or event, our all-in-one planning approach will help you create memories that your attendees will be talking about for years to come. From renting gear to purchasing lift tickets, from organizing dinner plans to making recommendations on team building activities, our dedicated team will help make your vision become a reality!