Boise, Idaho is full of surprises, but foremost among them is just how easy it is to be a visitor. Boise makes it convenient to combine business with recreation, including stellar outdoor adventure and cultural amenities because the city's many offerings are all within minutes of each other.
Start with flights in and out of this lively, growing city: the Boise Airport offers 20 nonstop flight options, serviced by seven airlines, with connecting flights to thousands of cities worldwide. Boise makes its mark right off the bat, with locally-sourced concessions and restaurants in the concourse.
But once a visitor makes the seven-minute trip downtown, they can leave the car behind. Boise is a city that encourages its guests to bring their walking – or biking, hiking or fishing – shoes. That's because the city's distinctive Boise Centre convention center is smack in the middle of a downtown that has been transforming itself. The Boise Centre set the stage, with a recently-completed $47.5 million expansion. With 31 meeting rooms and 86,000 square feet of all-purpose event spaces, Boise Centre has become an ideal venue for groups of 20 to 1,600 guests. Part of the expansion is a new ballroom that seats up to 800 guests, and several new meeting rooms with views of the Boise Foothills and city skyline.
The transformation continues: Boise has more than 1,200 hotel rooms within walking distance of the Boise Centre. Recent years have seen Boise undergo a transformative boom in new hotel growth. At one point at least five new hotels were either awaiting approval or underway.
But once the meetings are over, Boise is easy to explore from these downtown destinations. For starters, hikers and bikers can explore 190 miles of singletrack trails in the Boise Foothills. Trailheads are just a few blocks out of downtown Boise.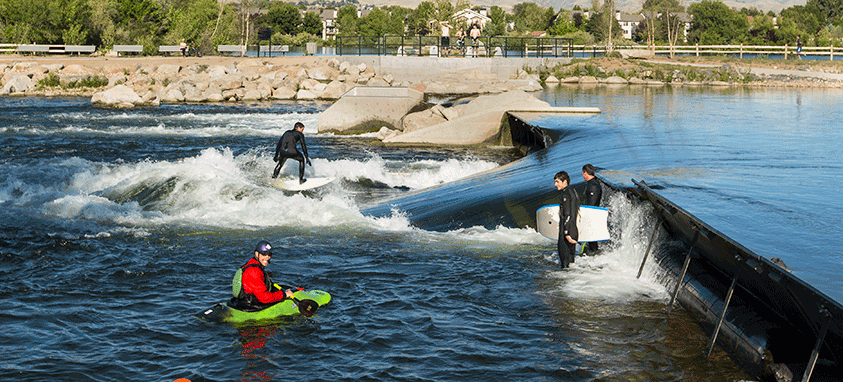 For those more interested in a watery experience, Boise is a gateway. Public parks like Quinn's Pond and the Boise Whitewater Park offer fun close to town. Rafts or paddleboards are available to rent just steps away from the water.
If mountain activities are of interest, Bogus Basin Recreation Area is located 16 miles from Boise, with 2,600 acres of skiable terrain and 11 lifts including three high-speed quads. The community-owned ski area is a summertime hub as well, with miles of hiking and biking trails. This year the resort added a mountain coaster ride, to give anyone the chance to fly down the mountain.
If your activities leave you hungry or thirsty, hold on; Boise's downtown is bustling with culinary activity, whether it's the proliferation of craft beer makers – 19 at last count in downtown Boise alone – or the dozens of exciting meal options from award-winning restaurants and food trucks. And don't forget Idaho wines; Idaho's burgeoning wine industry means many restaurants feature Idaho varieties. Boise's foodie revival is just like the rest of this city's qualities: Unexpected and surprisingly easy to discover.