Ontario Convention Center
Greater Ontario offers easy airport and freeway access leaving visitors with more time to meet, explore and connect in this vibrant Southern California region. Enjoy our awe-inspiring weather, breathtaking mountain and desert resorts, Indian gaming casinos, and world-class wineries. Our area hosts some of the very best in extreme sports, quiet retreats and spas, and it's home to some of California's ultimate shopping and dining experiences. Within one-hour drive time you can discover Big Bear Mountain Resorts, the vast Mohave Desert, or cruise along the famous Mother Road – Route 66.
Easy, affordable access to the Pacific Ocean, theme parks, nightlife, and family adventures without the exorbitant prices and gridlock continues to be a top priority for our visitors. Fly into Ontario International Airport where over 6,000 hotel rooms await with complementary shuttle service. The rugged San Gabriel Mountains are your backdrop to this beautiful location. Rich in culture with historic roots in agriculture and wine, the craft beer industry is thriving along with the diversity of restaurants to please any palate.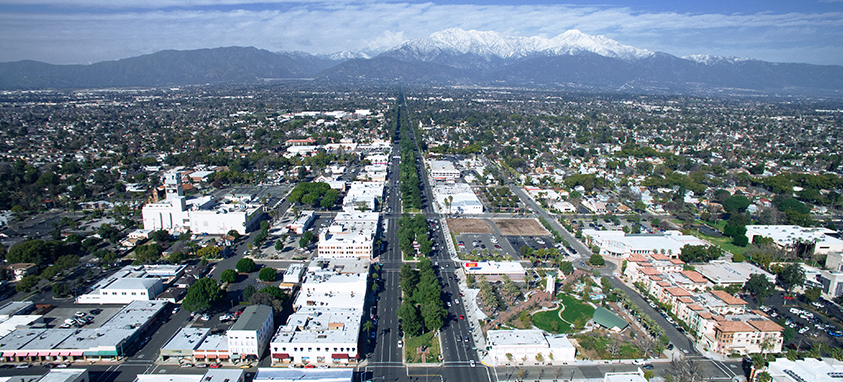 Explore our scenic getaways, where the rugged outdoors mixes seamlessly with quiet reflection. Parachuting, off-roading, zip-lining, rock-climbing and skiing go hand-in-hand with peaceful pine forests, sun-kissed vineyards and natural hot springs. If you prefer a more urban setting, the Greater Ontario Region boasts a busy metropolitan area that is both historic and cosmopolitan in character. We are centrally located just a short drive from downtown Los Angeles, California's world-famous coastline, Disneyland Resort, Las Vegas and Palm Springs.
Our destination provides the state-of-the-art Ontario Convention Center for special events and meetings. Evening entertainment at Citizens Business Bank Arena has something for everyone – sporting competitions, concerts and family shows. Movie buffs can choose from dozens of theaters or enjoy a live show at the Lewis Family Playhouse.
Start your adventure at the California Welcome Center at Ontario Mills – our team of experts await your visit. The Greater Ontario Convention & Visitors Bureau is an unbiased, comprehensive resource when booking a tour, convention, meeting or event within the cities of Ontario and Rancho Cucamonga, California and beyond. Bring your family, enjoy a weekend, or make us your home base to explore all of Southern California. We look forward to your visit! GOcvb.org